Interplay between Endothelin and Erythropoietin in Astroglia: The Role in Protection against Hypoxia
1
Institute for Transfusion Medicine and Immunohaematology, German Red Cross Blood Donor Service Baden-Württemberg-Hesse gGmbH, Johann-Wolfgang-Goethe-University Hospital, Sandhofstrasse 1, Frankfurt/Main D-60528, Germany
2
Institute for Clinical and Experimental Transfusion Medicine (IKET), University Hospital of Tuebingen, Otfried-Müller-Strasse 4/1, Tuebingen D-72076, Germany
3
Department of Clinical Pharmacology, Institute of Clinical and Experimental Pharmacology and Toxicology, University Hospital of Tuebingen, Auf der Morgenstelle 8, Tuebingen D-72076, Germany
4
Dr. Margarete-Fischer-Bosch Institute of Clinical Pharmacology, Auerbachstrasse 112, Stuttgart D-70375, Germany
‡
Present address: Medizinischer Dienst der Krankenversicherung (MDK) Baden-Wuerttemberg, Meersburger Str. 3, Ravensburg 88213, Germany.
†
These authors contributed equally to this work.
*
Author to whom correspondence should be addressed.
Received: 9 November 2013 / Revised: 27 January 2014 / Accepted: 13 February 2014 / Published: 19 February 2014
Abstract
We show that, under
in vitro
conditions, the vulnerability of astroglia to hypoxia is reflected by alterations in endothelin (ET)-1 release and capacity of erythropoietin (EPO) to regulate ET-1 levels. Exposure of cells to 24 h hypoxia did not induce changes in ET-1 release, while 48–72 h hypoxia resulted in increase of ET-1 release from astrocytes that could be abolished by EPO. The endothelin receptor type A (ETA) antagonist BQ123 increased extracellular levels of ET-1 in human fetal astroglial cell line (SV-FHAS). The survival and proliferation of rat primary astrocytes, neural precursors, and neurons upon hypoxic conditions were increased upon administration of BQ123. Hypoxic injury and aging affected the interaction between the EPO and ET systems. Under hypoxia EPO decreased ET-1 release from astrocytes, while ETA receptor blockade enhanced the expression of EPO mRNA and EPO receptor in culture-aged rat astroglia. The blockade of ETA receptor can increase the availability of ET-1 to the ETB receptor and can potentiate the neuroprotective effects of EPO. Thus, the new therapeutic use of combined administration of EPO and ETA receptor antagonists during hypoxia-associated neurodegenerative disorders of the central nervous system (CNS) can be suggested.
View Full-Text
►

▼

Figures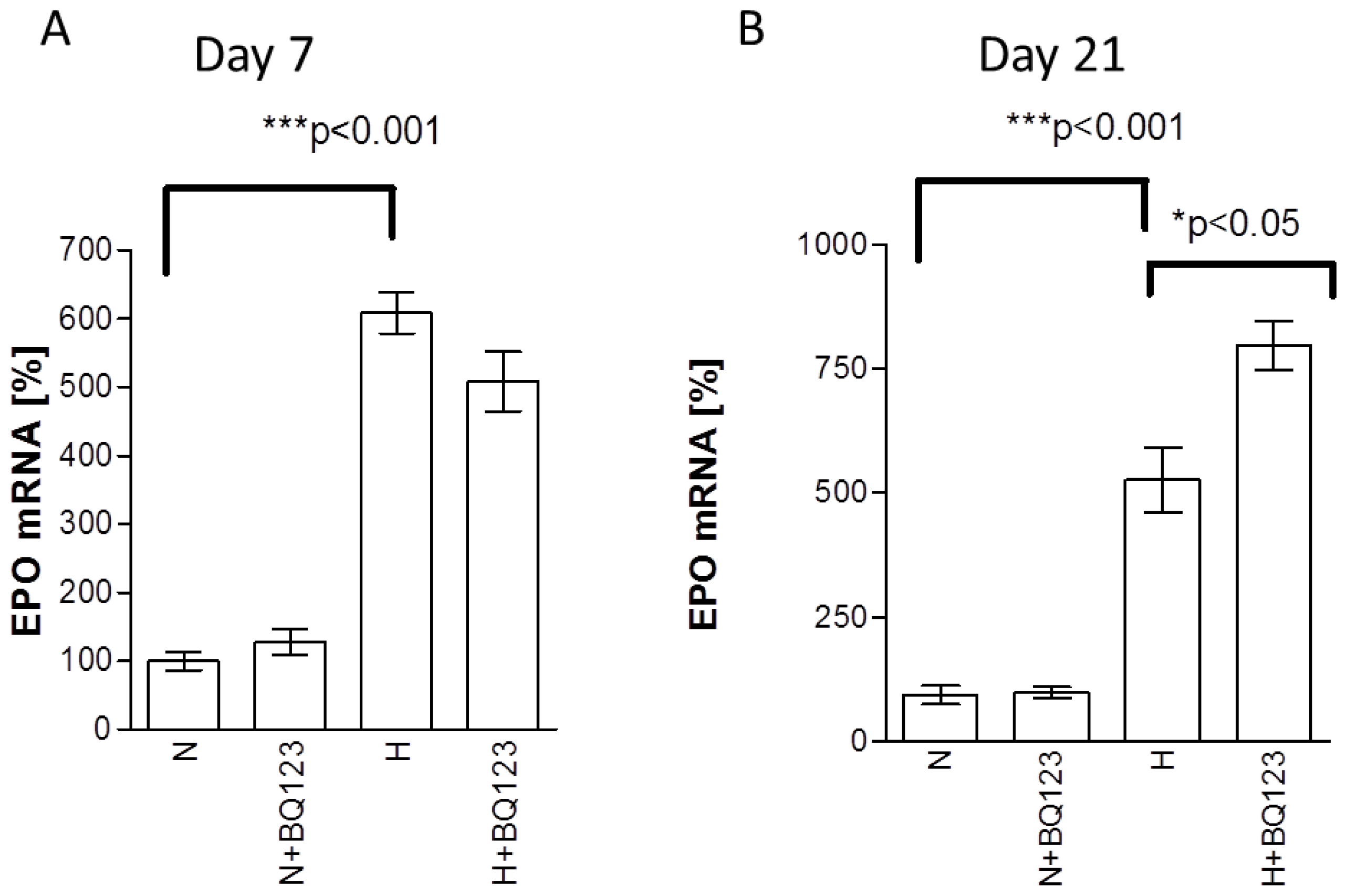 Share & Cite This Article
MDPI and ACS Style
Schäfer, R.; Mueller, L.; Buecheler, R.; Proksch, B.; Schwab, M.; Gleiter, C.H.; Danielyan, L. Interplay between Endothelin and Erythropoietin in Astroglia: The Role in Protection against Hypoxia. Int. J. Mol. Sci. 2014, 15, 2858-2875.
Related Articles
Comments
[Return to top]