Poly(3-hydroxybutyrate)/ZnO Bionanocomposites with Improved Mechanical, Barrier and Antibacterial Properties
1
Institute of Polymer Science and Technology (ICTP-CSIC), Juan de la Cierva 3, Madrid 28006, Spain
2
Airbus Operations S. L., John Lennon s/n, Getafe, Madrid 28906, Spain
*
Author to whom correspondence should be addressed.
Received: 12 May 2014 / Revised: 2 June 2014 / Accepted: 5 June 2014 / Published: 17 June 2014
Abstract
Poly(3-hydroxybutyrate) (PHB)-based bionanocomposites incorporating different contents of ZnO nanoparticles were prepared via solution casting technique. The nanoparticles were dispersed within the biopolymer without the need for surfactants or coupling agents. The morphology, thermal, mechanical, barrier, migration and antibacterial properties of the nanocomposites were investigated. The nanoparticles acted as nucleating agents, increasing the crystallization temperature and the degree of crystallinity of the matrix, and as mass transport barriers, hindering the diffusion of volatiles generated during the decomposition process, leading to higher thermal stability. The Young's modulus, tensile and impact strength of the biopolymer were enhanced by up to 43%, 32% and 26%, respectively, due to the strong matrix-nanofiller interfacial adhesion attained via hydrogen bonding interactions, as revealed by the FT-IR spectra. Moreover, the nanocomposites exhibited reduced water uptake and superior gas and vapour barrier properties compared to neat PHB. They also showed antibacterial activity against both Gram-positive and Gram-negative bacteria, which was progressively improved upon increasing ZnO concentration. The migration levels of PHB/ZnO composites in both non-polar and polar simulants decreased with increasing nanoparticle content, and were well below the current legislative limits for food packaging materials. These biodegradable nanocomposites show great potential as an alternative to synthetic plastic packaging materials especially for use in food and beverage containers and disposable applications.
View Full-Text
►

▼

Figures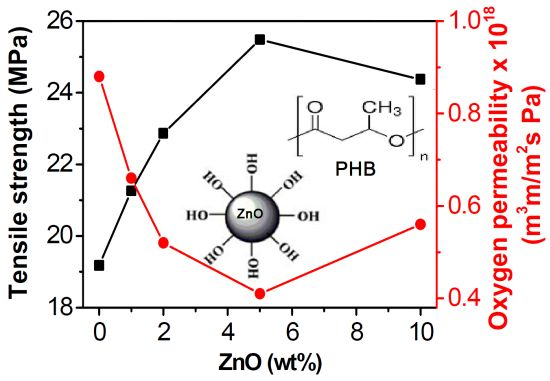 Share & Cite This Article
MDPI and ACS Style
Díez-Pascual, A.M.; Díez-Vicente, A.L. Poly(3-hydroxybutyrate)/ZnO Bionanocomposites with Improved Mechanical, Barrier and Antibacterial Properties. Int. J. Mol. Sci. 2014, 15, 10950-10973.
Related Articles
Comments
[Return to top]