Demyelination in Multiple Sclerosis: Reprogramming Energy Metabolism and Potential PPARγ Agonist Treatment Approaches
1
Délégation à la Recherche Clinique et à l'Innovation (DRCI), Hôpital Foch, 92150 Suresnes, France
2
Centre de Recherche Clinique, Grand Hôpital de l'Est Francilien (GHEF), 77100 Meaux, France
3
Data Analysis and Computations Through Imaging Modeling-Mathématiques (DACTIM), Unité mixte de recherche (UMR), Centre National de la Recherche Scientifique (CNRS) 7348 (Laboratoire de Mathématiques et Application), University of Poitiers, Centre Hospitalier Universitaire (CHU) de Poitiers, 86000 Poitiers, France
4
Centre Hospitalier Universitaire (CHU) Amiens Picardie, University of Picardie Jules Verne (UPJV), 80000 Amiens, France
5
LMA (Laboratoire de Mathématiques et Applications), Unité mixte de recherche (UMR), Centre National de la Recherche Scientifique (CNRS) 7348, Université de Poitiers, 86000 Poitiers, France
*
Author to whom correspondence should be addressed.
Received: 21 March 2018 / Revised: 9 April 2018 / Accepted: 11 April 2018 / Published: 16 April 2018
Abstract
Demyelination in multiple sclerosis (MS) cells is the site of several energy metabolic abnormalities driven by dysregulation between the opposed interplay of peroxisome proliferator-activated receptor γ (PPARγ) and WNT/β-catenin pathways. We focus our review on the opposing interactions observed in demyelinating processes in MS between the canonical WNT/β-catenin pathway and PPARγ and their reprogramming energy metabolism implications. Demyelination in MS is associated with chronic inflammation, which is itself associated with the release of cytokines by CD4
+
Th17 cells, and downregulation of PPARγ expression leading to the upregulation of the WNT/β-catenin pathway. Upregulation of WNT/β-catenin signaling induces activation of glycolytic enzymes that modify their energy metabolic behavior. Then, in MS cells, a large portion of cytosolic pyruvate is converted into lactate. This phenomenon is called the Warburg effect, despite the availability of oxygen. The Warburg effect is the shift of an energy transfer production from mitochondrial oxidative phosphorylation to aerobic glycolysis. Lactate production is correlated with increased WNT/β-catenin signaling and demyelinating processes by inducing dysfunction of CD4
+
T cells leading to axonal and neuronal damage. In MS, downregulation of PPARγ decreases insulin sensitivity and increases neuroinflammation. PPARγ agonists inhibit Th17 differentiation in CD4
+
T cells and then diminish release of cytokines. In MS, abnormalities in the regulation of circadian rhythms stimulate the WNT pathway to initiate the demyelination process. Moreover, PPARγ contributes to the regulation of some key circadian genes. Thus, PPARγ agonists interfere with reprogramming energy metabolism by directly inhibiting the WNT/β-catenin pathway and circadian rhythms and could appear as promising treatments in MS due to these interactions.
View Full-Text
►

▼

Figures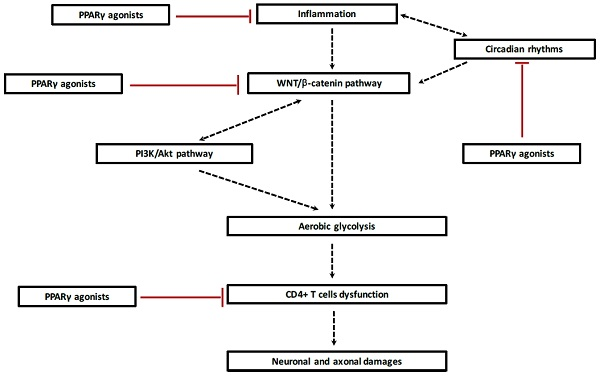 This is an open access article distributed under the
Creative Commons Attribution License
which permits unrestricted use, distribution, and reproduction in any medium, provided the original work is properly cited. (CC BY 4.0).
Share & Cite This Article
MDPI and ACS Style
Vallée, A.; Lecarpentier, Y.; Guillevin, R.; Vallée, J.-N. Demyelination in Multiple Sclerosis: Reprogramming Energy Metabolism and Potential PPARγ Agonist Treatment Approaches. Int. J. Mol. Sci. 2018, 19, 1212.
Note that from the first issue of 2016, MDPI journals use article numbers instead of page numbers. See further details here.
Related Articles
Comments
[Return to top]