A Cabled Acoustic Telemetry System for Detecting and Tracking Juvenile Salmon: Part 1. Engineering Design and Instrumentation
1
Pacific Northwest National Laboratory, P.O. Box 999, Richland, WA 99332, USA
2
U.S. Army Corps of Engineers, Portland District, P.O. Box 2946, Portland, OR 97208, USA
*
Authors to whom correspondence should be addressed.
Received: 30 March 2011 / Revised: 20 May 2011 / Accepted: 23 May 2011 / Published: 26 May 2011
Abstract
In 2001 the U.S. Army Corps of Engineers, Portland District (OR, USA), started developing the Juvenile Salmon Acoustic Telemetry System, a nonproprietary sensing technology, to meet the needs for monitoring the survival of juvenile salmonids through eight large hydroelectric facilities within the Federal Columbia River Power System (FCRPS). Initial development focused on coded acoustic microtransmitters and autonomous receivers that could be deployed in open reaches of the river for detection of the juvenile salmonids implanted with microtransmitters as they passed the autonomous receiver arrays. In 2006, the Pacific Northwest National Laboratory began the development of an acoustic receiver system for deployment at hydropower facilities (cabled receiver) for detecting fish tagged with microtransmitters as well as tracking them in two or three dimensions for determining route of passage and behavior as the fish passed at the facility. The additional information on route of passage, combined with survival estimates, is used by the dam operators and managers to make structural and operational changes at the hydropower facilities to improve survival of fish as they pass the facilities through the FCRPS.
View Full-Text
►

▼

Figures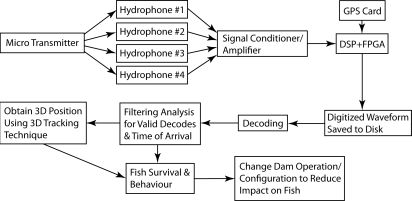 Share & Cite This Article
MDPI and ACS Style
Weiland, M.A.; Deng, Z.D.; Seim, T.A.; LaMarche, B.L.; Choi, E.Y.; Fu, T.; Carlson, T.J.; Thronas, A.I.; Eppard, M.B. A Cabled Acoustic Telemetry System for Detecting and Tracking Juvenile Salmon: Part 1. Engineering Design and Instrumentation. Sensors 2011, 11, 5645-5660.
Related Articles
Comments
[Return to top]