Fluorescent Imaging for Assessment of the Effect of Combined Application of Electroporation and Rifampicin on HaCaT Cells as a New Therapeutic Approach for Psoriasis
1
Institute of Biophysics and Biomedical Engineering, Bulgarian Academy of Sciences, Acad.G. Bonchev Str., bl. 21, Sofia 1113, Bulgaria
2
Medical Faculty, Trakia University, 11 Armeiska Str., Stara Zagora 6000, Bulgaria
3
Molecular Imaging Center, National Institute of Radiological Sciences, 4-9-1 Anagawa, Inage-ku, Chiba 263-8555, Japan
4
Medical Faculty, Sofia University, 1 Koziak Str., Sofia 1407, Bulgaria
†
These authors contributed equally to this work.
*
Author to whom correspondence should be addressed.
Received: 11 January 2013 / Revised: 13 February 2013 / Accepted: 6 March 2013 / Published: 14 March 2013
Abstract
The study aimed to clarify the role of electric pulses in combination with chemotherapy on the viability of keratinocyte cell line HaCaT, in the context of its application as a new therapeutic approach for psoriasis. The data show that electroporation of HaCaT cells in combination with rifampicin induces cytoskeleton disruption and increases permeability of cell monolayer due to cell-cell junctions' interruption, visualized by fluorescent imaging of E-cadherin and actin integrity. This was accompanied with synergistic reduction of cell viability. The study proposes a new opportunity for more effective skin treatment than chemotherapy. The future application of this electrochemotherapeutic approach for combined local treatment of psoriasis may have serous benefits because of a high possibility to avoid side-effects of conventional chemotherapy.
View Full-Text
►

▼

Figures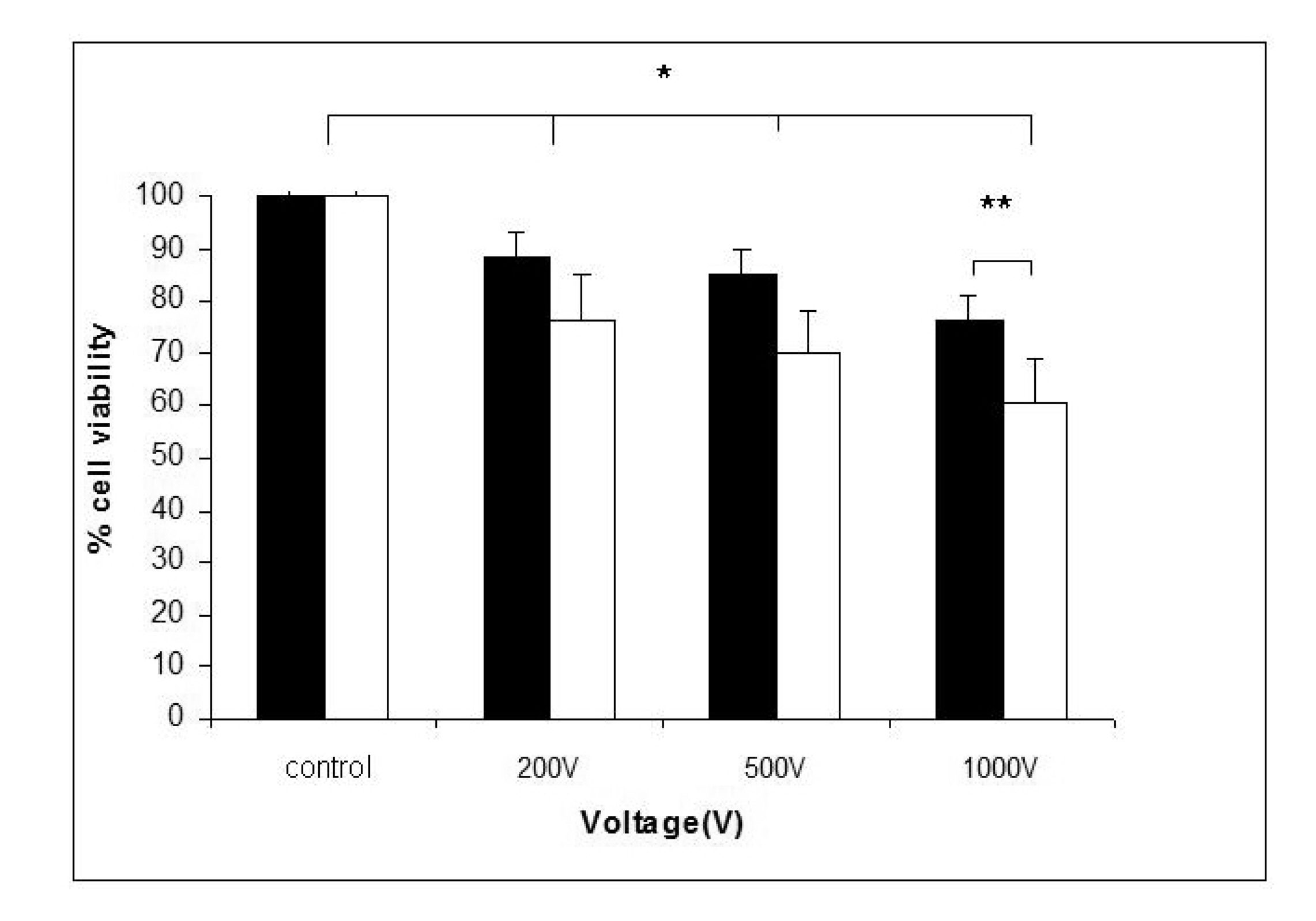 Share & Cite This Article
MDPI and ACS Style
Nikolova, B.; Kostadinova, A.; Dimitrov, B.; Zhelev, Z.; Bakalova, R.; Aoki, I.; Saga, T.; Tsoneva, I. Fluorescent Imaging for Assessment of the Effect of Combined Application of Electroporation and Rifampicin on HaCaT Cells as a New Therapeutic Approach for Psoriasis. Sensors 2013, 13, 3625-3634.
Related Articles
Comments
[Return to top]