Assessment of Organophosphate and Carbamate Pesticide Residues in Cigarette Tobacco with a Novel Cell Biosensor
1
Laboratory of Plant Physiology, Faculty of Agricultural Biotechnology, Agricultural University of Athens, Greece
2
EMBIO Diagnostics Project, Nicosia, Cyprus
3
Ministry of Agriculture, Centre of Athens Veterinary Institutions, Institute of Infectious and Parasitic Diseases, Virus Laboratory, Athens, Greece
*
Author to whom correspondence should be addressed.
Received: 29 January 2008 / Accepted: 22 April 2008 / Published: 23 April 2008
Abstract
The conventional analysis of pesticide residues in analytical commodities, such as tobacco and tobacco products is a labor intensive procedure, since it is necessary to cover a wide range of different chemicals, using a single procedure. Standard analysis methods include extensive sample pretreatment (with solvent extraction and partitioning phases) and determination by GC and HPLC to achieve the necessary selectivity and sensitivity for the different classes of compounds under detection. As a consequence, current methods of analysis provide a limited sample capacity. In the present study, we report on the development of a novel cell biosensor for detecting organophosphate and carbamate pesticide residues in tobacco. The sensor is based on neuroblastoma N2a cells and the measurement of changes of the cell membrane potential, according to the working principle of the Bioelectric Recognition Assay (BERA). The presence of pesticide residues is detected by the degree of inhibition of acetylcholine esterase (AChE). The sensor instantly responded to both the organophoshate pesticide chlorpyriphos and the carbamate carbaryl in a concentration-dependent pattern, being able to detect one part per billion (1 ppb). Additionally, tobacco leaf samples (in blended dry form) were analyzed with both the novel biosensor and conventional methods, according to a double-blind protocol. Pesticide residues in tobacco samples caused a considerable cell membrane hyperpolarization to neuroblastoma cells immobilized in the sensor, as indicated by the increase of the negative sensor potential, which was clearly distinguishable from the sensor's response against pesticide-free control samples. The observed response was quite reproducible, with an average variation of +5,6%. Fluorescence microscopy observations showed that treatment of the cells with either chlorpyrifos or carbaryl was associated with increased [Ca
2
+]cyt . The novel biosensor offers fresh perspectives for ultra-rapid, sensitive and low-cost monitoring of pesticide residues in tobacco as well as other food and agricultural commodities.
View Full-Text
►

▼

Figures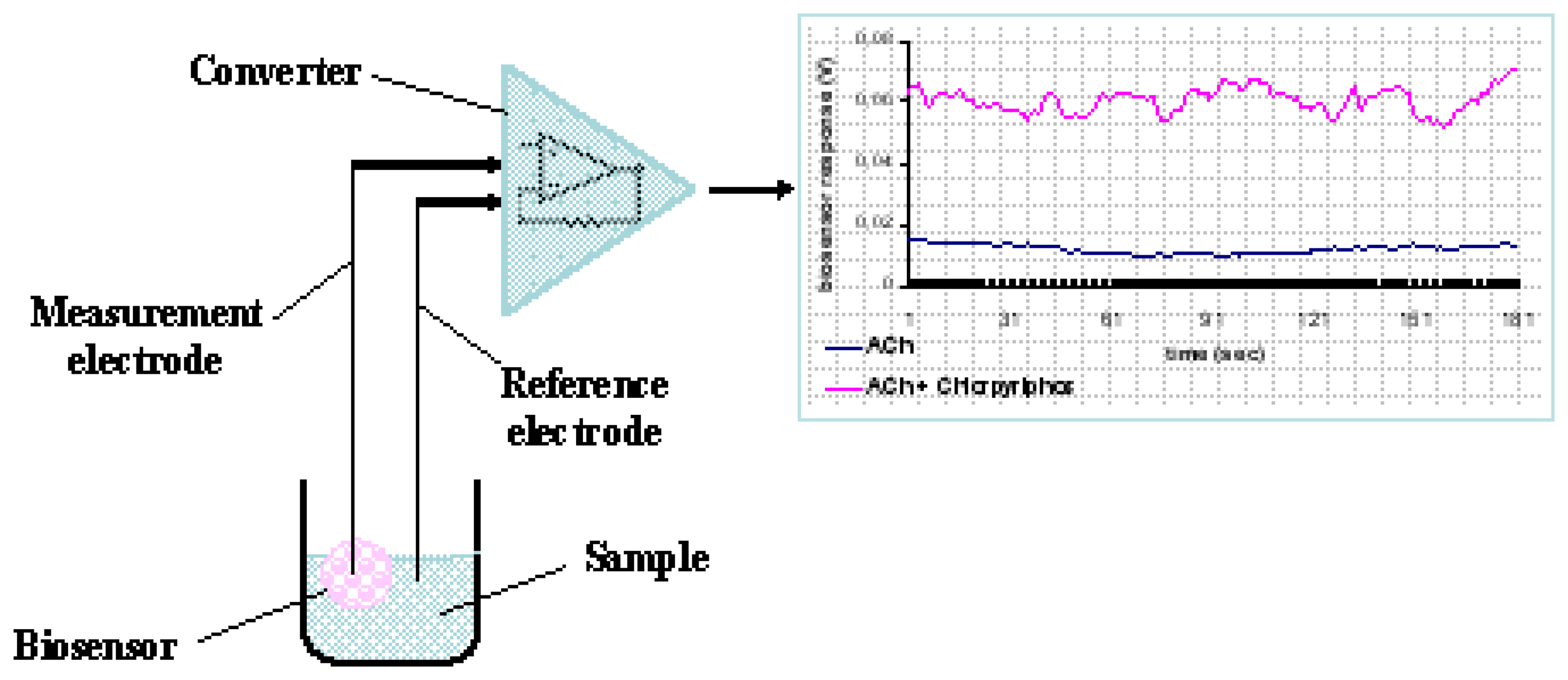 Share & Cite This Article
MDPI and ACS Style
Mavrikou, S.; Flampouri, K.; Moschopoulou, G.; Mangana, O.; Michaelides, A.; Kintzios, S. Assessment of Organophosphate and Carbamate Pesticide Residues in Cigarette Tobacco with a Novel Cell Biosensor. Sensors 2008, 8, 2818-2832.
Related Articles
Comments
[Return to top]