Automatic Registration of Terrestrial Laser Scanning Point Clouds using Panoramic Reflectance Images
1
Faculty of Aerospace Engineering, Delft University of Technology / Kluyverweg 1, 2629 HS Delft, The Netherlands
2
School of Land Science and Technology, China University of Geosciences / Beijing 100083, China
3
Department of Geography and Environmental Management, University of Waterloo / Waterloo, Ontario N2L 3G1, Canada
4
Research Centre for Remote Sensing and GIS, School of Geography, Beijing Normal University / Beijing 100875, P.R. China
5
GNSS Research Centre, Wuhan University / Wuhan 430079, Hubei Province, P.R. China
6
OTB Research Institute for Housing, Urban and Mobility Studies, Delft University of Technology / Jaffalaan 9, 2628 BX Delft, The Netherlands
*
Author to whom correspondence should be addressed.
Received: 11 March 2009 / Revised: 10 April 2009 / Accepted: 13 April 2009 / Published: 15 April 2009
Abstract
This paper presents a new approach to the automatic registration of terrestrial laser scanning (TLS) point clouds using panoramic reflectance images. The approach follows a two-step procedure that includes both pair-wise registration and global registration. The pair-wise registration consists of image matching (pixel-to-pixel correspondence) and point cloud registration (point-to-point correspondence), as the correspondence between the image and the point cloud (pixel-to-point) is inherent to the reflectance images. False correspondences are removed by a geometric invariance check. The pixel-to-point correspondence and the computation of the rigid transformation parameters (RTPs) are integrated into an iterative process that allows for the pair-wise registration to be optimised. The global registration of all point clouds is obtained by a bundle adjustment using a circular self-closure constraint. Our approach is tested with both indoor and outdoor scenes acquired by a FARO LS 880 laser scanner with an angular resolution of 0.036° and 0.045°, respectively. The results show that the pair-wise and global registration accuracies are of millimetre and centimetre orders, respectively, and that the process is fully automatic and converges quickly.
View Full-Text
►

▼

Figures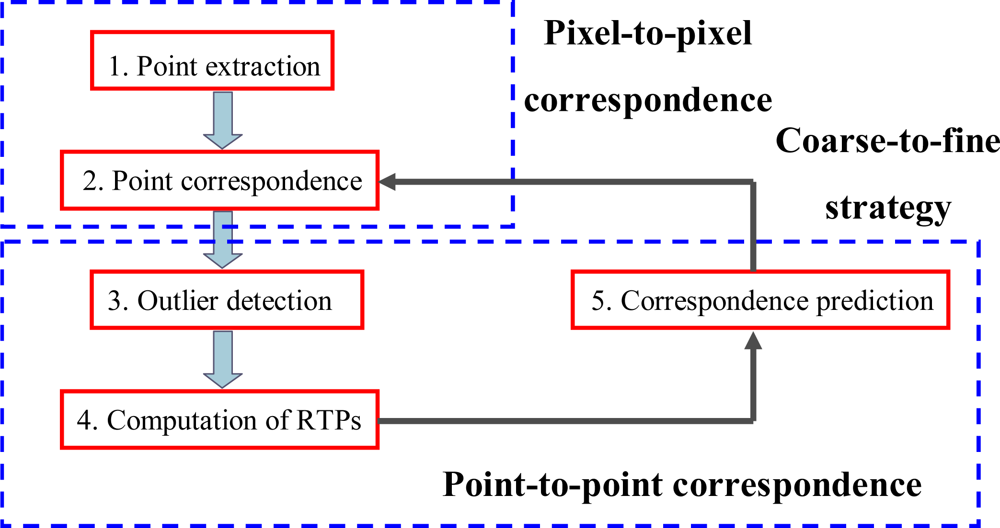 Share & Cite This Article
MDPI and ACS Style
Kang, Z.; Li, J.; Zhang, L.; Zhao, Q.; Zlatanova, S. Automatic Registration of Terrestrial Laser Scanning Point Clouds using Panoramic Reflectance Images. Sensors 2009, 9, 2621-2646.
Related Articles
Comments
[Return to top]