Metabolism and Pharmacokinetics of the Anti-Tuberculosis Drug Ethionamide in a Flavin-Containing Monooxygenase Null Mouse
1
Department of Environmental and Molecular Toxicology, Oregon State University, 1007 ALS Corvallis, OR 97331, USA
2
Linus Pauling Institute, Oregon State University, 307 Linus Pauling Institute Corvallis, OR 97331, USA
3
School of Biological and Chemical Sciences, Queen Mary, University of London, London E1 4NS, UK
4
Department of Structural and Molecular Biology, University College London, London WC1E 6BT, UK
*
Author to whom correspondence should be addressed.
Received: 29 August 2012 / Revised: 8 October 2012 / Accepted: 16 October 2012 / Published: 25 October 2012
Abstract
Multiple drug resistance (MDR) in
Mycobacterium tuberculosis
(mTB), the causative agent for tuberculosis (TB), has led to increased use of second-line drugs, including ethionamide (ETA). ETA is a prodrug bioactivated by mycobacterial and mammalian flavin-containing monooxygenases (FMOs). FMO2 is the major isoform in the lungs of most mammals, including primates. In humans a polymorphism exists in the expression of FMO2. FMO2.2 (truncated, inactive) protein is produced by the common allele, while the ancestral allele, encoding active FMO2.1, has been documented only in individuals of African and Hispanic origin, at an incidence of up to 50% and 7%, respectively. We hypothesized that FMO2 variability in TB-infected individuals would yield differences in concentrations and ratios of ETA prodrug and metabolites. In this study we assessed the impact of the FMO2 genetic polymorphism on the pharmacokinetics of ETA after administration of a single oral dose of ETA (125 mg/kg) to wild type and triple
Fmo1/2/4
-null mice, measuring levels of prodrug
vs.
metabolites in plasma collected from 0 to 3.5 h post-gavage. All mice metabolized ETA to ETA
S
-oxide (ETASO) and 2-ethyl-4-amidopyridine (ETAA). Wild type mice had higher plasma concentrations of metabolites than of parent compound (
p
= 0.001). In contrast,
Fmo1/2/4
-null mice had higher plasma concentrations of parent compound than of metabolites (
p
= 0.0001). Thus, the human FMO2 genotype could impact the therapeutic efficacy and/or toxicity of ETA.
View Full-Text
►

▼

Figures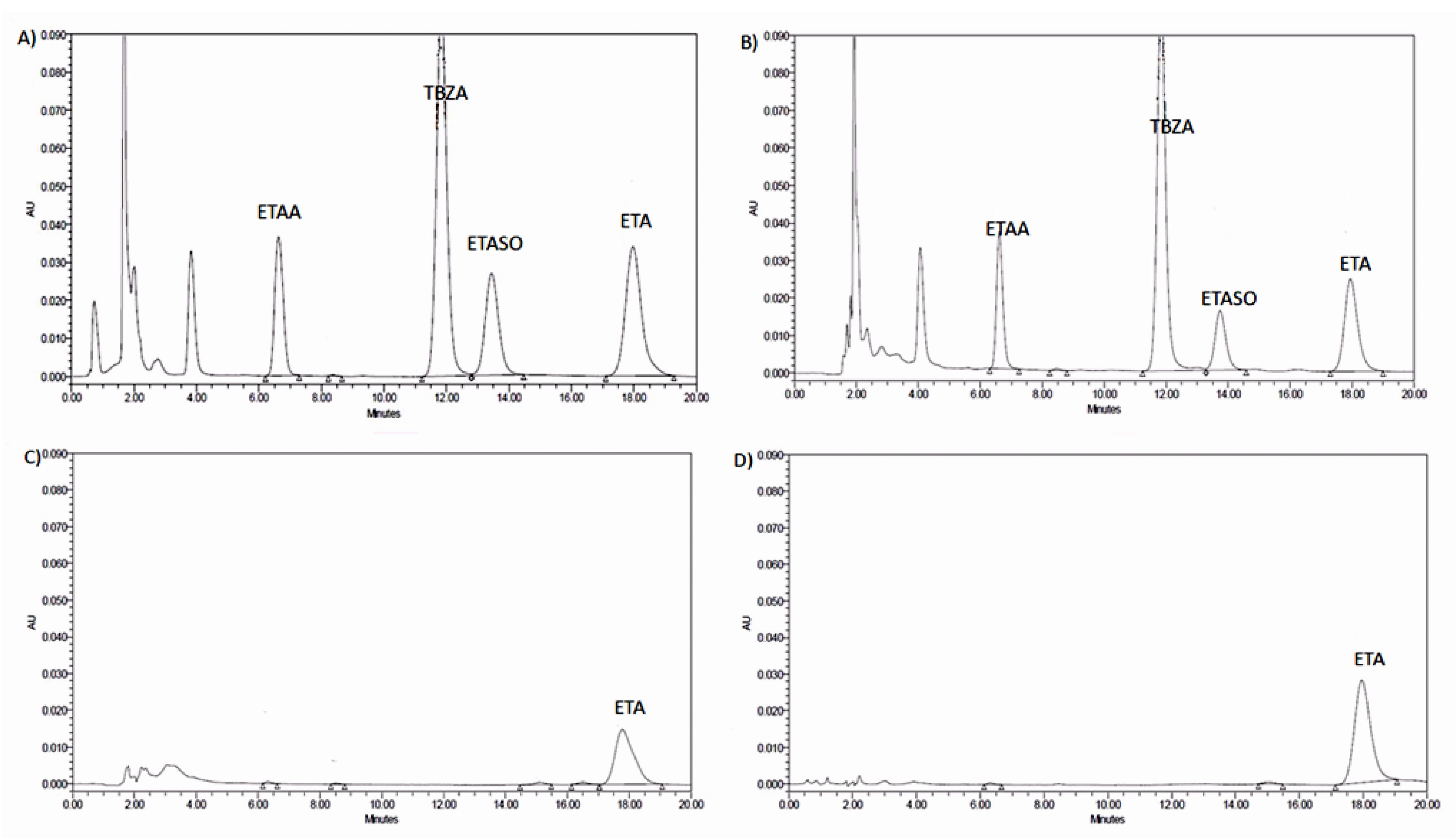 Figure 1
Share & Cite This Article
MDPI and ACS Style
Palmer, A.L.; Leykam, V.L.; Larkin, A.; Krueger, S.K.; Phillips, I.R.; Shephard, E.A.; Williams, D.E. Metabolism and Pharmacokinetics of the Anti-Tuberculosis Drug Ethionamide in a Flavin-Containing Monooxygenase Null Mouse. Pharmaceuticals 2012, 5, 1147-1159.
Related Articles
Comments
[Return to top]