Multiple Facets of cAMP Signalling and Physiological Impact: cAMP Compartmentalization in the Lung
1
Department of Molecular Pharmacology, Groningen Research Institute for Pharmacy, University of Groningen, 9713 AV, Groningen, The Netherlands
2
Groningen Research Institute for Asthma and COPD, University of Groningen, University Medical Center Groningen, 9700 RB, Groningen, The Netherlands
*
Author to whom correspondence should be addressed.
Received: 18 September 2012 / Revised: 15 November 2012 / Accepted: 20 November 2012 / Published: 30 November 2012
Abstract
Therapies involving elevation of the endogenous suppressor cyclic AMP (cAMP) are currently used in the treatment of several chronic inflammatory disorders, including chronic obstructive pulmonary disease (COPD). Characteristics of COPD are airway obstruction, airway inflammation and airway remodelling, processes encompassed by increased airway smooth muscle mass, epithelial changes, goblet cell and submucosal gland hyperplasia. In addition to inflammatory cells, airway smooth muscle cells and (myo)fibroblasts, epithelial cells underpin a variety of key responses in the airways such as inflammatory cytokine release, airway remodelling, mucus hypersecretion and airway barrier function. Cigarette smoke, being next to environmental pollution the main cause of COPD, is believed to cause epithelial hyperpermeability by disrupting the barrier function. Here we will focus on the most recent progress on compartmentalized signalling by cAMP. In addition to G protein-coupled receptors, adenylyl cyclases, cAMP-specific phospho-diesterases (PDEs) maintain compartmentalized cAMP signalling. Intriguingly, spatially discrete cAMP-sensing signalling complexes seem also to involve distinct members of the A-kinase anchoring (AKAP) superfamily and IQ motif containing GTPase activating protein (IQGAPs). In this review, we will highlight the interaction between cAMP and the epithelial barrier to retain proper lung function and to alleviate COPD symptoms and focus on the possible molecular mechanisms involved in this process. Future studies should include the development of cAMP-sensing multiprotein complex specific disruptors and/or stabilizers to orchestrate cellular functions. Compartmentalized cAMP signalling regulates important cellular processes in the lung and may serve as a therapeutic target.
View Full-Text
►

▼

Figures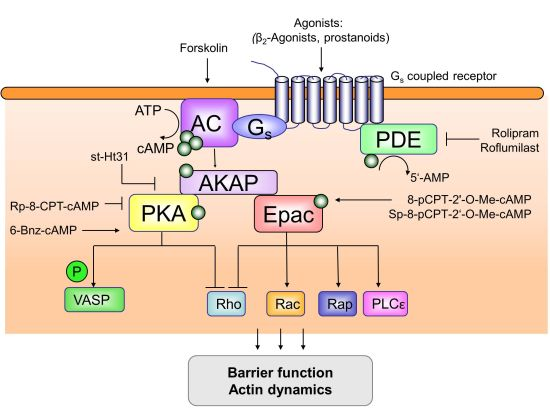 Share & Cite This Article
MDPI and ACS Style
Oldenburger, A.; Maarsingh, H.; Schmidt, M. Multiple Facets of cAMP Signalling and Physiological Impact: cAMP Compartmentalization in the Lung. Pharmaceuticals 2012, 5, 1291-1331.
Related Articles
Comments
[Return to top]