A Potent (R)-alpha-bis-lipoyl Derivative Containing 8-Hydroxyquinoline Scaffold: Synthesis and Biological Evaluation of Its Neuroprotective Capabilities in SH-SY5Y Human Neuroblastoma Cells
1
Dipartimento di Farmacia, Università degli Studi "G. D'Annunzio", Via dei Vestini 31, 66100 Chieti, Italy
2
Dipartimento di Neuroscienze e Imaging; IIM - Istituto Interuniversitario di Miologia Università degli Studi "G. D'Annunzio", Via dei Vestini 31, 66100 Chieti, Italy
3
Ce.S.I. Centro Studi Invecchiamento, Fondazione d'Annunzio, Via Colle dell'Ara, 66100 Chieti, Italy
*
Author to whom correspondence should be addressed.
Received: 6 December 2012 / Revised: 18 December 2012 / Accepted: 31 December 2012 / Published: 7 January 2013
Abstract
A
novel bis-lipoyl derivative containing 8-hydroxyquinoline scaffold (LA-HQ-LA, 5) was synthesized as a new multifunctional drug candidate with antioxidant, chelant, and neuroprotective properties for the treatment of neurodegenerative diseases. We have investigated the potential effectiveness of LA-HQ-LA against the cytotoxicity induced by 6-OHDA and H2O2 on human neuroblastoma SH-SY5Y cell line. Our outcomes showed that LA-HQ-LA resulted in significant neuroprotective and antioxidant effects against H2O2- and 6-OHDA-induced neurotoxicity in human neuroblastoma SH-SY5Y cells, as assessed by MTT assay. In particular, it showed potent neuroprotective effects against 6-OHDA in RA/PMA differentiated cells at all the tested concentrations.
View Full-Text
►

▼

Figures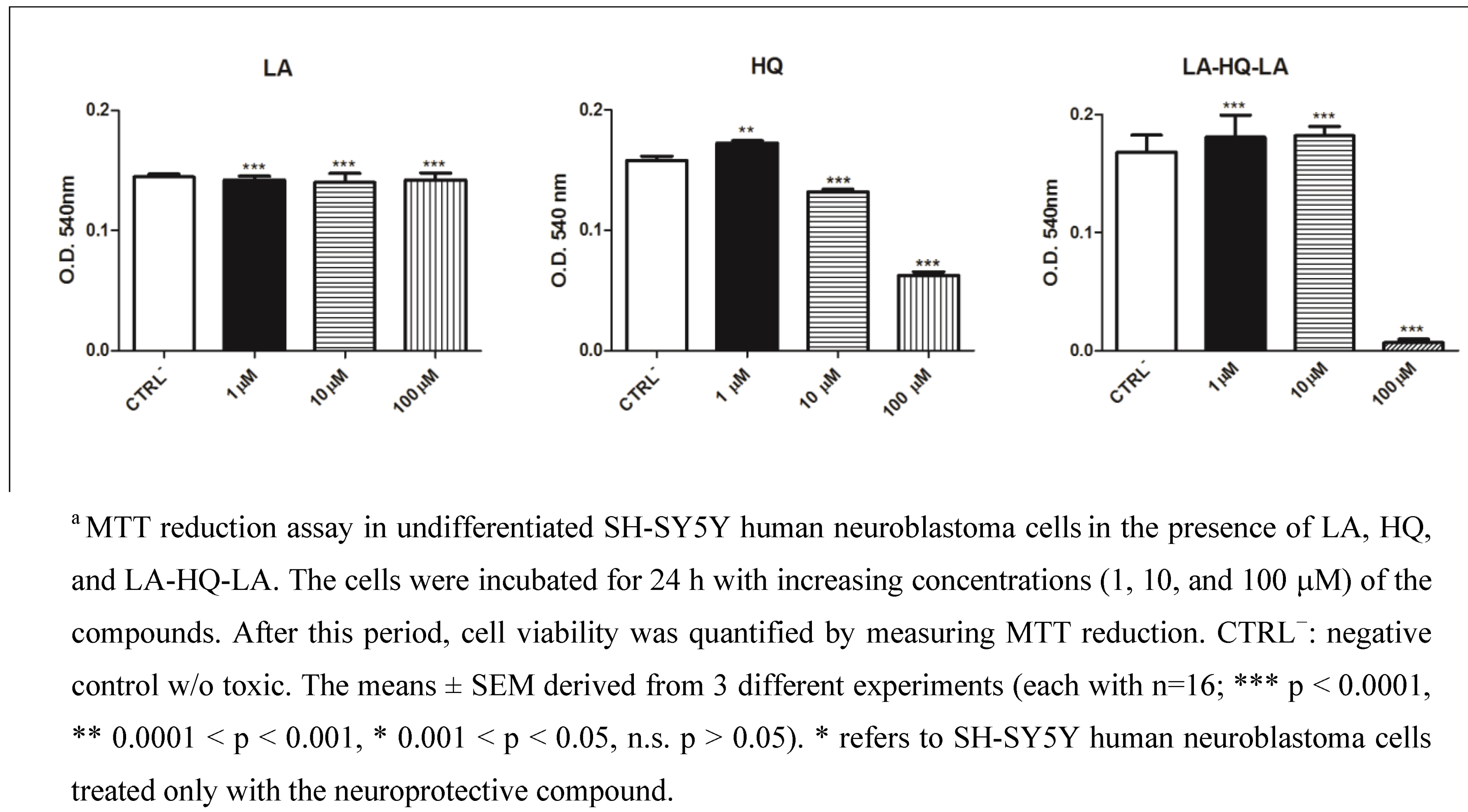 Figure 1
Share & Cite This Article
MDPI and ACS Style
Cacciatore, I.; Fornasari, E.; Baldassarre, L.; Cornacchia, C.; Fulle, S.; Di Filippo, E.S.; Pietrangelo, T.; Pinnen, F. A Potent (R)-alpha-bis-lipoyl Derivative Containing 8-Hydroxyquinoline Scaffold: Synthesis and Biological Evaluation of Its Neuroprotective Capabilities in SH-SY5Y Human Neuroblastoma Cells. Pharmaceuticals 2013, 6, 54-69.
Related Articles
Comments
[Return to top]