In Vivo Anti-Leukemia, Quantum Chemical Calculations and ADMET Investigations of Some Quaternary and Isothiouronium Surfactants
1
Chemistry Department, Faculty of Science, Al-Azhar University, Nasr City 11727, Cairo, Egypt
2
Egyptian Petroleum Research Institute, Applied Surfactant Laboratory, Nasr City 11727, Cairo, Egypt
3
Chemistry Department, Faculty of Science, Um El Qura University, Makkah 21514, Saudi Arabia
4
Al Farbabi Collage, Riyadh 11195, Saudi Arabia
*
Author to whom correspondence should be addressed.
Received: 17 November 2012 / Revised: 29 December 2012 / Accepted: 4 January 2013 / Published: 29 April 2013
Abstract
Anti-leukemia screening of previously prepared isothiouronium and quaternary salts was performed, and some salts exhibited promising activity as anticancer agents. Quantum chemical calculations were utilized to explore the electronic structure and stability of these compounds. Computational studies have been carried out at the PM3 semiempirical molecular orbitals level, to establish the HOMO-LUMO, IP and ESP mapping of these compounds. The ADMET properties were also studied to gain a clear view of the potential oral bioavailability of these compounds. The surface properties calculated included critical micelle concentration (CMC), maximum surface excess (Γ
max
), minimum surface area (A
min
), free energy of micellization (ΔG
o
mic
) and adsorption (ΔG
o
ads
).
View Full-Text
►

▼

Figures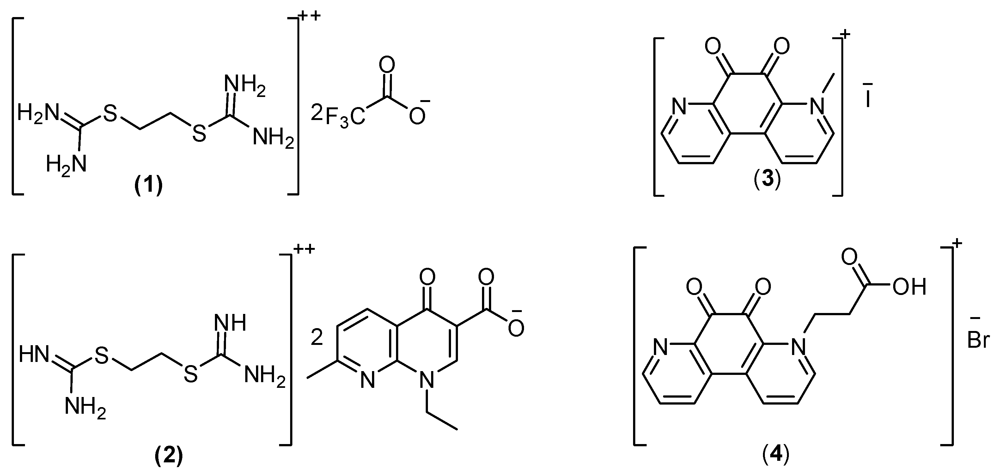 Figure 1
Share & Cite This Article
MDPI and ACS Style
El-Henawy, A.A.; Khowdiary, M.M.; Badawi, A.B.; Soliman, H.M. In Vivo Anti-Leukemia, Quantum Chemical Calculations and ADMET Investigations of Some Quaternary and Isothiouronium Surfactants. Pharmaceuticals 2013, 6, 634-649.
Related Articles
Comments
[Return to top]