The Inhibition of Stat5 by a Peptide Aptamer Ligand Specific for the DNA Binding Domain Prevents Target Gene Transactivation and the Growth of Breast and Prostate Tumor Cells
1
Georg-Speyer-Haus, Institute for Biomedical Research, Frankfurt am Main 60596, Germany
2
Ganymed Pharmaceuticals AG, Mainz 55131, Germany
3
Boston Children's Hospital, Division of Hematology/Oncology, Boston MA 02115, USA
4
Ludwig Boltzmann Institute for Cancer Research (LBI-CR), Vienna 1090, Austria
*
Author to whom correspondence should be addressed.
Received: 8 July 2013 / Revised: 14 August 2013 / Accepted: 16 August 2013 / Published: 20 August 2013
Abstract
The signal transducer and activator of transcription Stat5 is transiently activated by growth factor and cytokine signals in normal cells, but its persistent activation has been observed in a wide range of human tumors. Aberrant Stat5 activity was initially observed in leukemias, but subsequently also found in carcinomas. We investigated the importance of Stat5 in human tumor cell lines. shRNA mediated downregulation of Stat5 revealed the dependence of prostate and breast cancer cells on the expression of this transcription factor. We extended these inhibition studies and derived a peptide aptamer (PA) ligand, which directly interacts with the DNA-binding domain of Stat5 in a yeast-two-hybrid screen. The Stat5 specific PA sequence is embedded in a thioredoxin (hTRX) scaffold protein. The resulting recombinant protein S5-DBD-PA was expressed in bacteria, purified and introduced into tumor cells by protein transduction. Alternatively, S5-DBD-PA was expressed in the tumor cells after infection with a S5-DBD-PA encoding gene transfer vector. Both strategies impaired the DNA-binding ability of Stat5, suppressed Stat5 dependent transactivation and caused its intracellular degradation. Our experiments describe a peptide based inhibitor of Stat5 protein activity which can serve as a lead for the development of a clinically useful compound for cancer treatment.
View Full-Text
►

▼

Figures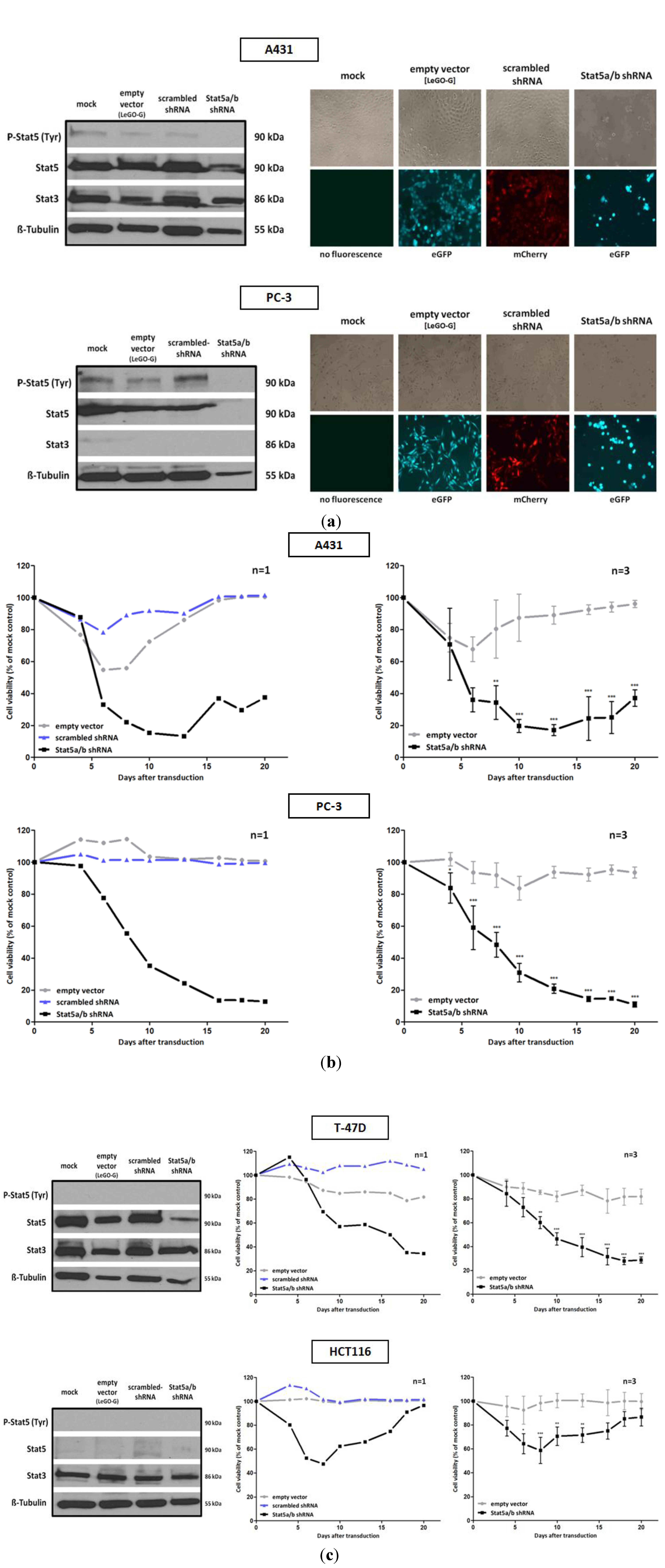 Figure 1
Share & Cite This Article
MDPI and ACS Style
Weber, A.; Borghouts, C.; Brendel, C.; Moriggl, R.; Delis, N.; Brill, B.; Vafaizadeh, V.; Groner, B. The Inhibition of Stat5 by a Peptide Aptamer Ligand Specific for the DNA Binding Domain Prevents Target Gene Transactivation and the Growth of Breast and Prostate Tumor Cells. Pharmaceuticals 2013, 6, 960-987.
Related Articles
Comments
[Return to top]