Dynamic Cross Talk between S1P and CXCL12 Regulates Hematopoietic Stem Cells Migration, Development and Bone Remodeling
Department of Immunology, Weizmann Institute of Science, 234 Herzl Str. P.O. Box 27, Rehovot, 76100, Israel
*
Author to whom correspondence should be addressed.
Received: 28 June 2013 / Revised: 18 August 2013 / Accepted: 4 September 2013 / Published: 23 September 2013
(This article belongs to the Special Issue
Chemokines
)
Abstract
Hematopoietic stem cells (HSCs) are mostly retained in a quiescent non-motile mode in their bone marrow (BM) niches, shifting to a migratory cycling and differentiating state to replenish the blood with mature leukocytes on demand. The balance between the major chemo-attractants CXCL12, predominantly in the BM, and S1P, mainly in the blood, dynamically regulates HSC recruitment to the circulation versus their retention in the BM. During alarm situations, stress-signals induce a decrease in CXCL12 levels in the BM, while S1P levels are rapidly and transiently increased in the circulation, thus favoring mobilization of stem cells as part of host defense and repair mechanisms. Myeloid cytokines, including G-CSF, up-regulate S1P signaling in the BM via the PI3K pathway. Induced CXCL12 secretion from stromal cells via reactive oxygen species (ROS) generation and increased S1P
1
expression and ROS signaling in HSCs, all facilitate mobilization. Bone turnover is also modulated by both CXCL12 and S1P, regulating the dynamic BM stromal microenvironment, osteoclasts and stem cell niches which all functionally express CXCL12 and S1P receptors. Overall, CXCL12 and S1P levels in the BM and circulation are synchronized to mutually control HSC motility, leukocyte production and osteoclast/osteoblast bone turnover during homeostasis and stress situations.
View Full-Text
►

▼

Figures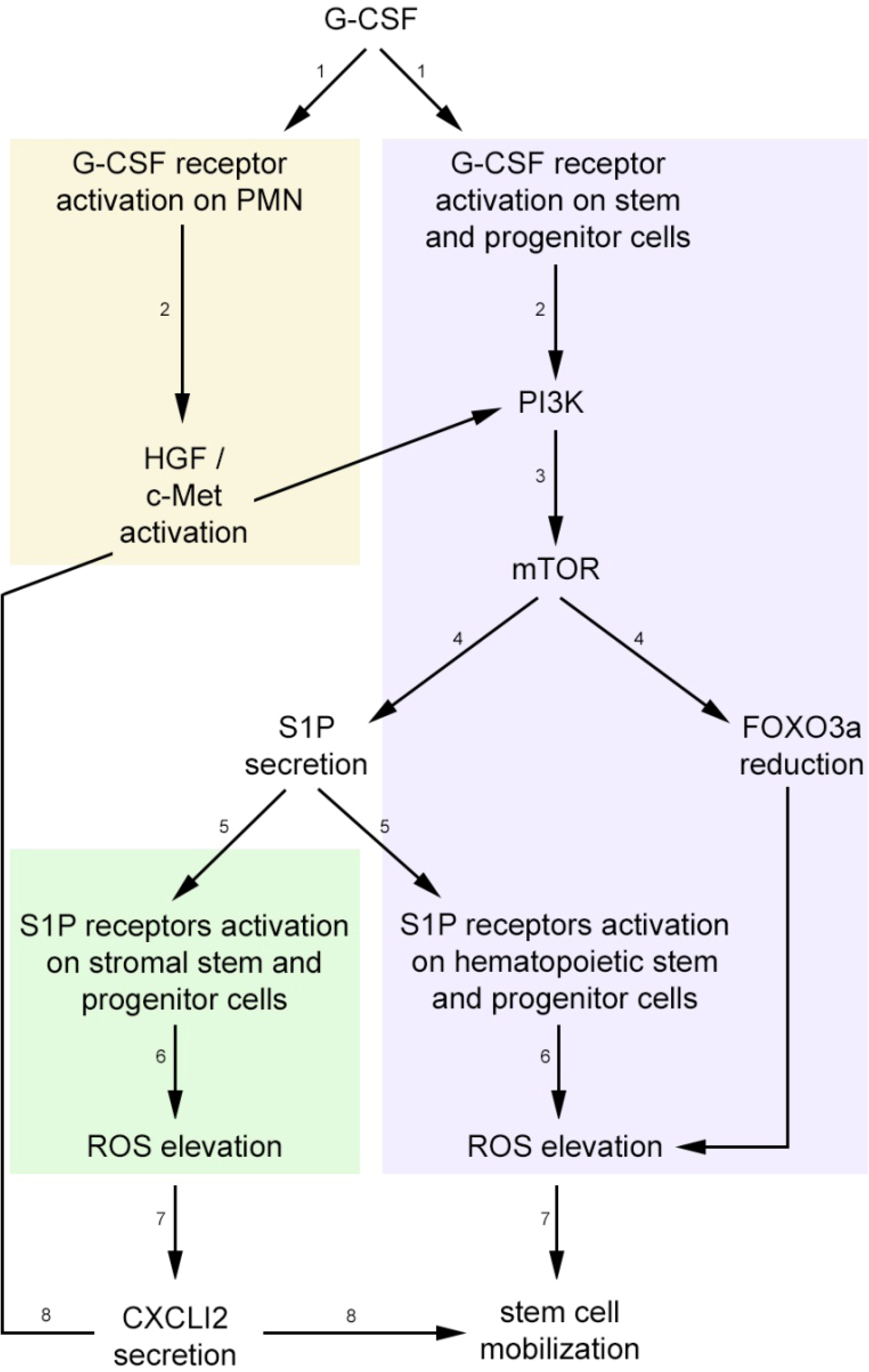 Figure 1
Share & Cite This Article
MDPI and ACS Style
Golan, K.; Kollet, O.; Lapidot, T. Dynamic Cross Talk between S1P and CXCL12 Regulates Hematopoietic Stem Cells Migration, Development and Bone Remodeling. Pharmaceuticals 2013, 6, 1145-1169.
Related Articles
Comments
[Return to top]