A Sulfated-Polysaccharide Fraction from Seaweed Gracilaria birdiae Prevents Naproxen-Induced Gastrointestinal Damage in Rats
1
LAFFEX—Laboratory of Experimental Physiopharmacology, Biotechnology and Biodiversity Center Research (BIOTEC), Federal University of Piauí-CMRV, Parnaíba 64202-020, PI, Brazil
2
LAFICA—Laboratory of Pharmacology of Inflammation and Cancer, Department of Physiology and Pharmacology, Federal University of Ceará, Fortaleza 60430-270, CE, Brazil
3
Laboratory of Proteins and Carbohydrates of Marine Algae, Department of Biochemistry and Molecular Biology, Federal University of Ceará, Fortaleza, CE 60455-760, Brazil
*
Author to whom correspondence should be addressed.
Received: 26 September 2012 / Revised: 16 October 2012 / Accepted: 18 October 2012 / Published: 22 November 2012
Abstract
Red seaweeds synthesize a great variety of sulfated galactans. Sulfated polysaccharides (PLSs) from seaweed are comprised of substances with pharmaceutical and biomedical potential. The aim of the present study was to evaluate the protective effect of the PLS fraction extracted from the seaweed
Gracilaria birdiae
in rats with naproxen-induced gastrointestinal damage. Male Wistar rats were pretreated with 0.5% carboxymethylcellulose (control group—vehicle) or PLS (10, 30, and 90 mg/kg,
p.o.
) twice daily (at 09:00 and 21:00) for 2 days. After 1 h, naproxen (80 mg/kg,
p.o.
) was administered. The rats were killed on day two, 4 h after naproxen treatment. The stomachs were promptly excised, opened along the greater curvature, and measured using digital calipers. Furthermore, the guts of the animals were removed, and a 5-cm portion of the small intestine (jejunum and ileum) was used for the evaluation of macroscopic scores. Samples of the stomach and the small intestine were used for histological evaluation, morphometric analysis and in assays for glutathione (GSH) levels, malonyldialdehyde (MDA) concentration, and myeloperoxidase (MPO) activity. PLS treatment reduced the macroscopic and microscopic naproxen-induced gastrointestinal damage in a dose-dependent manner. Our results suggest that the PLS fraction has a protective effect against gastrointestinal damage through mechanisms that involve the inhibition of inflammatory cell infiltration and lipid peroxidation.
View Full-Text
►

▼

Figures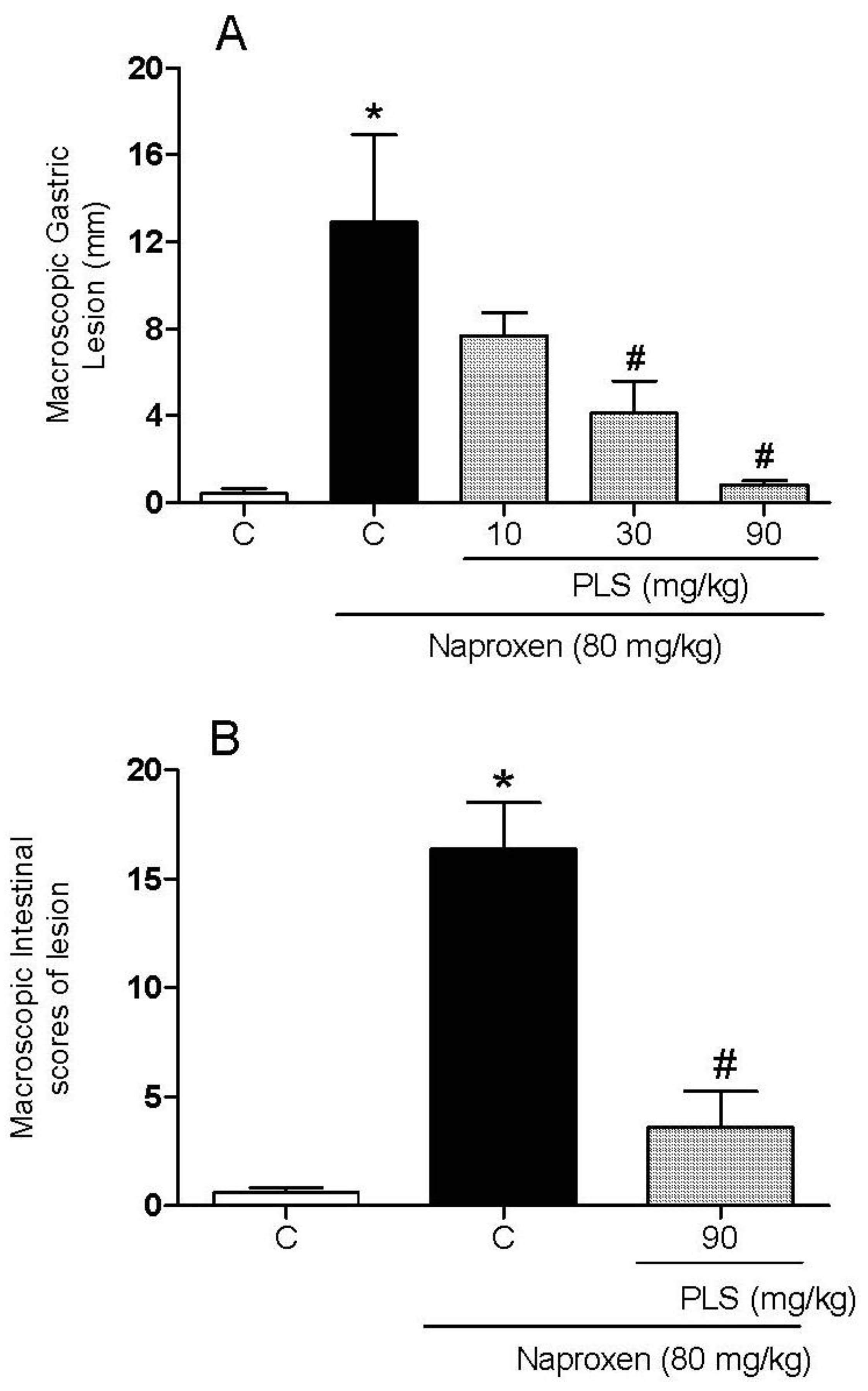 Figure 1
Share & Cite This Article
MDPI and ACS Style
Silva, R.O.; Santana, A.P.M.; Carvalho, N.S.; Bezerra, T.S.; Oliveira, C.B.; Damasceno, S.R.B.; Chaves, L.S.; Freitas, A.L.P.; Soares, P.M.G.; Souza, M.H.L.P.; Barbosa, A.L.R.; Medeiros, J.-V.R. A Sulfated-Polysaccharide Fraction from Seaweed Gracilaria birdiae Prevents Naproxen-Induced Gastrointestinal Damage in Rats. Mar. Drugs 2012, 10, 2618-2633.
Related Articles
Comments
[Return to top]