Xyloketal B Exhibits Its Antioxidant Activity through Induction of HO-1 in Vascular Endothelial Cells and Zebrafish
1
Department of Pharmacology, Zhongshan School of Medicine, Sun Yat-Sen University, Guangzhou 510080, China
2
Department of Pharmacology and Toxicology, School of Pharmaceutical Sciences, Sun Yat-Sen University, Guangzhou 510006, China
3
Department of Anesthesiology, The Second Affiliated Hospital, Sun Yat-Sen University, Guangzhou 510080, China
4
Key Laboratory of Quality Research in Chinese Medicine, Institute of Chinese Medical Sciences, University of Macau, Macao, China
5
Department of Applied Chemistry, School of Chemistry and Chemical Engineering, Sun Yat-Sen University, Guangzhou 510080, China
6
Guangdong Province Key Laboratory of Functional Molecules in Oceanic Microorganism, Sun Yat-Sen University, Bureau of Education, Guangzhou 510080, China
7
Department of Neurology, The First Affiliated Hospital, Sun Yat-Sen University, Guangzhou 510080, China
†
These authors contributed equally to this work.
*
Authors to whom correspondence should be addressed.
Received: 28 November 2012 / Revised: 22 January 2013 / Accepted: 31 January 2013 / Published: 18 February 2013
Abstract
We previously reported that a novel marine compound, xyloketal B, has strong antioxidative actions in different models of cardiovascular diseases. Induction of heme oxygenase-1 (HO-1), an important endogenous antioxidant enzyme, has been considered as a potential therapeutic strategy for cardiovascular diseases. We here investigated whether xyloketal B exhibits its antioxidant activity through induction of HO-1. In human umbilical vein endothelial cells (HUVECs), xyloketal B significantly induced HO-1 gene expression and translocation of the nuclear factor-erythroid 2-related factor 2 (Nrf-2) in a concentration- and time-dependent manner. The protection of xyloketal B against angiotensin II-induced apoptosis and reactive oxygen species (ROS) production could be abrogated by the HO-1 specific inhibitor, tin protoporphyrin-IX (SnPP). Consistently, the suppressive effects of xyloketal B on NADPH oxidase activity could be reversed by SnPP in zebrafish embryos. In addition, xyloketal B induced Akt and Erk1/2 phosphorylation in a concentration- and time-dependent manner. Furthermore, PI3K inhibitor LY294002 and Erk1/2 inhibitor U0126 suppressed the induction of HO-1 and translocation of Nrf-2 by xyloketal B, whereas P38 inhibitor SB203580 did not. In conclusion, xyloketal B can induce HO-1 expression via PI3K/Akt/Nrf-2 pathways, and the induction of HO-1 is mainly responsible for the antioxidant and antiapoptotic actions of xyloketal B.
View Full-Text
►

▼

Figures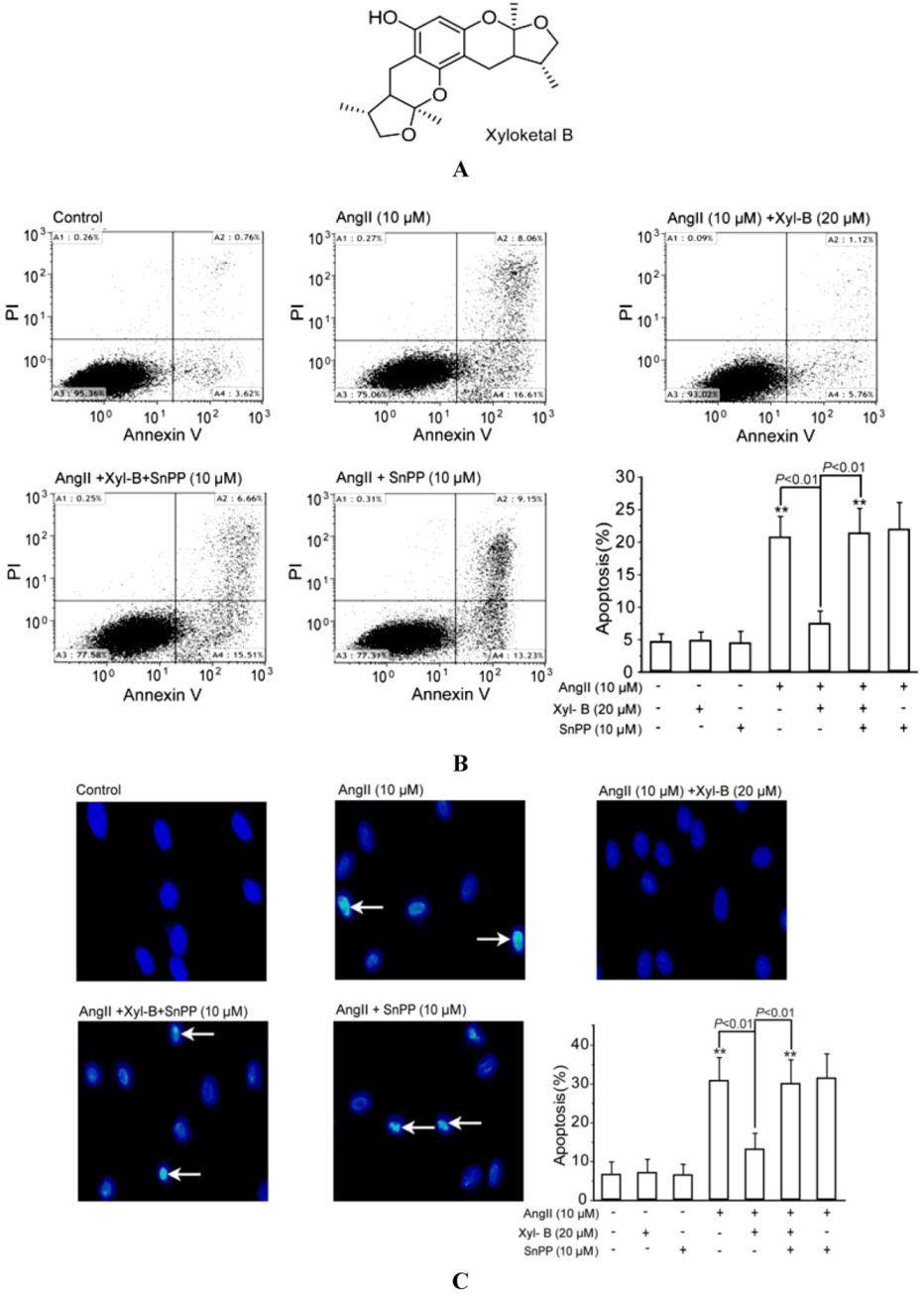 Figure 1
Share & Cite This Article
MDPI and ACS Style
Li, Z.-X.; Chen, J.-W.; Yuan, F.; Huang, Y.-Y.; Zhao, L.-Y.; Li, J.; Su, H.-X.; Liu, J.; Pang, J.-Y.; Lin, Y.-C.; Lu, X.-L.; Pei, Z.; Wang, G.-L.; Guan, Y.-Y. Xyloketal B Exhibits Its Antioxidant Activity through Induction of HO-1 in Vascular Endothelial Cells and Zebrafish. Mar. Drugs 2013, 11, 504-522.
Related Articles
Comments
[Return to top]