Brominated Skeletal Components of the Marine Demosponges, Aplysina cavernicola and Ianthella basta: Analytical and Biochemical Investigations
1
General Biochemistry, TU Dresden, Dresden 01062, Germany
2
Institute of Pharmaceutical Biology and Biotechnology, Heinrich Heine University Duesseldorf, Universitaetsstrasse 1, Geb. 26.23, Duesseldorf 40225, Germany
3
Bioanalytical Chemistry, TU Dresden, Dresden 01062, Germany
4
Institute of Experimental Physics, TU Bergakademie Freiberg, Freiberg 09596, Germany
*
Author to whom correspondence should be addressed.
Received: 16 February 2013 / Revised: 18 March 2013 / Accepted: 26 March 2013 / Published: 17 April 2013
Abstract
Demosponges possess a skeleton made of a composite material with various organic constituents and/or siliceous spicules. Chitin is an integral part of the skeleton of different sponges of the order Verongida. Moreover, sponges of the order Verongida, such as
Aplysina cavernicola
or
Ianthella basta
, are well-known for the biosynthesis of brominated tyrosine derivates, characteristic bioactive natural products
.
It has been unknown so far whether these compounds are exclusively present in the cellular matrix or whether they may also be incorporated into the chitin-based skeletons. In the present study, we therefore examined the skeletons of
A. cavernicola
and
I. basta
with respect to the presence of bromotyrosine metabolites. The chitin-based-skeletons isolated from these sponges indeed contain significant amounts of brominated compounds, which are not easily extractable from the skeletons by common solvents, such as MeOH, as shown by HPLC analyses in combination with NMR and IR spectroscopic measurements. Quantitative potentiometric analyses confirm that the skeleton-associated bromine mainly withstands the MeOH-based extraction. This observation suggests that the respective, but yet unidentified, brominated compounds are strongly bound to the sponge skeletons, possibly by covalent bonding. Moreover, gene fragments of halogenases suggested to be responsible for the incorporation of bromine into organic molecules could be amplified from DNA isolated from sponge samples enriched for sponge-associated bacteria.
View Full-Text
►

▼

Figures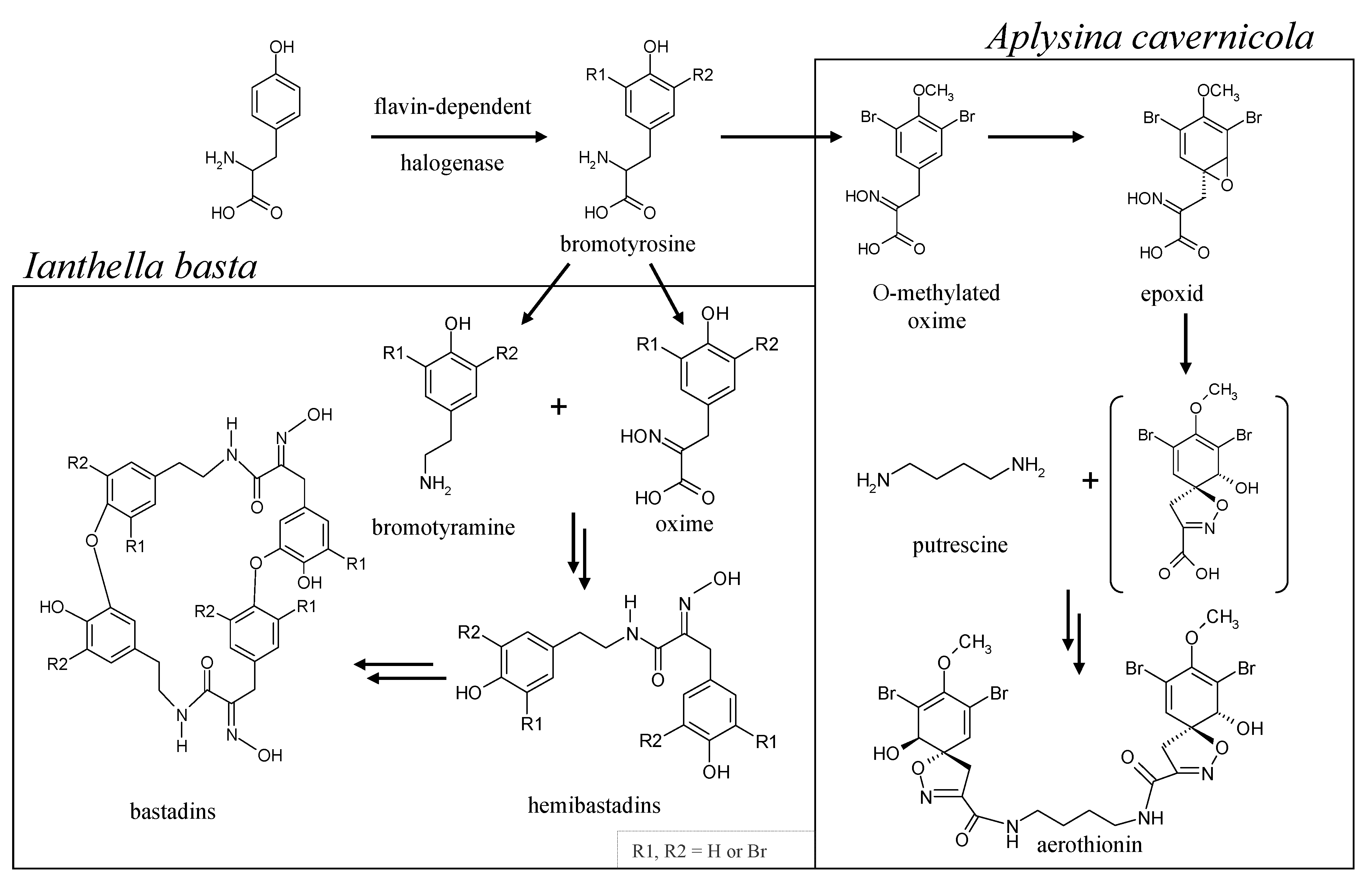 Figure 1
Share & Cite This Article
MDPI and ACS Style
Kunze, K.; Niemann, H.; Ueberlein, S.; Schulze, R.; Ehrlich, H.; Brunner, E.; Proksch, P.; Pée, K.-H.V. Brominated Skeletal Components of the Marine Demosponges, Aplysina cavernicola and Ianthella basta: Analytical and Biochemical Investigations. Mar. Drugs 2013, 11, 1271-1287.
Related Articles
Comments
[Return to top]