UVA Photoirradiation of Nitro-Polycyclic Aromatic Hydrocarbons—Induction of Reactive Oxygen Species and Formation of Lipid Peroxides †
1
National Center for Toxicological Research, U.S. Food and Drug Administration, Jefferson, AR 72079, USA
2
Center for Food Safety and Applied Nutrition, U.S. Food and Drug Administration, College Park, MD 20740, USA
3
Hung Kuang University, Sha-Lu, Taichung, 443, Taiwan
4
National Institute of Occupational Health and Poisoning Control, Chinese Center for Disease Control and Prevention, Beijing 100050, China
5
Department of Chemistry and Biochemistry, Jackson State University, Jackson, MS 39217, USA
†
This article is not an official guidance or policy statement of the U.S. Food and Drug Administration (FDA). No official support or endorsement by the U.S. FDA is intended or should be inferred.
*
Authors to whom correspondence should be addressed.
Received: 1 February 2013 / Revised: 6 March 2013 / Accepted: 6 March 2013 / Published: 14 March 2013
Abstract
Nitro-polycyclic aromatic hydrocarbons (nitro-PAHs) are a class of genotoxic environmental contaminants. We have long been interested in determining the mechanisms by which nitro-PAHs induce genotoxicity. Although the metabolic activation of nitro-PAHs leading to toxicological activities has been well studied, the photo-induced activation of nitro-PAHs has seldom been reported. In this paper, we report photo-induced lipid peroxidation by 19 nitro-PAHs. The results indicated that all but two of the nitro-PAHs can induce lipid peroxidation. Mechanistic studies suggest that lipid peroxidation by nitro-PAHs is mediated by free radicals generated in the reaction. There was no structural correlation between the nitro-PAHs and their ability to induce lipid peroxidation upon UVA irradiation, or between the HOMO-LUMO gap and the ability to cause lipid peroxidation. Most of the nitro-PAHs are less potent in terms of causing lipid peroxidation than their parent PAHs. The lack of correlation is attributed to the complex photophysics and photochemistry of the nitro-PAHs and the yield of reactive oxygen species (ROS) and other factors.
View Full-Text
►

▼

Figures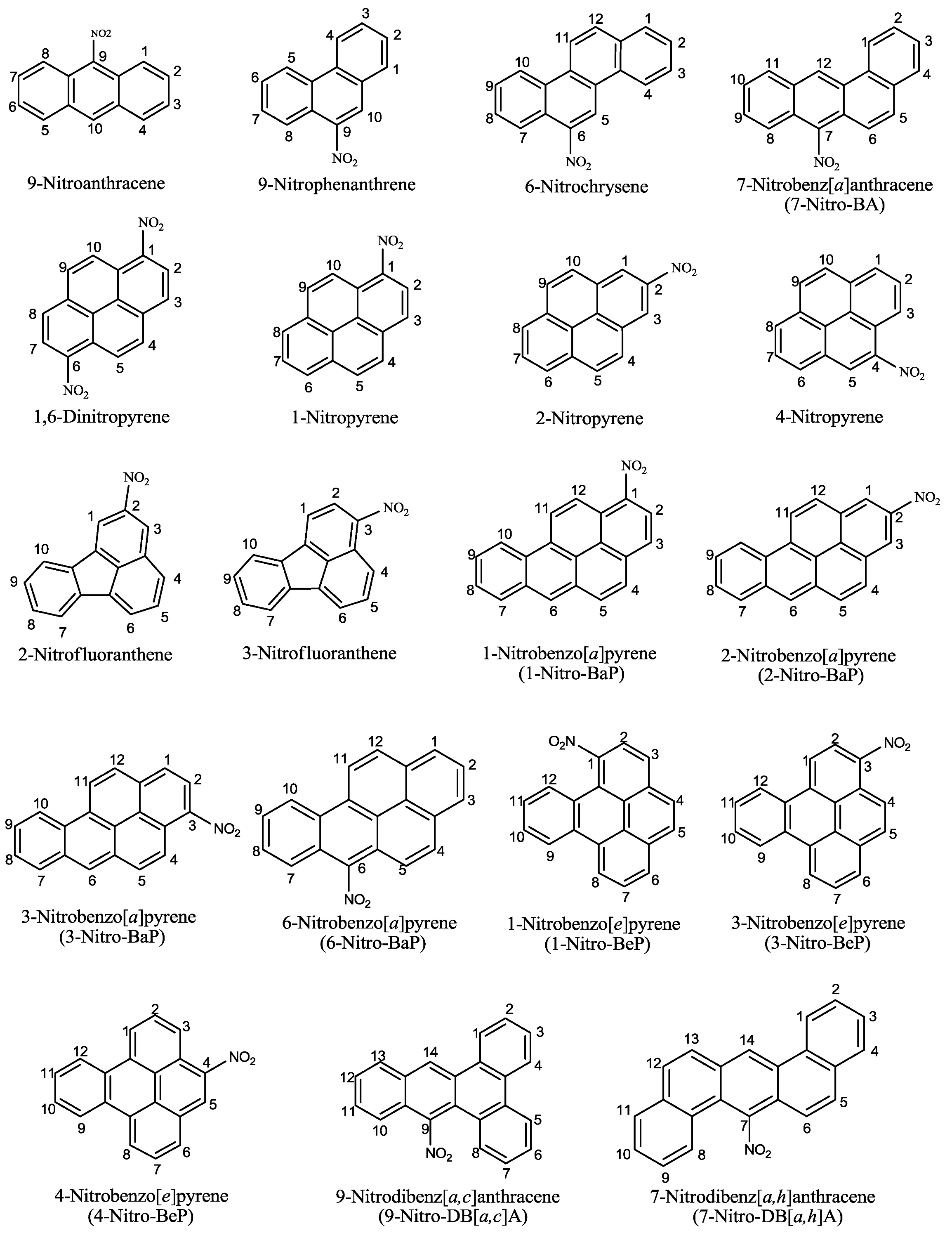 Figure 1
Share & Cite This Article
MDPI and ACS Style
Xia, Q.; Yin, J.-J.; Zhao, Y.; Wu, Y.-S.; Wang, Y.-Q.; Ma, L.; Chen, S.; Sun, X.; Fu, P.P.; Yu, H. UVA Photoirradiation of Nitro-Polycyclic Aromatic Hydrocarbons—Induction of Reactive Oxygen Species and Formation of Lipid Peroxides †. Int. J. Environ. Res. Public Health 2013, 10, 1062-1084.
Related Articles
Comments
[Return to top]