Toxicity of Gutkha, a Smokeless Tobacco Product Gone Global: Is There More to the Toxicity than Nicotine?
1
Department of Environmental Medicine, NYU School of Medicine, 57 Old Forge Rd., Tuxedo, NY 10987, USA
2
Memorial Sloan Kettering Cancer Center, 1275 York Avenue, New York, NY 10065, USA
*
Author to whom correspondence should be addressed.
Received: 10 October 2013 / Revised: 20 November 2013 / Accepted: 12 December 2013 / Published: 9 January 2014
Abstract
The popularity of smokeless tobacco (ST) is growing rapidly and its prevalence of use is rising globally. Consumption of Gutkha, an addictive form of ST, is particularly common amongst South Asian communities throughout the World. This includes within the US, following large-scale immigration into the country. However, there exists a lack of knowledge concerning these alternative tobacco products. To this end, a study was carried out to determine the toxicity of gutkha, and what role, if any, nicotine contributes to the effects. Adult male mice were treated daily for 3-week (5 day/week, once/day), via the oral mucosa, with equal volumes (50 μL) of either sterile water (control), a solution of nicotine dissolved in water (0.24 mg of nicotine), or a solution of lyophilized guthka dissolved in water (21 mg lyophilized gutkha). Serum cotinine, measured weekly, was 36 and 48 ng/mL in gutkha- and nicotine-treated mice, respectively. Results demonstrated that exposure to nicotine and gutkha reduced heart weight, while exposure to gutkha, but not nicotine, decreased liver weight, body weight, and serum testosterone levels (compared to controls). These findings suggest that short-term guhtka use adversely impacts growth and circulating testosterone levels, and that gutkha toxicity may be driven by components other than nicotine. As use of guthka increases worldwide, future studies are needed to further delineate toxicological implications such that appropriate policy decisions can be made.
View Full-Text
►

▼

Figures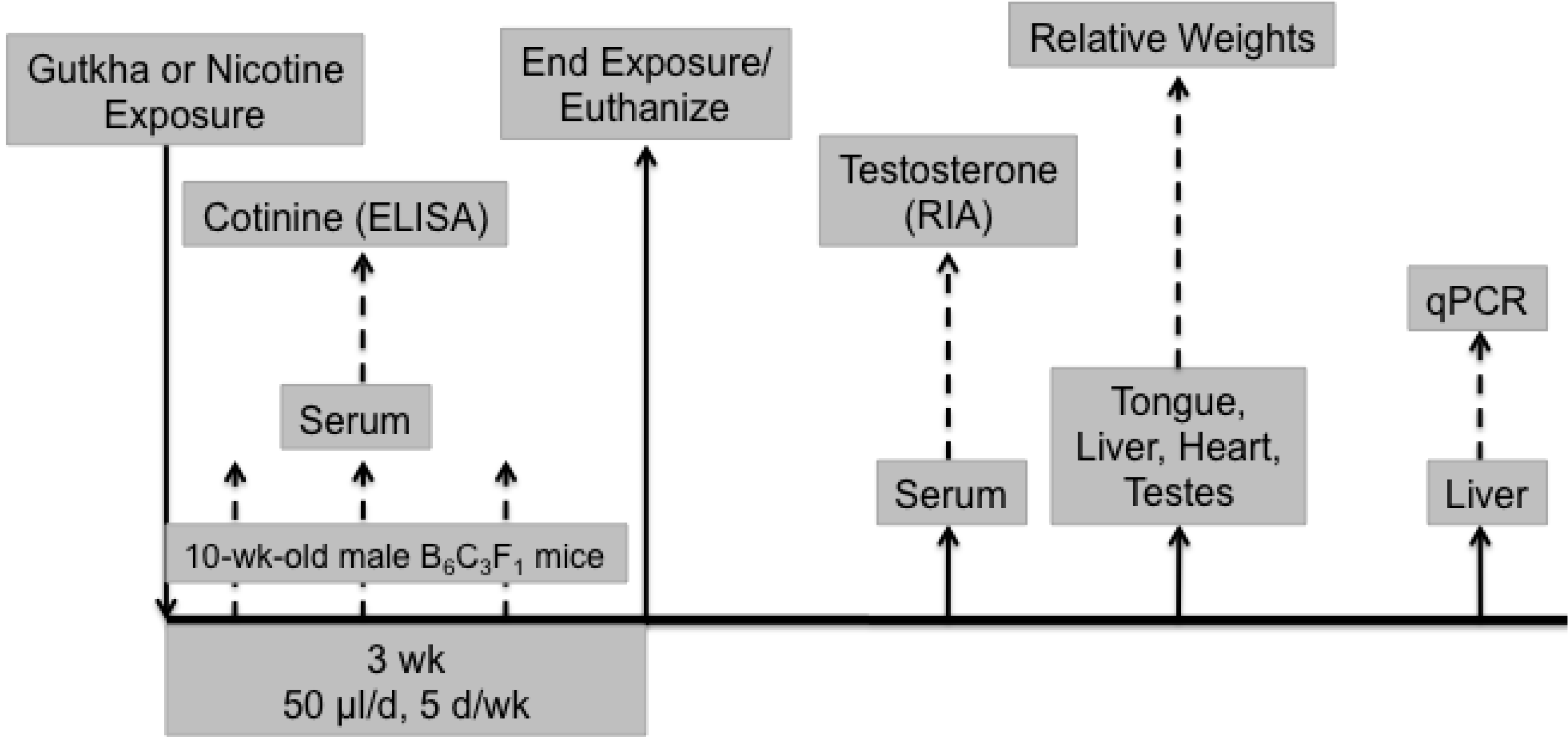 Figure 1
Share & Cite This Article
MDPI and ACS Style
Willis, D.N.; Popovech, M.A.; Gany, F.; Hoffman, C.; Blum, J.L.; Zelikoff, J.T. Toxicity of Gutkha, a Smokeless Tobacco Product Gone Global: Is There More to the Toxicity than Nicotine? Int. J. Environ. Res. Public Health 2014, 11, 919-933.
Related Articles
Comments
[Return to top]