Feasibility of Silver Doped TiO2/Glass Fiber Photocatalyst under Visible Irradiation as an Indoor Air Germicide
Department of Civil and Environmental Engineering, University of Ulsan, Daehakro 93, Namgu, Ulsan 680-749, Korea
*
Author to whom correspondence should be addressed.
Received: 20 January 2014 / Revised: 18 February 2014 / Accepted: 14 March 2014 / Published: 20 March 2014
Abstract
This study investigated the feasibility of using Ag-TiO
2
photocatalyst supported on glass fiber (Ag-TiO
2
/GF) prepared by a sol-gel method as an indoor air germicide. An experimental model was designed to investigate the bacterial disinfection efficiency of
Staphylococcus
(Staph), the most popular bacterium in hospitals in Korea, by the Ag-TiO
2
/GF photocatalyst. The silver content in Ag/TiO
2
was altered from 1 to 10% to investigate the optimal ratio of Ag doped on TiO
2
/glass fiber (TiO
2
/GF) for photocatalytic disinfection of Staph. This study confirmed that Ag in Ag-TiO
2
/GF could work as
an electron sink or donor to increase photocatalytic activity and promote the charge separation of electron-hole pairs generated from TiO2 after photon absorption. Ag also
acts as an intermediate agent for the transfer of photo-generated electrons from the valence band of TiO
2
to an acceptor (O
2
gas) to promote photo-oxidation processes. The photocatalytic disinfection activity of Ag-TiO
2
/GF under visible light increased with the increase in silver content up to 7.5% and then slightly decreased with further increasing silver content. The highest disinfection efficiency and disinfection capacity of Staph using 7.5% Ag-TiO
2
/GF were 75.23% and 20 (CFU∙s
−1
∙cm
−
2
) respectively. The medium level of humidity of 60% ± 5% showed better photocatalytic disinfection than the lower (40% ± 5%) or higher (80% ± 5%) levels.
View Full-Text
►

▼

Figures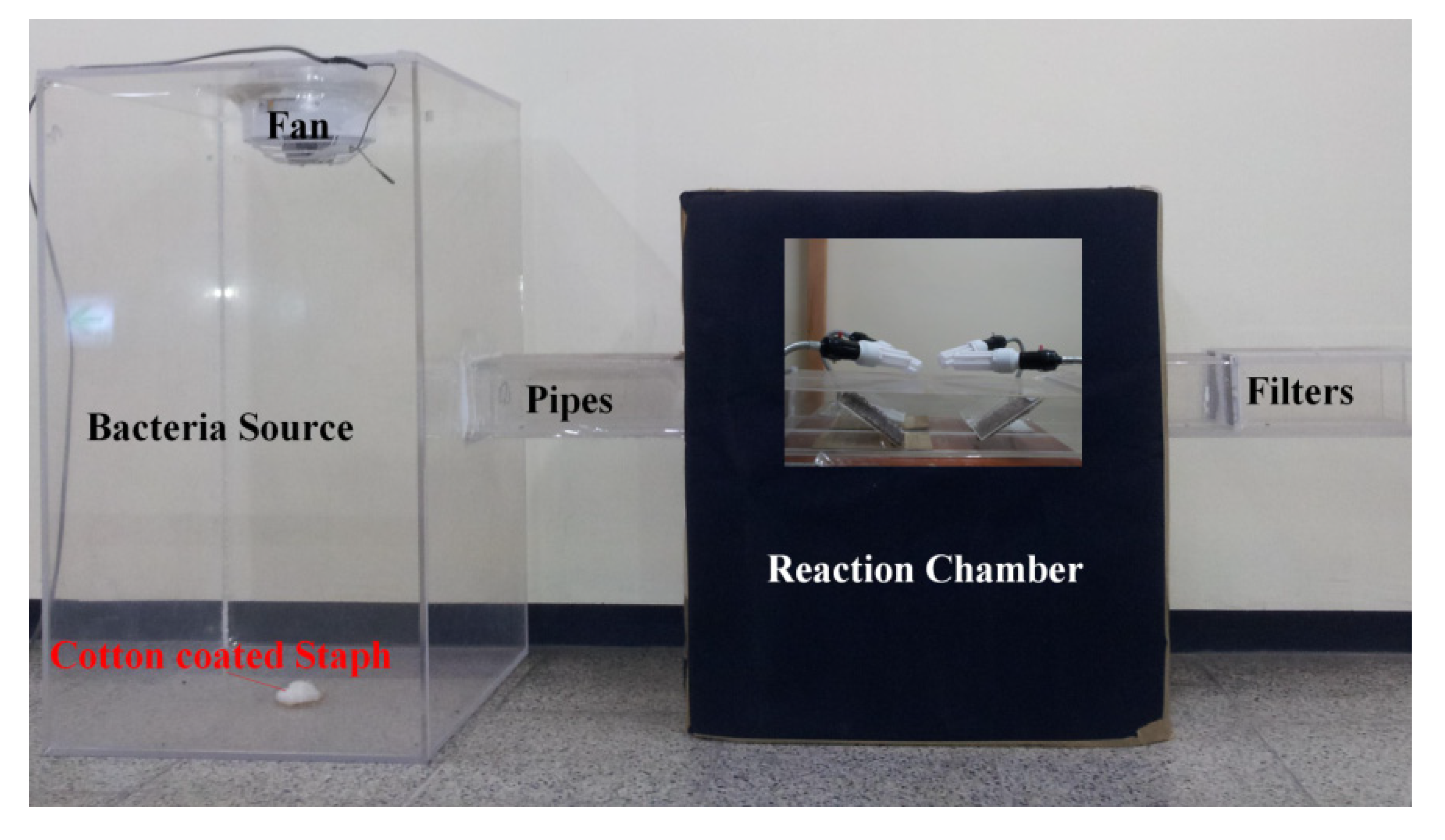 Figure 1
Share & Cite This Article
MDPI and ACS Style
Pham, T.-D.; Lee, B.-K. Feasibility of Silver Doped TiO2/Glass Fiber Photocatalyst under Visible Irradiation as an Indoor Air Germicide. Int. J. Environ. Res. Public Health 2014, 11, 3271-3288.
Related Articles
Comments
[Return to top]