Biofilm Formation and Antimicrobial Susceptibility of Staphylococcus epidermidis Strains from a Hospital Environment
1
Department and Institute of Microbiology and Virology, School of Pharmacy with the Division of Laboratory Medicine, Medical University of Silesia, ul. Jagiellońska 4, 41-200 Sosnowiec, Poland
2
Department of Conservative Dentistry with Endodontics, School of Medicine with the Division of Dentistry, Medical University of Silesia, Pl. Akademicki 17, 41-902 Bytom, Poland
*
Author to whom correspondence should be addressed.
Received: 21 January 2014 / Revised: 8 April 2014 / Accepted: 16 April 2014 / Published: 25 April 2014
Abstract
The hospital environment microflora comprise a wide variety of microorganisms which are more or less pathogenic and where staphylococci are one of the most common types. The aim of the presented study was to evaluate the prevalence of the biofilm forming coagulase-negative staphylococci (CoNS) in a hospital environment as a risk factor for nosocomial infections. Among 122 isolated and tested strains of CoNS the most frequent were:
S. epidermidis
—32 strains,
S. haemolyticus
—31 strains,
S. capitis
subsp
. capitis
—
21 strains,
S. hominis
—11 strains
, S. cohnii
subsp
. cohnii
—nine strains. In case of CoNS, the main molecule responsible for intercellular adhesion is a polysaccharide intercellular adhesin (PIA), encoded on the
ica
gene operon. The analysis revealed the presence of the
icaADBC
operon genes in 46.88% of
S. epidermidis
isolates.
IcaA
and
icaD
were present in 34.38% and 28.13% of strains respectively while
IcaC
gene was present in 37.50% of strains.
IcaB
gene was found in 21.88% of
S. epidermidis
strains. In 15 (63%) strains all
icaADBC
operon genes were observed. The assessment of antibacterial drugs susceptibility demonstrated that analyzed CoNS strains were highly resistant to macrolides and lincosamides and more sensitive to rifampicin and linezolid. Our data indicates that the hospital environment can be colonized by biofilm forming coagulase-negative staphylococci and transmission of these strains can cause an increased risk of serious nosocomial infections.
View Full-Text
►

▼

Figures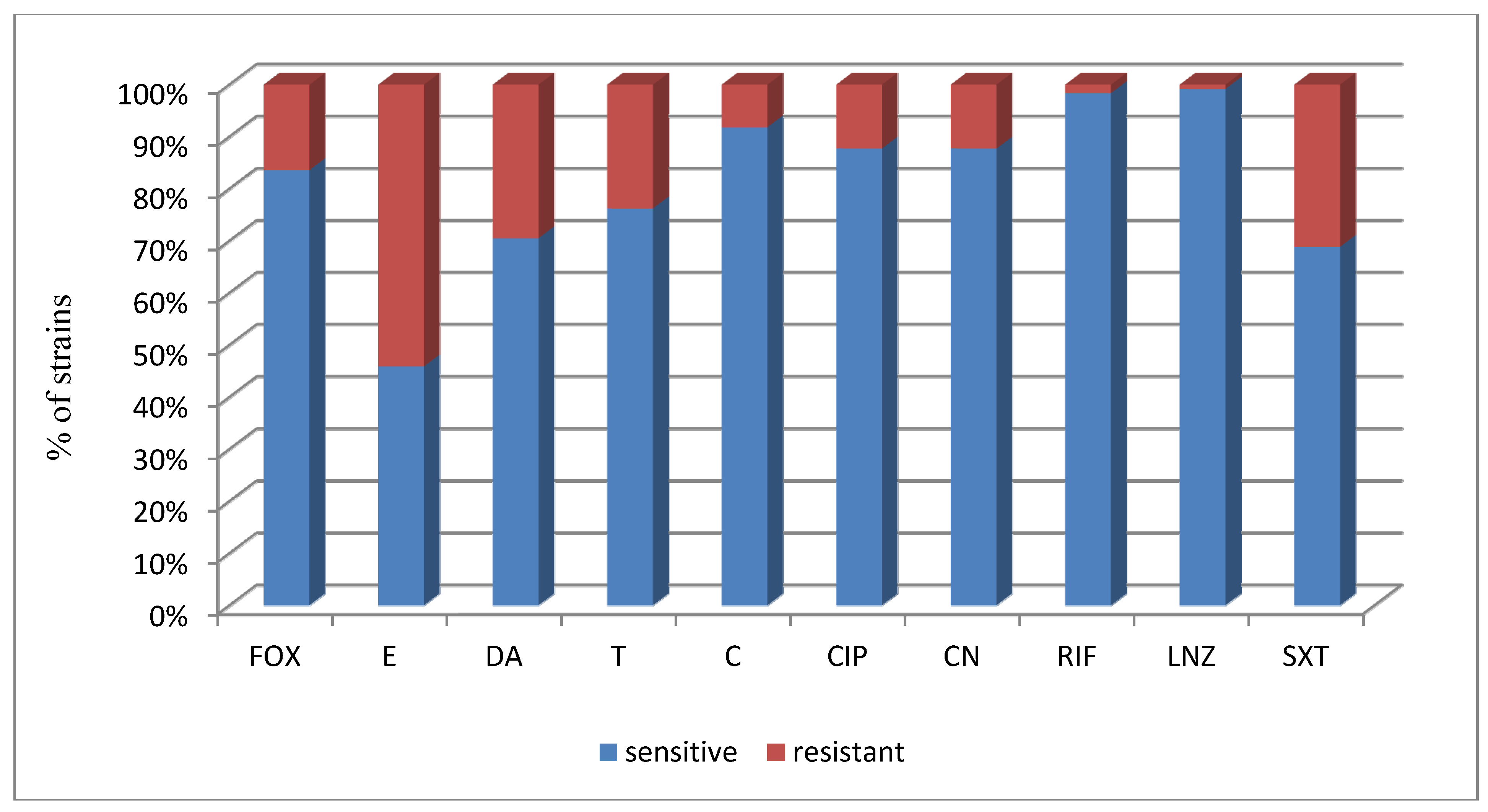 Figure 1
Share & Cite This Article
MDPI and ACS Style
Wojtyczka, R.D.; Orlewska, K.; Kępa, M.; Idzik, D.; Dziedzic, A.; Mularz, T.; Krawczyk, M.; Miklasińska, M.; Wąsik, T.J. Biofilm Formation and Antimicrobial Susceptibility of Staphylococcus epidermidis Strains from a Hospital Environment. Int. J. Environ. Res. Public Health 2014, 11, 4619-4633.
Related Articles
Comments
[Return to top]