Slag Behavior in Gasifiers. Part I: Influence of Coal Properties and Gasification Conditions
U.S. Department of Energy (DOE), National Energy Technology Laboratory (NETL), 626 Cochrans Mill Road, P.O. Box 10940, Pittsburgh, PA 15236-0940, USA
*
Author to whom correspondence should be addressed.
Received: 30 October 2012 / Revised: 15 January 2013 / Accepted: 17 January 2013 / Published: 7 February 2013
Abstract
In the entrained-flow gasifiers used in integrated gasification combined cycle (IGCC) plants, the majority of mineral matter transforms to liquid slag on the wall of the gasifier and flows out the bottom. However, a small fraction of the mineral matter is entrained (as fly ash) with the raw syngas out of the gasifier to downstream processing. This molten/sticky fly ash could cause fouling of the syngas cooler. To improve gasification availability through better design and operation of the gasification process, a better understanding of slag behavior and the characteristics of the slagging process is needed. Char/ash properties, gas compositions in the gasifier, the gasifier wall structure, fluid dynamics, and plant operating conditions (mainly temperature and oxygen/carbon ratio) all affect slagging behavior. Because coal has varying ash content and composition, different operating conditions are required to maintain the slag flow and limit problems downstream. In Part I, we review the main types and the operating conditions of entrained-flow gasifiers and coal properties used in IGCC plants; we identify and discuss the key coal ash properties and the operating conditions impacting slag behavior; finally, we summarize the coal quality criteria and the operating conditions in entrained-flow gasifiers. In Part II, we discuss the constitutive modeling related to the rheological studies of slag flow.
View Full-Text
►

▼

Figures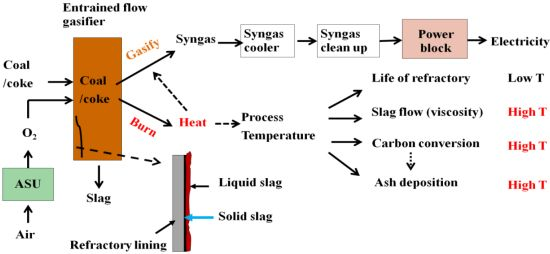 Share & Cite This Article
MDPI and ACS Style
Wang, P.; Massoudi, M. Slag Behavior in Gasifiers. Part I: Influence of Coal Properties and Gasification Conditions. Energies 2013, 6, 784-806.
Related Articles
Comments
[Return to top]