Xylan-Modified-Based Hydrogels with Temperature/pH Dual Sensitivity and Controllable Drug Delivery Behavior
1
State Key Laboratory of Pulp and Paper Engineering, South China University of Technology, Guangzhou 510640, China
2
Beijing Key Laboratory of Lignocellulosic Chemistry, Beijing Forestry University, Beijing 100083, China
*
Author to whom correspondence should be addressed.
Academic Editor: Dusan Losic
Received: 20 January 2017 / Revised: 24 February 2017 / Accepted: 13 March 2017 / Published: 16 March 2017
Abstract
Among the natural macromolecules potentially used as the scaffold material in hydrogels, xylan has aroused great interest in many fields because of its biocompatibility, low toxicity, and biodegradability. In this work, new pH and thermoresponsive hydrogels were prepared by the cross-linking polymerization of maleic anhydride-modified xylan (MAHX) with
N
-isopropylacrylamide (NIPAm) and acrylic acid (AA) under UV irradiation to form MAHX-
g
-P(NIPAm-co-AA) hydrogels. The pore volume, the mechanical properties, and the release rate for drugs of hydrogels could be controlled by the degree of substitution of MAHX. These hydrogels were characterized by swelling ability, lower critical solution temperature (LCST), Fourier-transform infrared (FTIR), and SEM. Furthermore, the cumulative release rate was investigated for acetylsalicylic acid and theophylline, as well as the cytocompatibility MAHX-based hydrogels. Results showed that MAHX-based hydrogels exhibited excellent swelling–deswelling properties, uniform porous structure, and the temperature/pH dual sensitivity. In vitro, the cumulative release rate of acetylsalicylic acid for MAHX-based hydrogels was higher than that for theophylline, and in the gastrointestinal sustained drug release study, the acetylsalicylic acid release rate was extremely slow during the initial 3 h in the gastric fluid (24.26%), and then the cumulative release rate reached to 90.5% after sustained release for 5 h in simulated intestinal fluid. The cytotoxicity experiment demonstrated that MAHX-based hydrogels could promote cell proliferation and had satisfactory biocompatibility with NIH3T3 cells. These results indicated that MAHX-based hydrogels, as new drug carriers, had favorable behavior for intestinal-targeted drug delivery.
View Full-Text
►

▼

Figures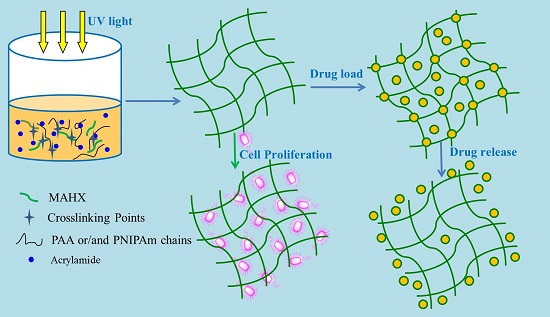 This is an open access article distributed under the
Creative Commons Attribution License
which permits unrestricted use, distribution, and reproduction in any medium, provided the original work is properly cited. (CC BY 4.0).
Share & Cite This Article
MDPI and ACS Style
Kong, W.-Q.; Gao, C.-D.; Hu, S.-F.; Ren, J.-L.; Zhao, L.-H.; Sun, R.-C. Xylan-Modified-Based Hydrogels with Temperature/pH Dual Sensitivity and Controllable Drug Delivery Behavior. Materials 2017, 10, 304.
Note that from the first issue of 2016, MDPI journals use article numbers instead of page numbers. See further details here.
Related Articles
Comments
[Return to top]