Electron Density Modification of Single Wall Carbon Nanotubes (SWCNT) by Liquid-Phase Molecular Adsorption of Hexaiodobenzene
1
Department of Chemistry, Graduate School of Science, Chiba University, Chiba 263-8522, Japan
2
Research Center for Exotic Nanocarbon (JST), Shinshu University, Nagano 380-8553, Japan
3
Center of Advanced Carbon Materials, Advanced Industrial Science and Technology, Tsukuba 305-8565, Japan
4
Department of Physics, Meijyo University, Nagoya 468-8502, Japan
5
Technology Center, Godo Shigen Co. Chosei-mura, Chosei, Chiba 299-4333, Japan
*
Author to whom correspondence should be addressed.
Received: 8 November 2012 / Revised: 3 February 2013 / Accepted: 5 February 2013 / Published: 15 February 2013
Abstract
Electron density of single wall carbon nanotubes (SWCNT) is effectively modified by hexaiodobenzene (HIB) molecules using liquid-phase adsorption. UV-Vis-NIR absorption spectra of the HIB-adsorbed SWCNT, especially in the NIR region, showed a disappearance of S
11
transitions between the V1 valance band and the C1 conduction band of van Hove singularities which can be attributed to the effective charge transfer between HIB and the SWCNT. The adsorption of HIB also caused significant peak-shifts (lower frequency shift around 170 cm
−1
and higher shift around 186 cm
‑1
) and an intensity change (around 100–150 cm
−1
and 270–290 cm
−1
) in the radial breathing mode of Raman spectra. The charge transfer from SWCNT to HIB was further confirmed by the change in the C1s peak of X-ray photoelectron spectrum, revealing the oxidation of carbon in SWCNT upon HIB adsorption.
View Full-Text
►

▼

Figures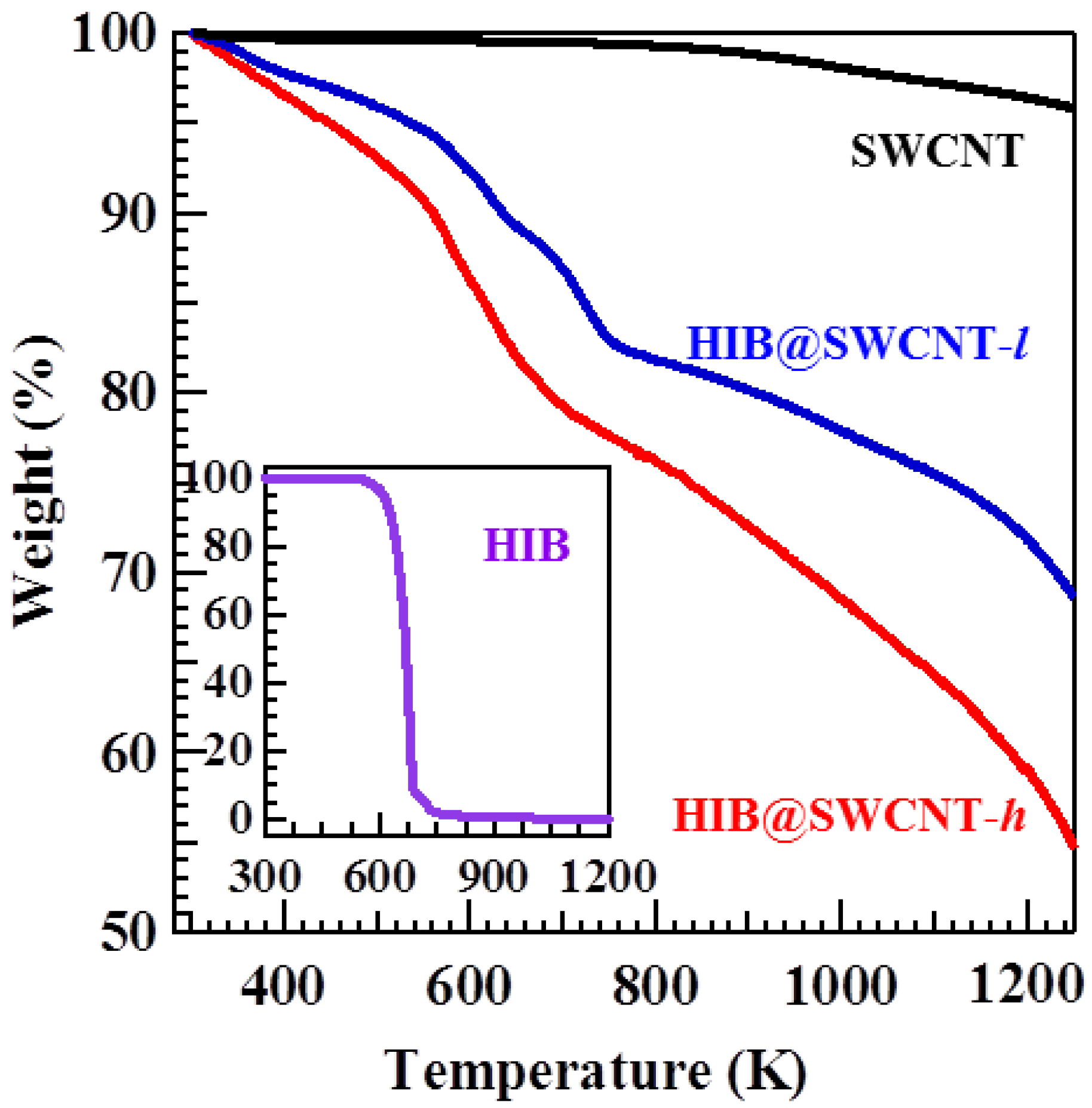 Figure 1
Share & Cite This Article
MDPI and ACS Style
Lu, M.; Ohba, T.; Kaneko, K.; Hata, K.; Yumura, M.; Iijima, S.; Komatsu, H.; Sakuma, A.; Kanoh, H. Electron Density Modification of Single Wall Carbon Nanotubes (SWCNT) by Liquid-Phase Molecular Adsorption of Hexaiodobenzene. Materials 2013, 6, 535-543.
Related Articles
Comments
[Return to top]