Effects of Hydrolysed Whey Proteins on the Techno-Functional Characteristics of Whey Protein-Based Films
1
Fraunhofer-Institute for Process Engineering and Packaging IVV, Giggenhauser Strasse 35, Freising 85354, Germany
2
Chair of Food Packaging Technology, Technische Universität München, Weihenstephaner Steig 22, Freising 85354, Germany
*
Author to whom correspondence should be addressed.
Received: 24 September 2012 / Revised: 1 March 2013 / Accepted: 4 March 2013 / Published: 7 March 2013
Abstract
Pure whey protein isolate (WPI)-based cast films are very brittle due to its strong formation of protein cross-linking of disulphide bonding, hydrogen bonding as well as hydrophobic and electrostatic interactions. However, this strong cross-linking is the reason for its final barrier performance. To overcome film brittleness of whey protein layers, plasticisers like glycerol are used. It reduces intermolecular interactions, increases the mobility of polymer chains and thus film flexibility can be achieved. The objective of this study was to investigate the influence of hydrolysed whey protein isolate (WPI) in whey protein isolate-based cast films on their techno-functional properties. Due to the fact, that the addition of glycerol is necessary but at the same time increases the free volume in the film leading to higher oxygen and water vapour permeability, the glycerol concentration was kept constant. Cast films with different ratios of hydrolysed and not hydrolysed WPI were produced. They were characterised in order to determine the influence of the lower molecular weight caused by the addition of hydrolysed WPI on the techno-functional properties. This study showed that increasing hydrolysed WPI concentrations significantly change the mechanical properties while maintaining the oxygen and water vapour permeability. The tensile and elastic film properties decreased significantly by reducing the average molecular weight whereas the yellowish coloration and the surface tension considerably increased. This study provided new data which put researchers and material developers in a position to tailor the characteristics of whey protein based films according to their intended application and further processing.
View Full-Text
►

▼

Figures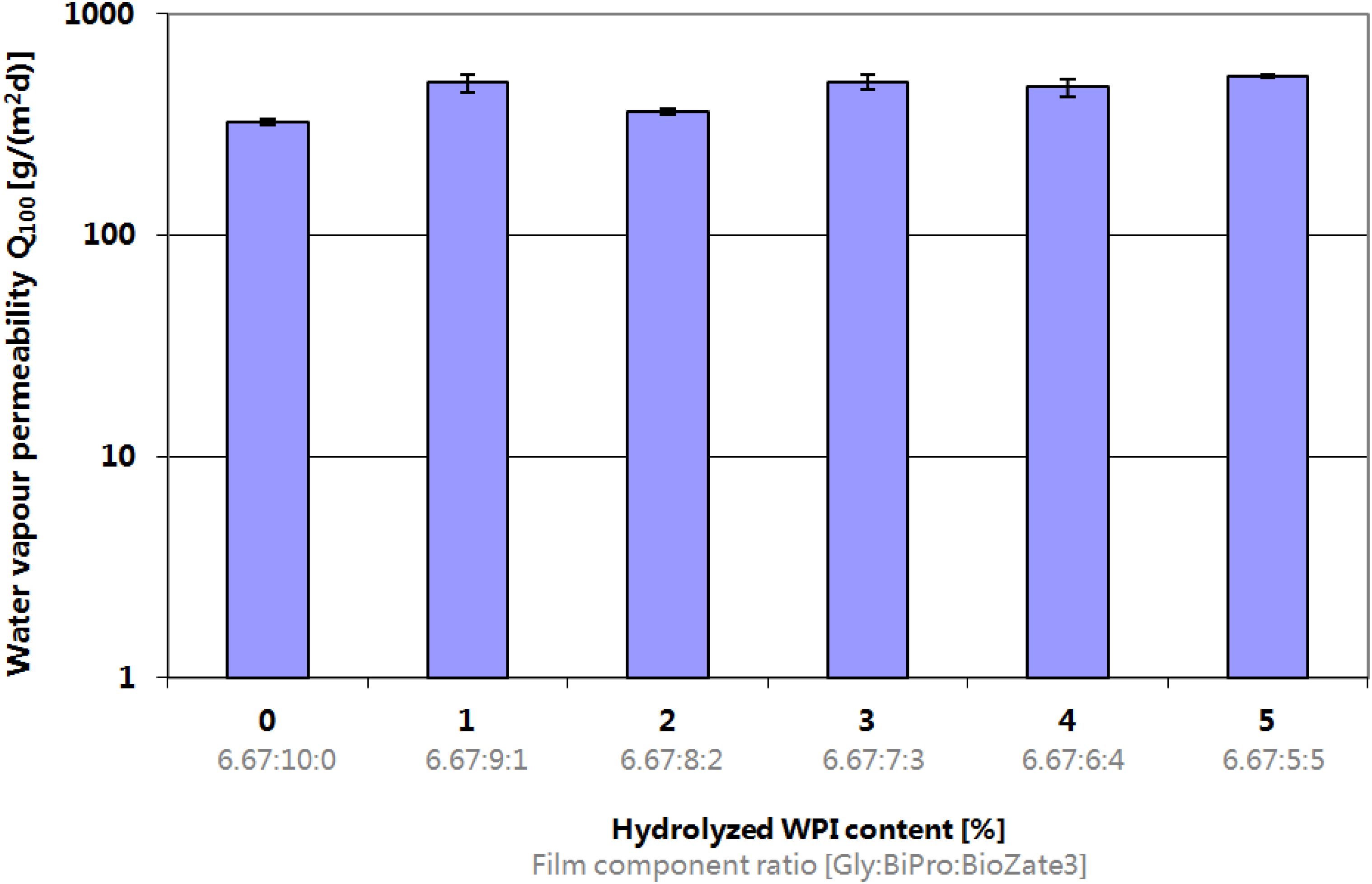 Figure 1
Share & Cite This Article
MDPI and ACS Style
Schmid, M.; Hinz, L.-V.; Wild, F.; Noller, K. Effects of Hydrolysed Whey Proteins on the Techno-Functional Characteristics of Whey Protein-Based Films. Materials 2013, 6, 927-940.
Related Articles
Comments
[Return to top]