Open Access This article is
freely available
re-usable
Review
Envelope Glycoprotein of Arenaviruses
Institute of Microbiology, University Hospital Center and University of Lausanne, Lausanne, Rue du Bugnon 48, 1011, Switzerland; Email:
*
Author to whom correspondence should be addressed; Email: Tel: +41-213-147-743; Fax: +41-213-144-060.
Received: 4 September 2012; in revised form: 5 October 2012 / Accepted: 5 October 2012 / Published: 17 October 2012
Abstract
: Arenaviruses include lethal human pathogens which pose serious public health threats. So far, no FDA approved vaccines are available against arenavirus infections, and therapeutic options are limited, making the identification of novel drug targets for the development of efficacious therapeutics an urgent need. Arenaviruses are comprised of two RNA genome segments and four proteins, the polymerase L, the envelope glycoprotein GP, the matrix protein Z, and the nucleoprotein NP. A crucial step in the arenavirus life-cycle is the biosynthesis and maturation of the GP precursor (GPC) by cellular signal peptidases and the cellular enzyme Subtilisin Kexin Isozyme-1 (SKI-1)/Site-1 Protease (S1P) yielding a tripartite mature GP complex formed by GP1/GP2 and a stable signal peptide (SSP). GPC cleavage by SKI-1/S1P is crucial for fusion competence and incorporation of mature GP into nascent budding virion particles. In a first part of our review, we cover basic aspects and newer developments in the biosynthesis of arenavirus GP and its molecular interaction with SKI-1/S1P. A second part will then highlight the potential of SKI-1/S1P-mediated processing of arenavirus GPC as a novel target for therapeutic intervention to combat human pathogenic arenaviruses.
Keywords:
Arenavirus; anti-viral; drug; GPC; SKI-1/S1P; PF-429242
2. The biosynthesis of the glycoprotein precursor
The envelope glycoprotein of Arenaviruses is synthesized as a polypeptide composed of an N-terminal stable signal peptide (SSP) and the SSP-containing GPC. Upon cleavage by cellular signal peptidases in the ER, GPC is further processed by the cellular proprotein convertase (PC) Subtilisin Kexin Isozyme-1 (SKI-1)/Site-1 Protease (S1P) into the GP1 and GP2 subunits [39,40,41] (Figure 1B). Post-translationally, the SSP acquires a myristoyl moiety at a Gly residue at position 2 [42] while the GP1/GP2 complex undergoes extensive N-glycosylation at multiple sites [43]. The interactions among the three subunits of the envelope glycoprotein, SSP, GP1, and GP2 are complex and not yet fully understood.
2.1. The signal peptide is not degraded and forms a stable tripartite complex with GP1/GP2
The role of the stable signal peptide (SSP) of arenaviruses has been comprehensively reviewed by a recent excellent review [44]. The arenavirus SSP has several unique characteristics in addition to its conventional function of targeting the nascent GPC polypeptide into the ER. Processing of nascent GPC by cellular signal peptidases occurs co-translationally and results in an unusually long (58 amino acids) signal peptide which does not undergo immediate degradation, but has a half-life of > 6h [45,46,47]. Standard signal peptides contain only one hydrophobic transmembrane domain but arenavirus SSP possess two hydrophobic regions separated by a hydrophilic loop containing a conserved positively charged Lys residue at position 33 (K33) [45]. Analysis of the JUNV SSP membrane topology revealed that both hydrophobic domains span the membrane with the N- and C-termini located in the cytosol and K33 facing the lumen/extracellular space [38]. SSP K33 is an important determinant for the pH-dependent fusion of the glycoprotein with the host cell membrane [48,49]. The SSP associates with the GP2 subunit, involving a Zn-binding motif [42,50,51,52,53]. Interestingly, recently discovered small molecule inhibitors of arenavirus cell entry target the molecular interface between SSP and GP2 [54], resulting in inhibition of pH-induced fusion. Lack of SSP myristoylation also affects fusion but not the formation of the SSP/GP1/GP2 complex [42]. The unusual arenavirus SSP is strictly required for proteolytic maturation of the GPC precursor [43,53]. Trans-complementation and interchanges among arenavirus GPC SSPs [55] are allowed but arenavirus SSP replacement with a generic signal peptide is not. In the case of JUNV GPC, the SSP was shown to be necessary for the GP to exit the ER by masking an ER-retention motif located on GP2 [53]. Lack of SSP would prevent the GP from being transported to the Golgi where SKI-1/S1P resides, thus averting maturation.
2.2. Glycosylation of the GP1/GP2 complex
N-linked glycosylation is an essential process to help correct folding and intracellular transport of viral envelope GPs [56]. Analysis of the potential sites of N-glycosylation on arenavirus GPs revealed 4 conserved residues located on GP2 (with the exception of LCMV, DANV and LUJV), whereas the predicted sites on GP1 are multiple and show a lower degree conservation [43,57]. Recent studies showed that of the nine potential N-glycosylation sites of LCMV GPC, all the available sites were used on GP1 and two of three on GP2 [57]. All predicted N-glycosylation sites on LASV GPC (7 on GP1 and 4 on GP2) are used [43]. Mutation of some N-glycosylation sites prevented proteolytic processing, whereas others were dispensable for GPC cleavage. The role of N-glycosylation for GPC maturation and transport is complex and may be different according to the arenavirus species. Eichler et al. demonstrated that uncleaved LASV GPC present on the cell-surface remain EndoH sensitive, indicating the presence of mannose glycans, but absence of hybrid and complex N-glycans. Based on this result, cleavage of LASV GPC into GP1 and GP2 was suggested to be required for complex N-glycosylation upon exit from the ER [43]. Conversely, LCMV GPC cleavage was shown to occur after trimming of the mannose-rich N-glycans and their extension to complex N-linked sugars.
2.3. GPC is cleaved by the cellular protease SKI-1/S1P
The majority of enveloped viruses shares a common mechanism of maturation based on the priming of their envelope GP precursors by host proteases in order to attain fusogenic properties [58,59,60,61,62,63]. Cleavage releases the fusion peptide, a hydrophobic stretch of 20-30 amino acids, which is able to act as an anchor in the target membrane, lowering the rupture tension of the lipid monolayer and promoting a negative curvature to ultimately allow joining the host-derived and virus membranes [64]. This strategy allows the envelope GP subunits to fold and oligomerize prior to assume, upon cleavage, a metastable conformation which undergoes drastic changes following receptor binding and/or drop of pH. The envelope precursor processing is also a mechanism to efficiently generate infectious particles since incorporation of mature envelope GPs is in general preferred over the uncleaved and fusion-incompetent ones [40,65,66]. Relative tissue abundance of the specific enzyme responsible for the processing contributes to determine the tropism of the enveloped virus whose growth may therefore be limited to specific cells/organs.
The arenavirus GPC is post-translationally cleaved at the highly conserved motif RX(hydrophobic)X↓, where X is any amino acid and hydrophobic is preferentially Leu (Figure 2) [67]. In the absence of GP1, GP2 spontaneously forms a trimer, in which each subunit is folded in a "hairpin"-like postfusion conformation of class I viral fusion proteins [68,69]. SKI-1/S1P is responsible for the cleavage of the GPCs of both OW [40] [39] and NW [41] arenaviruses. SKI-1/S1P belongs to the proprotein convertase (PC) family, which counts 9 members, so far, including 7 basic PCs (furin, PC1/3, PC2, PC4, PACE4, PC5/6, and PC7) and the self-inhibited proprotein convertase Subtilisin/Kexin type 9 (PCSK9). Differently from the other active members of PCs that cleave after clusters of (multi)basic motifs, the peculiar consensus sequence of SKI-1/S1P contains hydrophobic residues [70,71]. The protease is synthesized as an inactive zymogen that requires auto-processing of the N-terminal pro-domain at the B/B' (RKVF↓RSLK↓) and C (RRLL↓) sites to attain full maturation [72]. In the cell, mature SKI-1/S1P localizes in the early Golgi, where the majority of its cellular substrates are cleaved, but also in the lysosomes and in the extracellular space, in a shed enzymatic form [71].
The biological activities of SKI-1/S1P are numerous and affect essential cellular functions. Among the best characterized SKI-1/S1P substrates are the Sterol Regulating Element Binding Proteins (SREBPs), transcription factors activated via limited proteolysis to control cell lipid homeostasis [72,73]. In vivo studies suggest that blocking SKI-1/S1P activity may be an alternative approach to lower plasma cholesterol [74]. The SREBPs activation process, common to other transcription factors, is known as regulated intramembrane proteolysis (RIP) and involves translocation to the Golgi compartment upon specific stimuli and subsequent proteolytic cleavage. Member of the CREB/ATF family of transcription factors including ATF6 [75] CREBH, Luman, CREB3L4, CREB4, and OASIS, have been identified as SKI-1/S1P substrates, related to the unfolded protein response (UPR) [76]. Very few cellular examples of non-transcription factor proteins are known to be cleaved by SKI-1/S1P. Examples are N-acetylglucosamine-1-phosphotransferase, a key enzyme for the sorting of proteins into the lysosomal compartment [77], pro-brain derived neurotrophic factor (BDNF) [78] and repulsive guidance molecule (RGMa) [79]. SKI-1/S1P cleaves proBDNF within its pro-domain but the biological significance of this processing is not known. Similarly, RGMa processing by SKI-1/S1P seems to be required although the cleavage sites have not yet been identified. The protease was also found to be crucial for normal bone and cartilage formation [80,81], and mice coat pigmentation [82], but the substrates involved in these biological processes are still to be discovered. In mice, SKI-1/S1P K.O. shows a lethal phenotype with the embryos dying at an early developmental stage [83]. Even incomplete inhibition of SKI-1/S1P causes severe effects: homozygosity for the woodrat mutation, which shows partial loss of enzyme function, leads to hypersensitivity to dextran sodium sulfate-induced colitis [84], and causes enhanced embryonic mortality [85].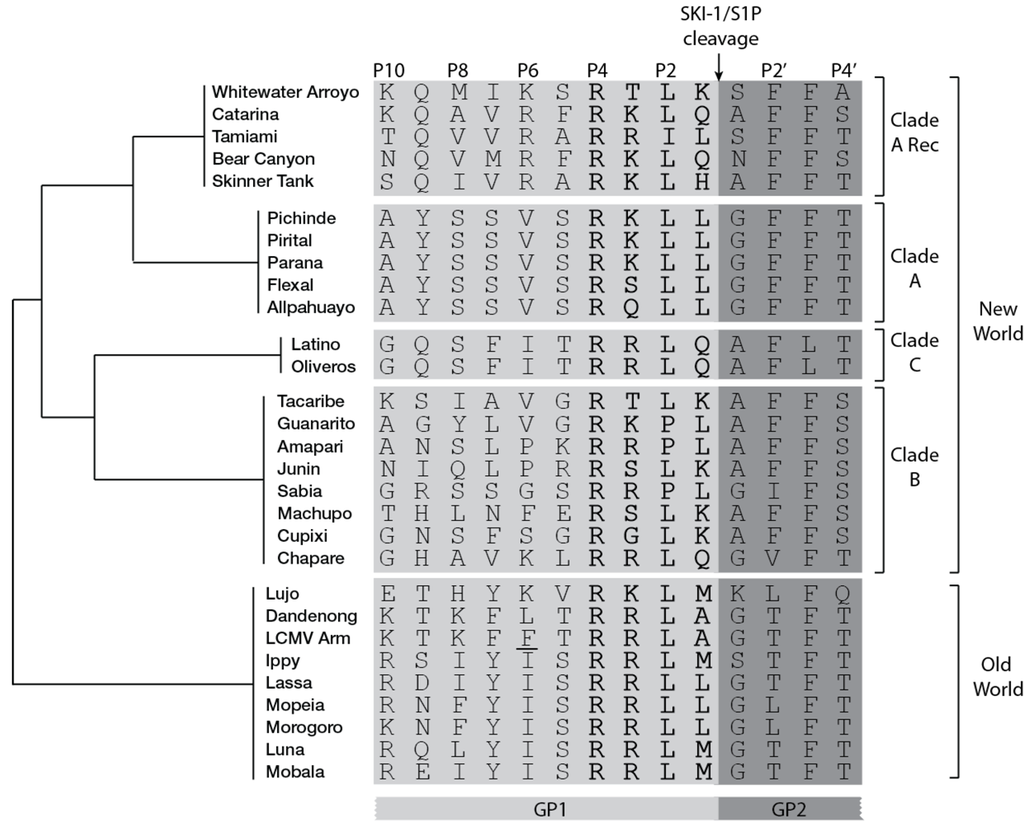 Figure 2. Amino acid sequence aligment of arenaviruses GPC residues surrounding the cleavage site (indicated by arrow). Residues of mature GP1 are in light gray while residues of mature GP2 are in darkgray. The four amino acids of clevage site motif are in bold. The schematic cladogram indicates the phylogenetic relationships between the viral clades is shown on the right. The LCMV cl13 strain amino acid variant F260L is underlined. Accession numbers are in supplementary table 1.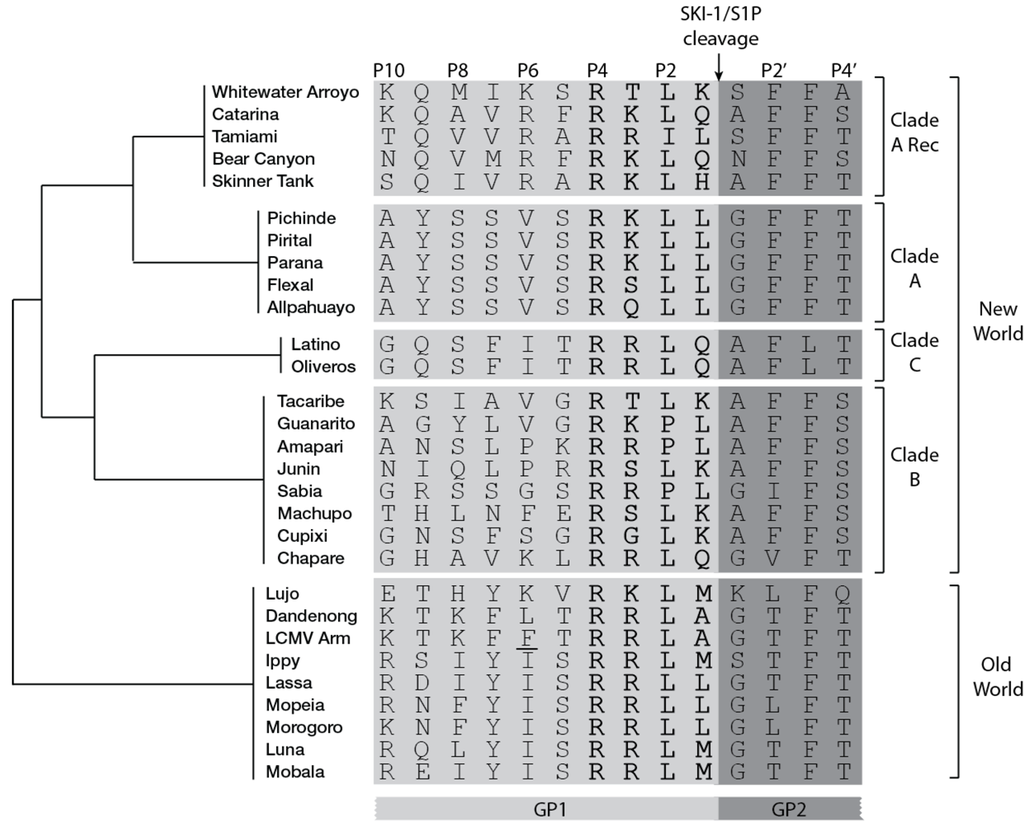 In contrast to cellular substrates of SKI-1/S1P that are processed in the median Golgi, LASV GPC is cleaved in the ER/cis-Golgi and LCMV GPC in a late Golgi compartment [39,71,86]. The way the virus is able to hijack active SKI-1/S1P in these specific subcellular compartments is not known. However, switching the LCMV GPC RRLA↓ motif into RRLL↓ present in LASV GPC re-direct the cleavage of the latter from a late Golgi compartment to the ER/cis-Golgi. In contrast, a LASV GPC chimera carrying the LCMV "RRLA↓" motif, is not cleaved despite following normal sorting to the plasma membrane [86]. Thus, available evidence suggests that the specific amino acid sequence at the cleavage site may contribute to the processing at specific sub-cellular localizations. No clear information is currently available about the maturation of other arenavirus GPCs, although some evidences suggest JUNV GPC processing in the Golgi [87].
A characteristic common to most arenavirus GPCs [67] (Figure 2) is the striking resemblance of their processing sites to SKI-1/S1P auto-cleavage motifs: while African OW and NW clade B arenavirus GPCs mimic the C-auto-processing site "RRLL↓", NW arenavirus GPCs resemble the B-auto-processing site "RSLK↓". The mimicry indicates convergent evolution towards a common maturation mechanism resembling SKI-1/S1P auto-processing, which is not evident in other cellular SKI-1/S1P substrates. The advantage may account for the virus' ability to avoid interference with cellular functions in order to persist in the reservoir rodent host. Accordingly, the SKI-1/S1P-dependent activation of ATF6 is normally induced by LCMV GPC during acute infection. As soon as GPC expression is down-regulated during the transition from acute to persistent infection [88], the UPR response triggered by ATF6 disappears [89]. However, the reason behind the selective association "RRLL↓"-OW arenavirus and "RSLK↓"-NW arenavirus are currently unclear.
Specific GPC residues surrounding the cleavage site were shown to influence maturation. An F259A point mutation at P7 position of LCMV GPC greatly impairs processing [39]. Analysis of peptides mimicking the cleavage site of LASV GPC revealed that cleavage efficiency may be negatively affected by the presence of a non-aromatic residue at P7 position, indicating the presence of an unusually large catalytic pocket able to accommodate residues distal from the actual processing site [70]. Indeed, in comparative studies, the YISRRLL↓ sequence mimicking the cleavage site of LASV GPC is the best substrate to assess in vitro SKI-1/S1P enzymatic activity [77,78,90].
The N-terminus of LASV GP2 contains two stretches of highly conserved hydrophobic amino acids. Alanine scanning of the N-terminal 260-266 and 276-298 sequences revealed that maturation of the envelope GPC does not occur in presence of single point mutations at positions 260, 261, 262, 280, 284, 285, 286, 292, and 293, despite GPC folding and reaching the plasma membrane [91]. Indeed, GPC cleavage is not essential for transport to the plasma membrane, yet only the fully mature complex is found on budding particles [66,72,74]. A similar effect is observed in the case of the LASV GPC N-glycosylation mutants S367A and S375A, which are transported normally to the cell surface but fail to be cleaved [43]. LASV GP1 glycosylation at position 81, 91, 101, and 121 are required for proteolytic processing but not cell surface localization. In contrast, mutations that abolish normal glycosylation at positions 111, 169, and 226 are not crucial for the precursor maturation [43]. The data at hand thus suggest that SKI-1/S1P-mediated processing may require specific tertiary/quaternary structures of the GP1/GP2 complex that are disrupted by specific point mutations deletions.
A large body of evidence indicate a crucial role of the cytoplasmic domains of viral envelope GPs in assembly, fusogenicity, and infectivity of enveloped viruses, including Newcastle disease virus [92] Measles virus [93], and HIV-1 [94]. Similar observations have been made with arenaviruses. Removal of the entire LCMV GP2 cytosolic tail as well as partial deletion of the three C-terminal amino acids RRK prevent maturation of GPC without interfering with its normal transport to the cell surface [65]. As similar role of amino acid residues in the cytoplasmic domain for GPC cleavage was observed by Schlie et al. in the context of LASV GPC [95]. In arenaviruses, lack of cleavage has thus a drastic impact on infectious particles production since the process of GP incorporation into nascent virions discriminates processed over unprocessed GPC.
3. Role of the envelope glycoprotein on virus assembly and particle formation
Viral infection induces a global reprogramming of cellular processes, including alterations the organization of intracellular membranes and organelles [105,106]. Assembly of the viral components, and in particular GP, to form progeny infectious particle is still a process that remains for many aspects unknown. As introduced above, the driving force for arenaviruses budding is the matrix protein Z [34,35] which interacts via its late or RING domain with Tsg101, a member of the ESCRT machinery [34,36]. Myristoylation of Z is crucial for the correct matrix protein localization and therefore budding [107]. Z possesses per se budding properties and does not require any other viral protein to accomplish its function. However, the ability to produce infectious particles resides on the assembly of the four different viral proteins in a synchronized fashion. Thus, Z is required to interact with the SSP/GP1/GP2 complex that decorates the surface of the nascent particle. Confocal and biochemical analyses showed a direct LCMV and LASV GP1/GP2-Z interaction, dependent on the stable signal peptide of the GP complex [37]. Cells that express LASV GPC together with Z show a partial co-localization in vesicle-like structures near the nucleus [108]. Sub-cellular localization of the envelope glycoprotein is not modified by the presence of Z [34]. Z myristoylation, but not on the Z late (L) or RING domain was shown to be responsible for the matrix protein binding to the envelope GP in OW arenaviruses [37]. However, disrupting the Z RING domain resulted in a drastic loss of TCRV and JUNV GP incorporation, suggesting some differences in the detailed molecular interactions underlying virion assembly in OW and NW viruses [109]. Further analyses are required to better understand the role of the GP complex in the virus budding events. The mechanisms underlying the selective incorporation of cleaved over uncleaved envelope GPs remain unclear and may involve different tertiary/quaternary structures of the mature SSP/GP1/GP2 complex in comparison to immature GPC [20]. Inhibition of virus assembly and budding is becoming more and more attractive as a drug target, opening the possibility to block egress of progeny virions from already infected cells. A detailed analysis of the molecular interactions underlying the recruitment of processed GP, Z, and the RNP into budding zones in infected cells will likely reveal promising drug targets for novel therapeutics to combat human arenavirus infection.
Acknowledgments
This research was supported by the Swiss National Science Foundation grant FN 31003A-135536 (S.K.) and funds from the University of Lausanne.
Conflict of Interest
The authors declare no conflict of interest.
© 2012 by the authors; licensee MDPI, Basel, Switzerland. This article is an open-access article distributed under the terms and conditions of the Creative Commons Attribution license (http://creativecommons.org/licenses/by/3.0/).