Cytopathogenesis of Vesicular Stomatitis Virus Is Regulated by the PSAP Motif of M Protein in a Species-Dependent Manner
1
Department of Virology, Institute of Biomedical and Health Sciences, Hiroshima University, 1-2-3 Kasumi, Minami-ku, Hiroshima 734-8551, Japan
2
Department of Pathobiology, School of Veterinary Medicine, University of Pennsylvania, 3800 Spruce St., Philadelphia, PA 19104, USA
3
Arthropod-Borne Animal Diseases Research Unit, United States Department of Agriculture, Agricultural Research Service, 1515 College Ave., Manhattan, KS 66502, USA
4
Department of Hepatology and Gene Therapy, University of Navarra, E-31009 Pamplona, Spain
5
Department of Microbiology, Mount Sinai School of Medicine, 1 Gustave L. Levy Place, New York, NY 10029, USA
6
Department of Medicine, Division of Infectious Diseases, Mount Sinai School of Medicine, 1 Gustave L. Levy Place, New York, NY 10029, USA
7
Global Health and Emerging Pathogens Institute, Mount Sinai School of Medicine, 1 Gustave L. Levy Place, New York, NY 10029, USA
†
These authors contributed equally to this work.
*
Author to whom correspondence should be addressed.
Received: 10 August 2012 / Revised: 11 September 2012 / Accepted: 12 September 2012 / Published: 19 September 2012
Abstract
Vesicular stomatitis virus (VSV) is an important vector-borne pathogen of bovine and equine species, causing a reportable vesicular disease. The matrix (M) protein of VSV is multifunctional and plays a key role in cytopathogenesis, apoptosis, host protein shut-off, and virion assembly/budding. Our previous findings indicated that mutations of residues flanking the
37
PSAP
40
motif within the M protein resulted in VSV recombinants having attenuated phenotypes in mice. In this report, we characterize the phenotype of VSV recombinant PS > A4 (which harbors four alanines (AAAA) in place of the PSAP motif without disruption of flanking residues) in both mice, and in
Aedes albopictus
C6/36 mosquito and
Culicoides sonorensis
KC cell lines. The PS > A4 recombinant displayed an attenuated phenotype in infected mice as judged by weight loss, mortality, and viral titers measured from lung and brain samples of infected animals. However, unexpectedly, the PS > A4 recombinant displayed a robust cytopathic phenotype in insect C6/36 cells compared to that observed with control viruses. Notably, titers of recombinant PS > A4 were approximately 10-fold greater than those of control viruses in infected C6/36 cells and in KC cells from
Culicoides sonorensis
, a known VSV vector species. In addition, recombinant PS > A4 induced a 25-fold increase in the level of C3 caspase activity in infected C6/36 cells. These findings indicate that the PSAP motif plays a direct role in regulating cytopathogenicity in a species-dependent manner, and suggest that the intact PSAP motif may be important for maintaining persistence of VSV in an insect host.
View Full-Text
►

▼

Figures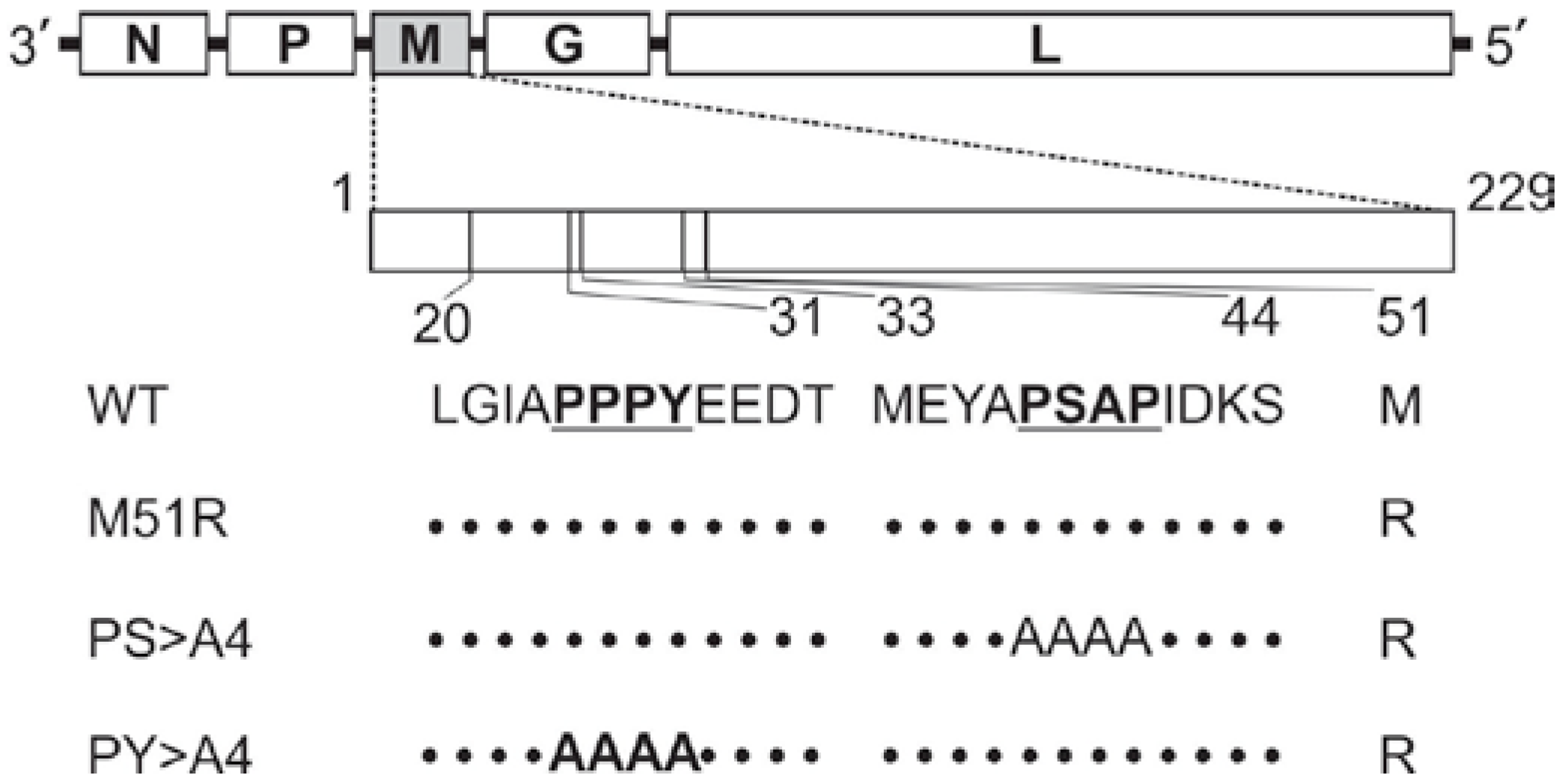 Figure 1
Share & Cite This Article
MDPI and ACS Style
Irie, T.; Liu, Y.; Drolet, B.S.; Carnero, E.; García-Sastre, A.; Harty, R.N. Cytopathogenesis of Vesicular Stomatitis Virus Is Regulated by the PSAP Motif of M Protein in a Species-Dependent Manner. Viruses 2012, 4, 1605-1618.
Related Articles
Comments
[Return to top]