Regulated Transport into the Nucleus of Herpesviridae DNA Replication Core Proteins
1
Department of Molecular Medicine, University of Padua, Padua 35121, Italy
2
Department of Biochemistry and Molecular Biology, Monash University, Victoria 3800, Australia
3
National Research Council of Italy, Institute of Molecular Genetics, Unit of Bologna, Bologna 40136, Italy
4
Azienda Ospedaliera Universitaria di Bologna Policlinico S. Orsola-Malpighi, Bologna 40138, Italy
*
Authors to whom correspondence should be addressed.
Received: 22 July 2013 / Revised: 3 September 2013 / Accepted: 4 September 2013 / Published: 16 September 2013
Abstract
The
Herpesvirdae
family comprises several major human pathogens belonging to three distinct subfamilies. Their double stranded DNA genome is replicated in the nuclei of infected cells by a number of host and viral products. Among the latter the viral replication complex, whose activity is strictly required for viral replication, is composed of six different polypeptides, including a two-subunit DNA polymerase holoenzyme, a trimeric primase/helicase complex and a single stranded DNA binding protein. The study of herpesviral DNA replication machinery is extremely important, both because it provides an excellent model to understand processes related to eukaryotic DNA replication and it has important implications for the development of highly needed antiviral agents. Even though all known herpesviruses utilize very similar mechanisms for amplification of their genomes, the nuclear import of the replication complex components appears to be a heterogeneous and highly regulated process to ensure the correct spatiotemporal localization of each protein. The nuclear transport process of these enzymes is controlled by three mechanisms, typifying the main processes through which protein nuclear import is generally regulated in eukaryotic cells. These include cargo post-translational modification-based recognition by the intracellular transporters, piggy-back events allowing coordinated nuclear import of multimeric holoenzymes, and chaperone-assisted nuclear import of specific subunits. In this review we summarize these mechanisms and discuss potential implications for the development of antiviral compounds aimed at inhibiting the Herpesvirus life cycle by targeting nuclear import of the Herpesvirus DNA replicating enzymes.
View Full-Text
►

▼

Figures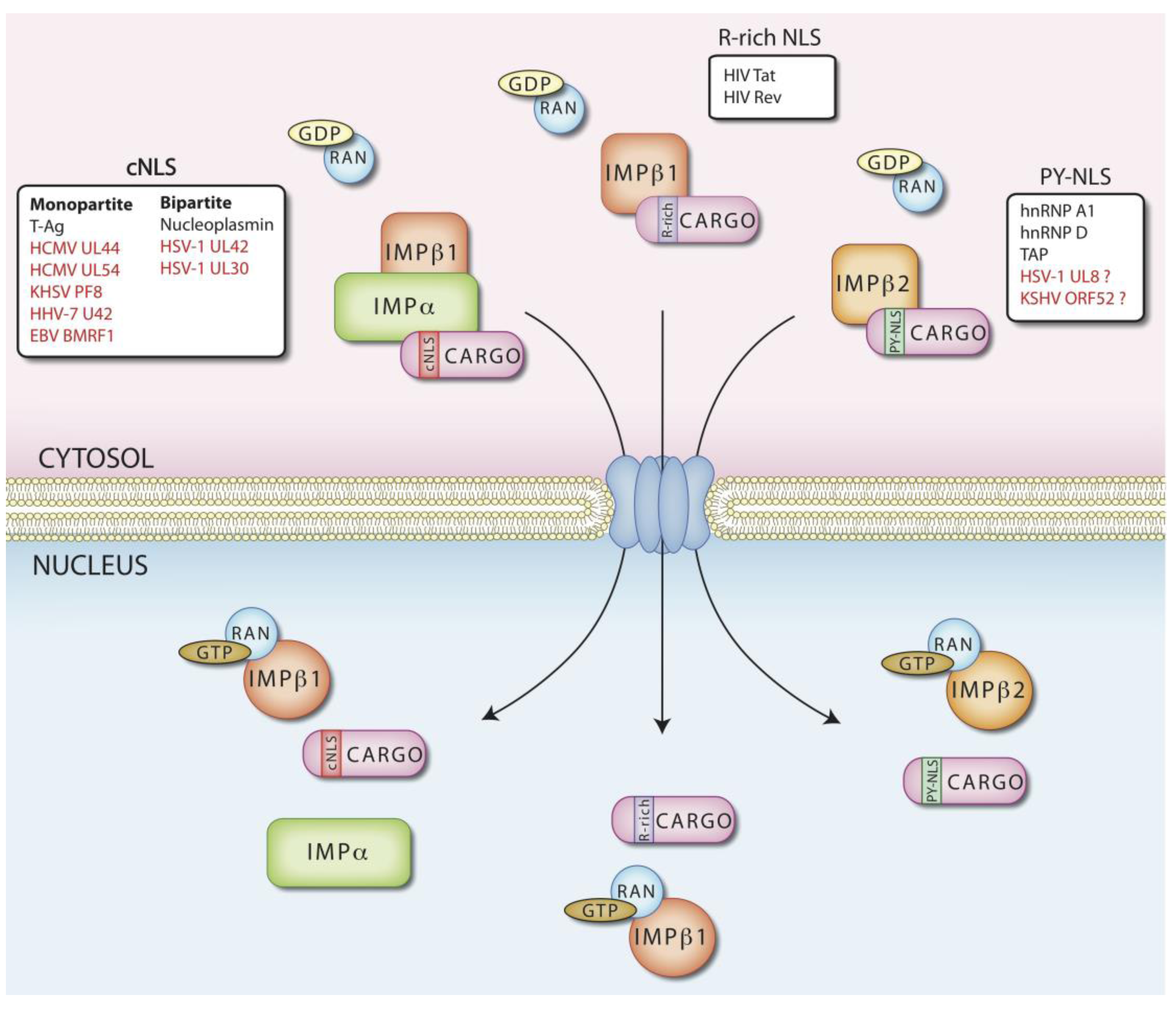 Figure 1
Share & Cite This Article
MDPI and ACS Style
Alvisi, G.; Jans, D.A.; Camozzi, D.; Avanzi, S.; Loregian, A.; Ripalti, A.; Palù, G. Regulated Transport into the Nucleus of Herpesviridae DNA Replication Core Proteins. Viruses 2013, 5, 2210-2234.
Related Articles
Comments
[Return to top]