A Global Assessment of Long-Term Greening and Browning Trends in Pasture Lands Using the GIMMS LAI3g Dataset
1
NASA Goddard Institute for Space Studies, 2880 Broadway, New York, NY 10025, USA
2
Lamont-Doherty Earth Observatory, 61 Route 9W, Palisades, NY 10964, USA
3
Department of Geography, Florida State University, 113 Collegiate Loop, Tallahassee, FL 32306,USA
*
Author to whom correspondence should be addressed.
Received: 25 March 2013 / Revised: 2 May 2013 / Accepted: 7 May 2013 / Published: 17 May 2013
Abstract
Pasture ecosystems may be particularly vulnerable to land degradation due to the high risk of human disturbance (e.g., overgrazing, burning, etc.), especially when compared with natural ecosystems (non-pasture, non-cultivated) where direct human impacts are minimal. Using maximum annual leaf area index (LAImax) as a proxy for standing biomass and peak annual aboveground productivity, we analyze greening and browning trends in pasture areas from 1982–2008. Inter-annual variability in pasture productivity is strongly controlled by precipitation (positive correlation) and, to a lesser extent, temperature (negative correlation). Linear temporal trends are significant in 23% of pasture cells, with the vast majority of these areas showing positive LAImax trends. Spatially extensive productivity declines are only found in a few regions, most notably central Asia, southwest North America, and southeast Australia. Statistically removing the influence of precipitation reduces LAImax trends by only 13%, suggesting that precipitation trends are only a minor contributor to long-term greening and browning of pasture lands. No significant global relationship was found between LAImax and pasture intensity, although the magnitude of trends did vary between cells classified as natural versus pasture. In the tropics and Southern Hemisphere, the median rate of greening in pasture cells is significantly higher than for cells dominated by natural vegetation. In the Northern Hemisphere extra-tropics, conversely, greening of natural areas is 2–4 times the magnitude of greening in pasture areas. This analysis presents one of the first global assessments of greening and browning trends in global pasture lands, including a comparison with vegetation trends in regions dominated by natural ecosystems. Our results suggest that degradation of pasture lands is not a globally widespread phenomenon and, consistent with much of the terrestrial biosphere, there have been widespread increases in pasture productivity over the last 30 years.
View Full-Text
►

▼

Figures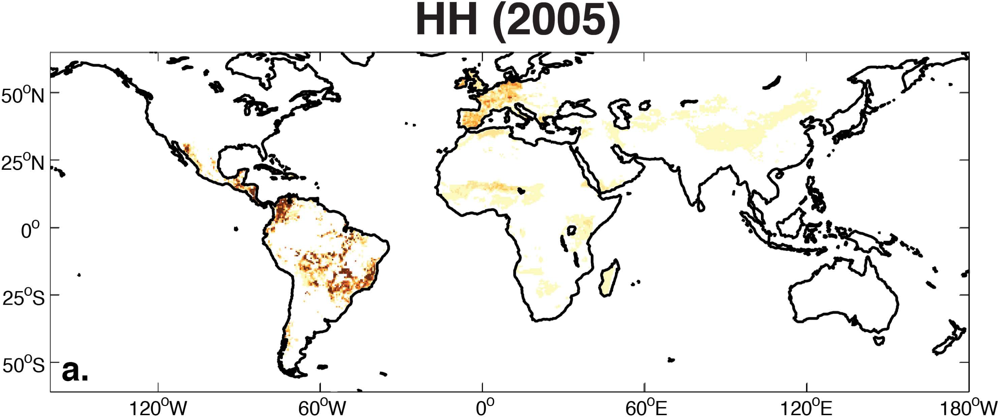 Share & Cite This Article
MDPI and ACS Style
Cook, B.I.; Pau, S. A Global Assessment of Long-Term Greening and Browning Trends in Pasture Lands Using the GIMMS LAI3g Dataset. Remote Sens. 2013, 5, 2492-2512.
Related Articles
Comments
[Return to top]