Exploitation of Large Archives of ERS and ENVISAT C-Band SAR Data to Characterize Ground Deformations
1
Earth Sciences Department, University of Firenze, Via La Pira, 4, I-50121 Firenze, Italy
2
Istituto per il Rilevamento Elettromagnetico dell'Ambiente (IREA), National Research Council (CNR), Via Diocleziano 328, I-80124 Napoli, Italy
3
Istituto di Ricerca per la Protezione Idrogeologica (IRPI), National Research Council (CNR), Via Madonna Alta 126, I-06128 Perugia, Italy
4
Geological and Mining Institute of Spain, Urb. Alcázar del Genil, 4. Edificio Zulema bajos, E-18006 Granada, Spain
5
Geological and Mining Institute of Spain, Avda. Ciudad Querétaro s/n., E-07007 Palma de Mallorca, Spain
6
Magyar Földtani és Geofizikai Intézet (MFGI), XIV. ker. Kolumbusz u. 17-23, 1145 Budapest, Hungary
7
Polish Geological Institute, National Research Institute, 00975 Warsaw, Poland
8
Federal Office for the Environment (FOEN), CH-3003 Berna, Switerland
9
GAMMA Remote Sensing Research and Consulting AG, Worbstr. 225, CH-3073 Gümligen, Switzerland
10
TRE s.r.l., TeleRilevamentoEuropa, Ripa di Porta Ticinense 79, I-20143 Milan, Italy
11
Altamira Information, C/. Còrsega 381-387; E-08037 Barcelona, Spain
12
Geohazards InSAR Laboratory (InSARlab), Geological Survey of Spain (IGME), C/. Alenza 1; E-28003 Madrid, Spain
*
Author to whom correspondence should be addressed.
Received: 8 June 2013 / Revised: 31 July 2013 / Accepted: 1 August 2013 / Published: 8 August 2013
Abstract
In the last few years, several advances have been made in the use of radar images to detect, map and monitor ground deformations. DInSAR (Differential Synthetic Aperture Radar Interferometry) and A-DInSAR/PSI (Advanced DInSAR/Persistent Scatterers Interferometry) technologies have been successfully applied in the study of deformation phenomena induced by, for example, active tectonics, volcanic activity, ground water exploitation, mining, and landslides, both at local and regional scales. In this paper, the existing European Space Agency (ESA) archives (acquired as part of the FP7-DORIS project), which were collected by the ERS-1/2 and ENVISAT satellites operating in the microwave C-band, were analyzed and exploited to understand the dynamics of landslide and subsidence phenomena. In particular, this paper presents the results obtained as part of the FP7-DORIS project to demonstrate that the full exploitation of very long deformation time series (more than 15 years) can play a key role in understanding the dynamics of natural and human-induced hazards.
View Full-Text
►

▼

Figures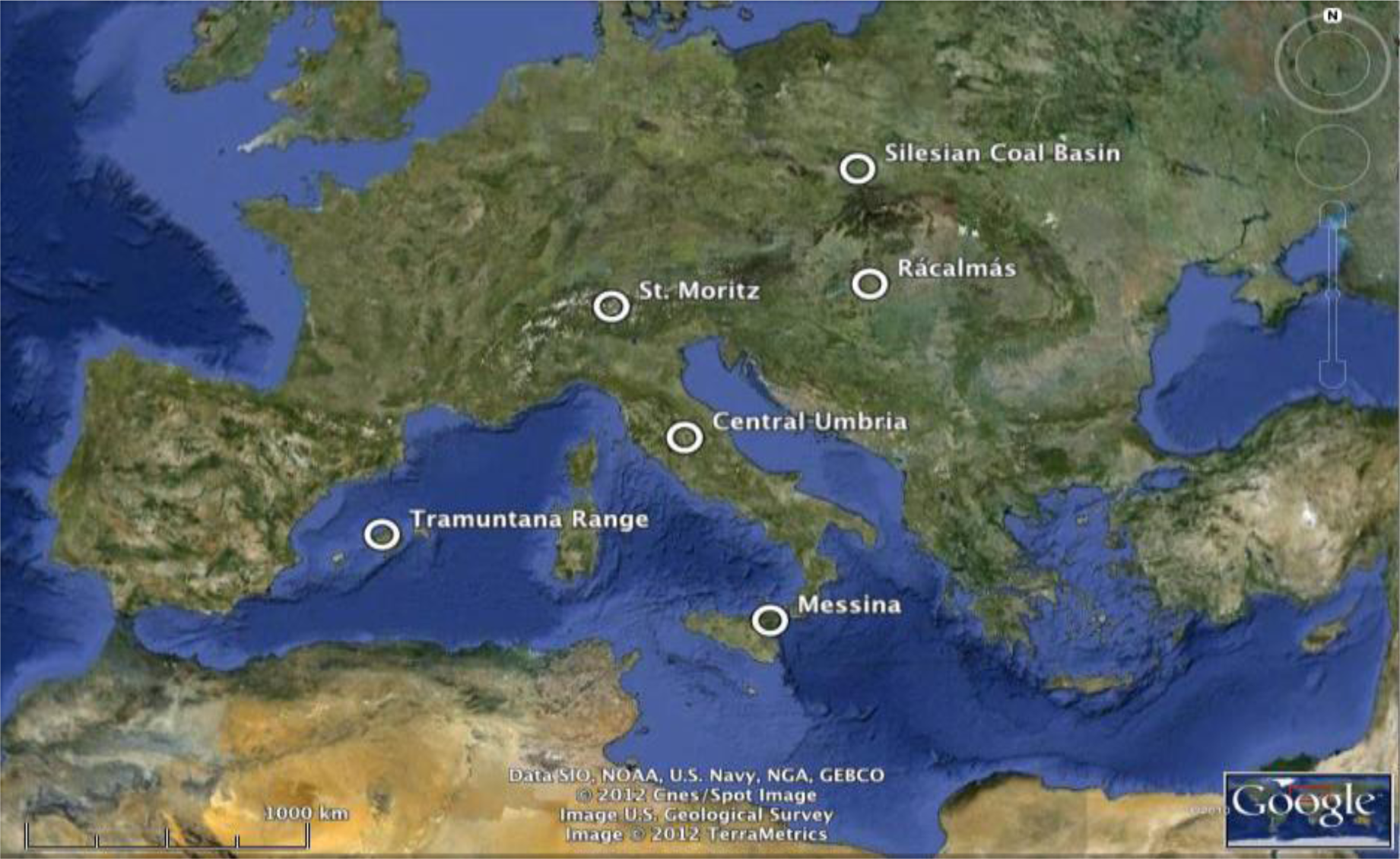 Share & Cite This Article
MDPI and ACS Style
Del Ventisette, C.; Ciampalini, A.; Manunta, M.; Calò, F.; Paglia, L.; Ardizzone, F.; Mondini, A.C.; Reichenbach, P.; Mateos, R.M.; Bianchini, S.; Garcia, I.; Füsi, B.; Deák, Z.V.; Rádi, K.; Graniczny, M.; Kowalski, Z.; Piatkowska, A.; Przylucka, M.; Retzo, H.; Strozzi, T.; Colombo, D.; Mora, O.; Sánchez, F.; Herrera, G.; Moretti, S.; Casagli, N.; Guzzetti, F. Exploitation of Large Archives of ERS and ENVISAT C-Band SAR Data to Characterize Ground Deformations. Remote Sens. 2013, 5, 3896-3917.
Related Articles
Comments
[Return to top]