Selenium Metabolism in Cancer Cells: The Combined Application of XAS and XFM Techniques to the Problem of Selenium Speciation in Biological Systems
1
School of Chemistry and Physics, The University of Adelaide, Adelaide, SA 5005, Australia
2
School of Chemistry, The University of Sydney, Sydney, NSW 2006, Australia
3
Science Division, Advanced Photon Source, Argonne National Laboratory, Lemont, IL 60439, USA
4
Biosciences Division, Advanced Photon Source, Argonne National Laboratory, Lemont, IL 60439, USA
5
The Discipline of Pathology, Sydney Medical School, The University of Sydney, Sydney, NSW 2006, Australia
*
Author to whom correspondence should be addressed.
Received: 31 January 2013 / Revised: 2 May 2013 / Accepted: 6 May 2013 / Published: 21 May 2013
Abstract
Determining the speciation of selenium in vivo is crucial to understanding the biological activity of this essential element, which is a popular dietary supplement due to its anti-cancer properties. Hyphenated techniques that combine separation and detection methods are traditionally and effectively used in selenium speciation analysis, but require extensive sample preparation that may affect speciation. Synchrotron-based X-ray absorption and fluorescence techniques offer an alternative approach to selenium speciation analysis that requires minimal sample preparation. We present a brief summary of some key HPLC-ICP-MS and ESI-MS/MS studies of the speciation of selenium in cells and rat tissues. We review the results of a top-down approach to selenium speciation in human lung cancer cells that aims to link the speciation and distribution of selenium to its biological activity using a combination of X-ray absorption spectroscopy (XAS) and X-ray fluorescence microscopy (XFM). The results of this approach highlight the distinct fates of selenomethionine, methylselenocysteine and selenite in terms of their speciation and distribution within cells: organic selenium metabolites were widely distributed throughout the cells, whereas inorganic selenium metabolites were compartmentalized and associated with copper. New data from the XFM mapping of electrophoretically-separated cell lysates show the distribution of selenium in the proteins of selenomethionine-treated cells. Future applications of this top-down approach are discussed.
View Full-Text
►

▼

Figures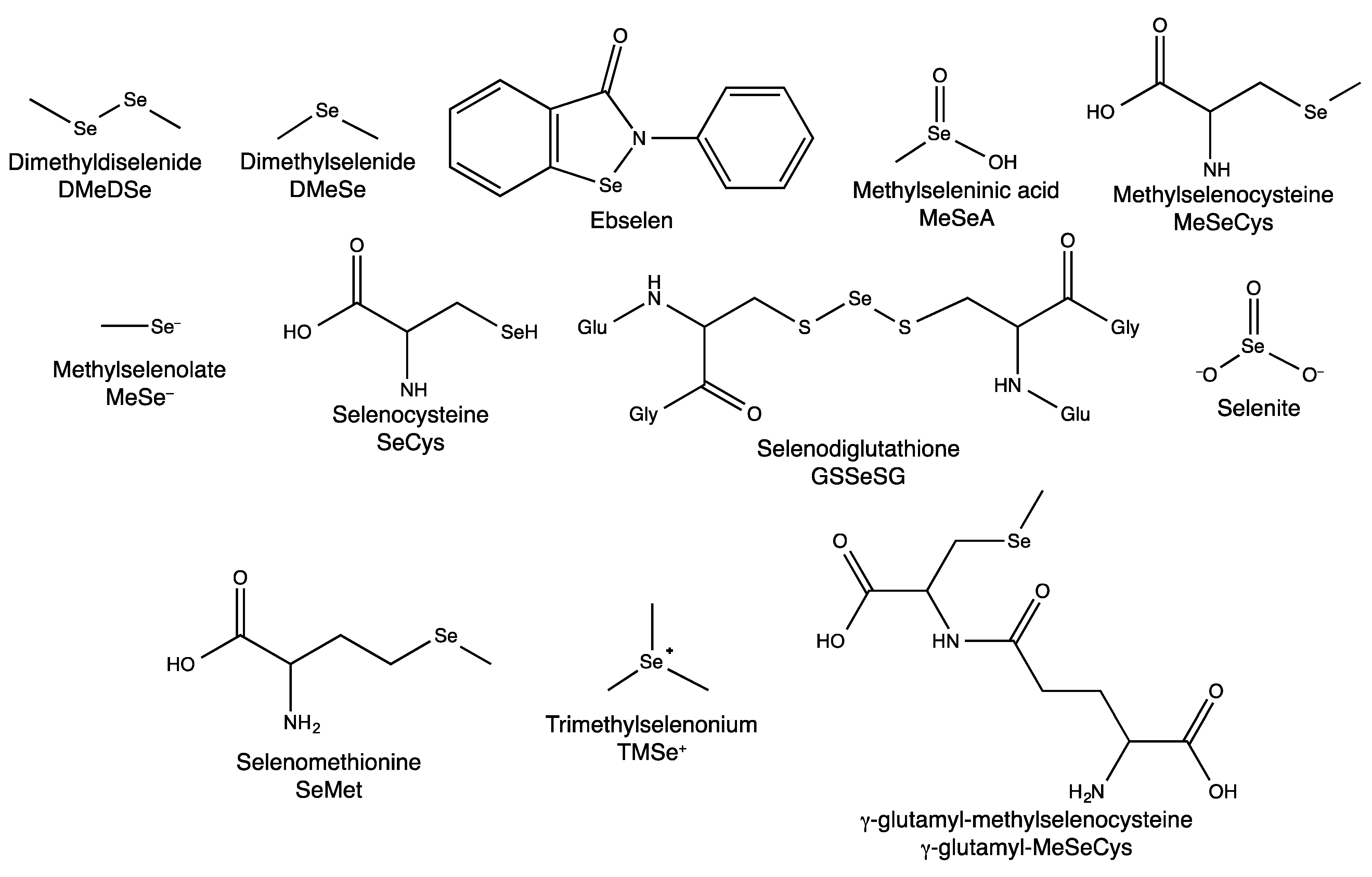 Figure 1
Share & Cite This Article
MDPI and ACS Style
Weekley, C.M.; Aitken, J.B.; Finney, L.; Vogt, S.; Witting, P.K.; Harris, H.H. Selenium Metabolism in Cancer Cells: The Combined Application of XAS and XFM Techniques to the Problem of Selenium Speciation in Biological Systems. Nutrients 2013, 5, 1734-1756.
Related Articles
Comments
[Return to top]