Tucum-do-Cerrado (Bactris setosa Mart.) May Promote Anti-Aging Effect by Upregulating SIRT1-Nrf2 Pathway and Attenuating Oxidative Stress and Inflammation
1
Postgraduate Program in Human Nutrition, Faculty of Health Sciences, Campus Universitário Darcy Ribeiro, Universidade de Brasília, Brasília 70910-900, Brazil
2
Department of Nutrition, Faculty of Health Sciences, Campus Universitário Darcy Ribeiro, Universidade de Brasília, Brasília 70910-900, Brazil
*
Author to whom correspondence should be addressed.
Received: 16 August 2017 / Revised: 8 September 2017 / Accepted: 12 September 2017 / Published: 14 November 2017
Abstract
Aging may be related to oxidative damage accumulation and a low-grade inflammation, both responses are modulated by iron and phytochemicals. This study investigated the effect of tucum-do-cerrado (
Bactris setosa
Mart.) consumption on the expression of sirtuins (SIRT 1 and 3) and senescence marker protein-30 (SMP30), and on the redox and inflammatory responses, in adult rats supplemented or not with dietary iron. Male Wistar rats were treated for 12 weeks with: control diet (CT); iron enriched-diet (+Fe); control diet + 15% tucum-do-cerrado (Tuc); or iron enriched-diet + 15% tucum-do-cerrado (Tuc + Fe). Iron supplementation (+Fe) increased liver, spleen and intestine iron levels, transferrin saturation, serum iron, serum TNF-α and IL-6 levels, hepatic carbonyl content and and superoxide dismutase (SOD) activity, hepatic Nrf2 protein and Nqo1 mRNA levels and decreased the renal Sirt1 mRNA levels in relation to CT group. Tucum-do-cerrado consumption (Tuc) increased hepatic SOD activity, Nrf2 and SIRT1 mRNA and protein contents, and Nqo1 mRNA levels, while it decreased the renal SOD activity compared with the CT diet. The consumption of tucum-do-cerrado associated with the iron-enriched diet (Tuc + Fe) increased the iron levels in tissues and serum transferrin saturation, compared to the CT diet, while promoting a decrease in hepatic carbonyl and renal malondialdehyde levels, marginally reducing serum IL-6 levels, and increasing hepatic SIRT1 protein content, renal Sirt1 and hepatic Nrf2 mRNA levels, compared to the +Fe group. None of the treatments altered Smp30 mRNA levels. The results suggest that tucum-do-cerrado consumption might promote an anti-aging effect by increasing SIRT1 expression, which may enhance Nrf2 mRNA and protein levels and its downstream pathway, which in turn decrease oxidative damage to proteins and the levels of inflammatory cytokines (IL-6 and TNF-α), induced by iron excess.
View Full-Text
►

▼

Figures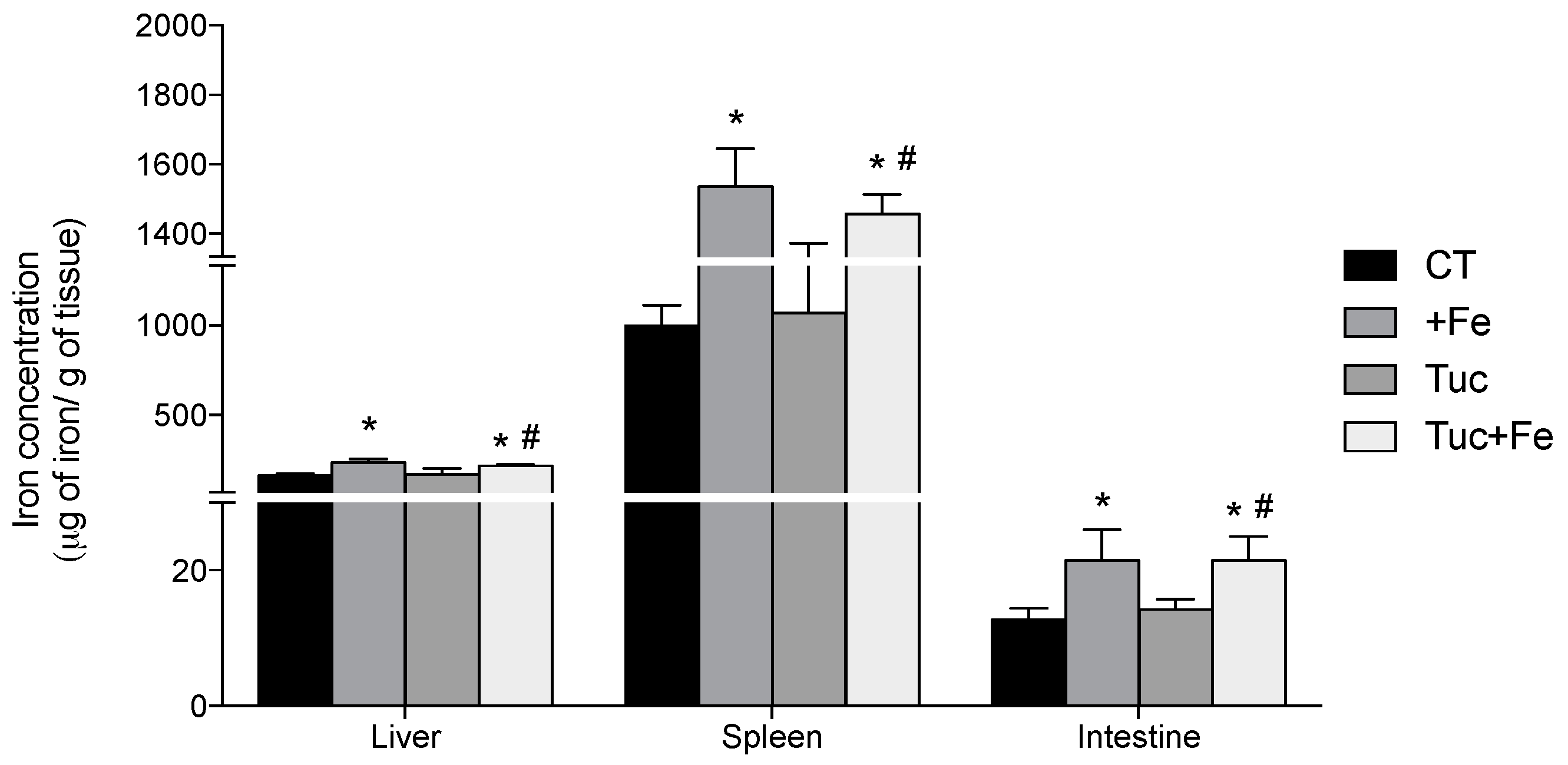 Figure 1
This is an open access article distributed under the
Creative Commons Attribution License
which permits unrestricted use, distribution, and reproduction in any medium, provided the original work is properly cited. (CC BY 4.0).
Share & Cite This Article
MDPI and ACS Style
da Cunha, M.S.B.; Arruda, S.F. Tucum-do-Cerrado (Bactris setosa Mart.) May Promote Anti-Aging Effect by Upregulating SIRT1-Nrf2 Pathway and Attenuating Oxidative Stress and Inflammation. Nutrients 2017, 9, 1243.
Note that from the first issue of 2016, MDPI journals use article numbers instead of page numbers. See further details here.
Related Articles
Comments
[Return to top]