Difference in F-Actin Depolymerization Induced by Toxin B from the Clostridium difficile Strain VPI 10463 and Toxin B from the Variant Clostridium difficile Serotype F Strain 1470
1
Institute of Toxicology Hannover Medical School, Hannover D-30625, Germany
2
Institute of Biophysical Chemistry, Hannover Medical School, Hannover D-30625, Germany
*
Author to whom correspondence should be addressed.
Received: 14 November 2012 / Revised: 14 December 2012 / Accepted: 28 December 2012 / Published: 11 January 2013
Abstract
Clostridium difficile
toxin A (TcdA) and toxin B (TcdB) are the causative agent of the
C. difficile
-associated diarrhea (CDAD) and its severe form, the pseudomembranous colitis (PMC). TcdB from the
C. difficile
strain VPI10463 mono-glucosylates (thereby inactivates) the small GTPases Rho, Rac, and Cdc42, while Toxin B from the variant
C. difficile
strain serotype F 1470 (TcdBF) specifically mono-glucosylates Rac but not Rho(A/B/C). TcdBF is related to lethal toxin from
C. sordellii
(TcsL) that glucosylates Rac1 but not Rho(A/B/C). In this study, the effects of Rho-inactivating toxins on the concentrations of cellular F-actin were investigated using the rhodamine-phalloidin-based F-actin ELISA. TcdB induces F-actin depolymerization comparable to the RhoA-inactivating exoenzyme C3 from
C. limosum
(C3-lim). In contrast, the Rac-glucosylating toxins TcdBF and TcsL did not cause F-actin depolymerization. These observations led to the conclusion that F-actin depolymerization depends on the toxin's capability of glucosylating RhoA. Furthermore, the integrity of focal adhesions (FAs) was analyzed using paxillin and p21-activated kinase (PAK) as FA marker proteins. Paxillin dephosphorylation was observed upon treatment of cells with TcdB, TcdBF, or C3-lim. In conclusion, the Rho-inactivating toxins induce loss of cell shape by either F-actin depolymerization (upon RhoA inactivation) or the disassembly of FAs (upon Rac1 inactivation).
View Full-Text
►

▼

Figures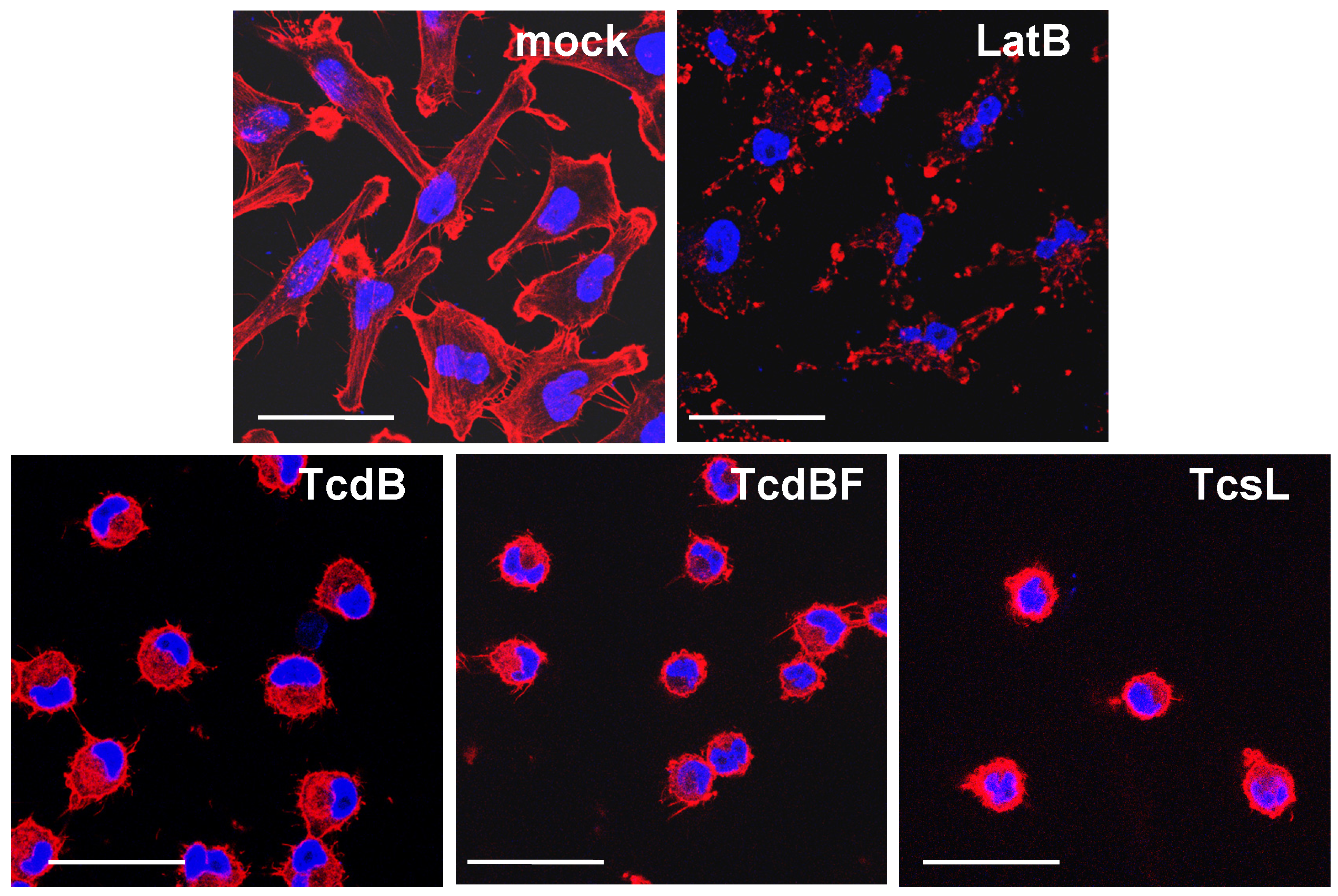 Figure 1
Share & Cite This Article
MDPI and ACS Style
May, M.; Wang, T.; Müller, M.; Genth, H. Difference in F-Actin Depolymerization Induced by Toxin B from the Clostridium difficile Strain VPI 10463 and Toxin B from the Variant Clostridium difficile Serotype F Strain 1470. Toxins 2013, 5, 106-119.
Related Articles
Comments
[Return to top]