Disruption of the Putative Vascular Leak Peptide Sequence in the Stabilized Ricin Vaccine Candidate RTA1-33/44-198
1
Walter Reed Army Institute of Research, Silver Spring, MD 20910, USA
2
NOVA Research, Inc., Alexandria, VA 22308, USA
3
Naval Research Laboratories, 4555 Overlook Ave., Washington, DC 20375, USA
4
United States Army Medical Research Institute of Infectious Diseases, Frederick, MD 21702, USA
5
Army Medical Research and Materiel Command, Fort Detrick, MD 21702-5012, USA
†
Current Address: MedImmune LLC, One Medimmune Way, Gaithersburg, MD 20878, USA.
*
Author to whom correspondence should be addressed.
Received: 5 December 2012 / Revised: 10 January 2013 / Accepted: 11 January 2013 / Published: 30 January 2013
Abstract
Vitetta and colleagues identified and characterized a putative vascular leak peptide (VLP) consensus sequence in recombinant ricin toxin A-chain (RTA) that contributed to dose-limiting human toxicity when RTA was administered intravenously in large quantities during chemotherapy. We disrupted this potentially toxic site within the more stable RTA1-33/44-198 vaccine immunogen and determined the impact of these mutations on protein stability, structure and protective immunogenicity using an experimental intranasal ricin challenge model in BALB/c mice to determine if the mutations were compatible. Single amino acid substitutions at the positions corresponding with RTA D75 (to A, or N) and V76 (to I, or M) had minor effects on the apparent protein melting temperature of RTA1-33/44-198 but all four variants retained greater apparent stability than the parent RTA. Moreover, each VLP(−) variant tested provided protection comparable with that of RTA1-33/44-198 against supralethal intranasal ricin challenge as judged by animal survival and several biomarkers. To understand better how VLP substitutions and mutations near the VLP site impact epitope structure, we introduced a previously described thermal stabilizing disulfide bond (R48C/T77C) along with the D75N or V76I substitutions in RTA1-33/44-198. The D75N mutation was compatible with the adjacent stabilizing R48C/T77C disulfide bond and the
T
m
was unaffected, whereas the V76I mutation was less compatible with the adjacent disulfide bond involving C77. A crystal structure of the RTA1-33/44-198 R48C/T77C/D75N variant showed that the structural integrity of the immunogen was largely conserved and that a stable immunogen could be produced from
E. coli
. We conclude that it is feasible to disrupt the VLP site in RTA1-33/44-198 with little or no impact on apparent protein stability or protective efficacy in mice and such variants can be stabilized further by introduction of a disulfide bond.
View Full-Text
►

▼

Figures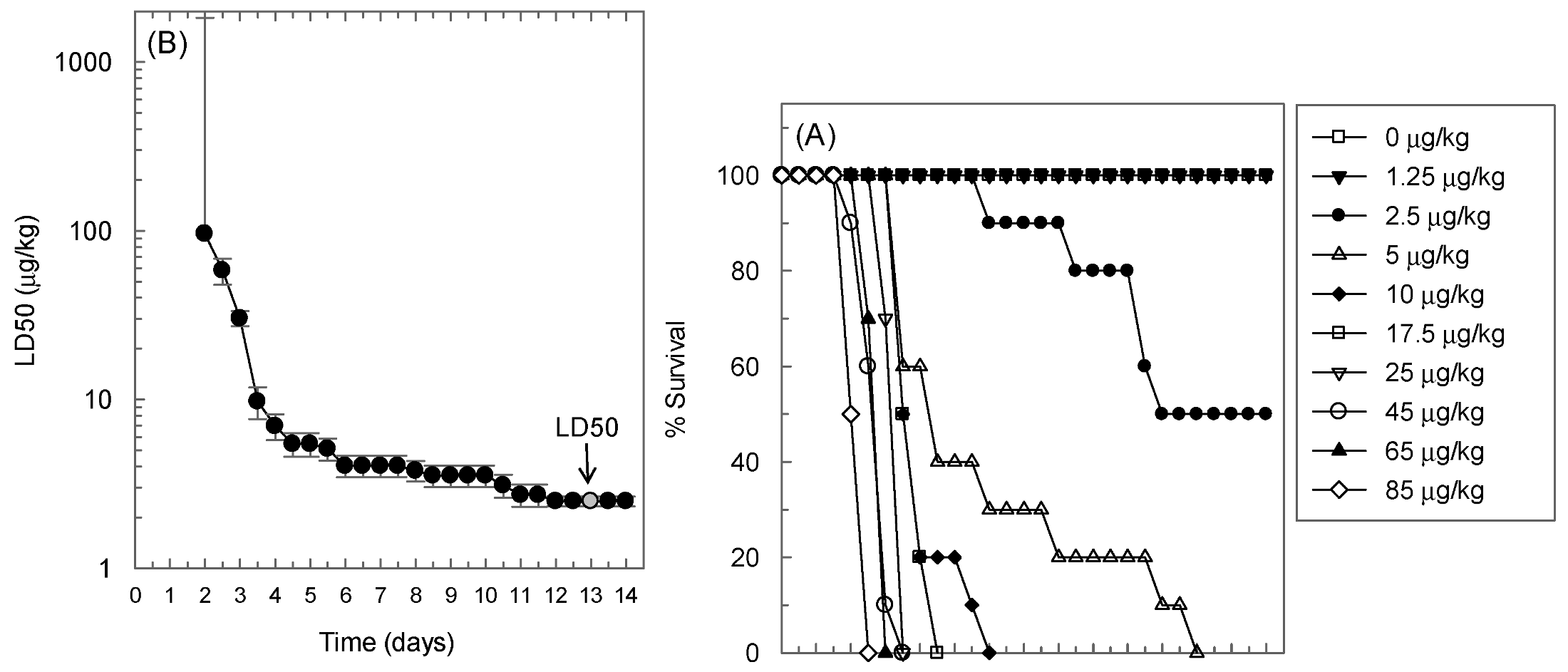 Figure 1
Share & Cite This Article
MDPI and ACS Style
Janosi, L.; Compton, J.R.; Legler, P.M.; Steele, K.E.; Davis, J.M.; Matyas, G.R.; Millard, C.B. Disruption of the Putative Vascular Leak Peptide Sequence in the Stabilized Ricin Vaccine Candidate RTA1-33/44-198. Toxins 2013, 5, 224-248.
Related Articles
Comments
[Return to top]