Insights into Diphthamide, Key Diphtheria Toxin Effector
1
Institut für Biologie, FG Mikrobiologie, Universität Kassel, Kassel D-34132, Germany
2
Department of Genetics, University of Leicester, Leicester LE1 7RH, UK
3
Centre for Gene Regulation & Expression, University of Dundee, Dundee, DD1 5EH, Scotland
†
These authors contributed equally to this work.
*
Author to whom correspondence should be addressed.
Received: 14 March 2013 / Revised: 17 April 2013 / Accepted: 26 April 2013 / Published: 3 May 2013
Abstract
Diphtheria toxin (DT) inhibits eukaryotic translation elongation factor 2 (eEF2) by ADP-ribosylation in a fashion that requires diphthamide, a modified histidine residue on eEF2. In budding yeast, diphthamide formation involves seven genes,
DPH1-DPH7
. In an effort to further study diphthamide synthesis and interrelation among the Dph proteins, we found, by expression in
E. coli
and co-immune precipitation in yeast, that Dph1 and Dph2 interact and that they form a complex with Dph3. Protein-protein interaction mapping shows that Dph1-Dph3 complex formation can be dissected by progressive
DPH1
gene truncations. This identifies N- and C-terminal domains on Dph1 that are crucial for diphthamide synthesis, DT action and cytotoxicity of sordarin, another microbial eEF2 inhibitor. Intriguingly,
dph1
truncation mutants are sensitive to overexpression of
DPH5
, the gene necessary to synthesize diphthine from the first diphthamide pathway intermediate produced by Dph1-Dph3. This is in stark contrast to
dph6
mutants, which also lack the ability to form diphthamide but are resistant to growth inhibition by excess Dph5 levels. As judged from site-specific mutagenesis, the amidation reaction itself relies on a conserved ATP binding domain in Dph6 that, when altered, blocks diphthamide formation and confers resistance to eEF2 inhibition by sordarin.
View Full-Text
►

▼

Figures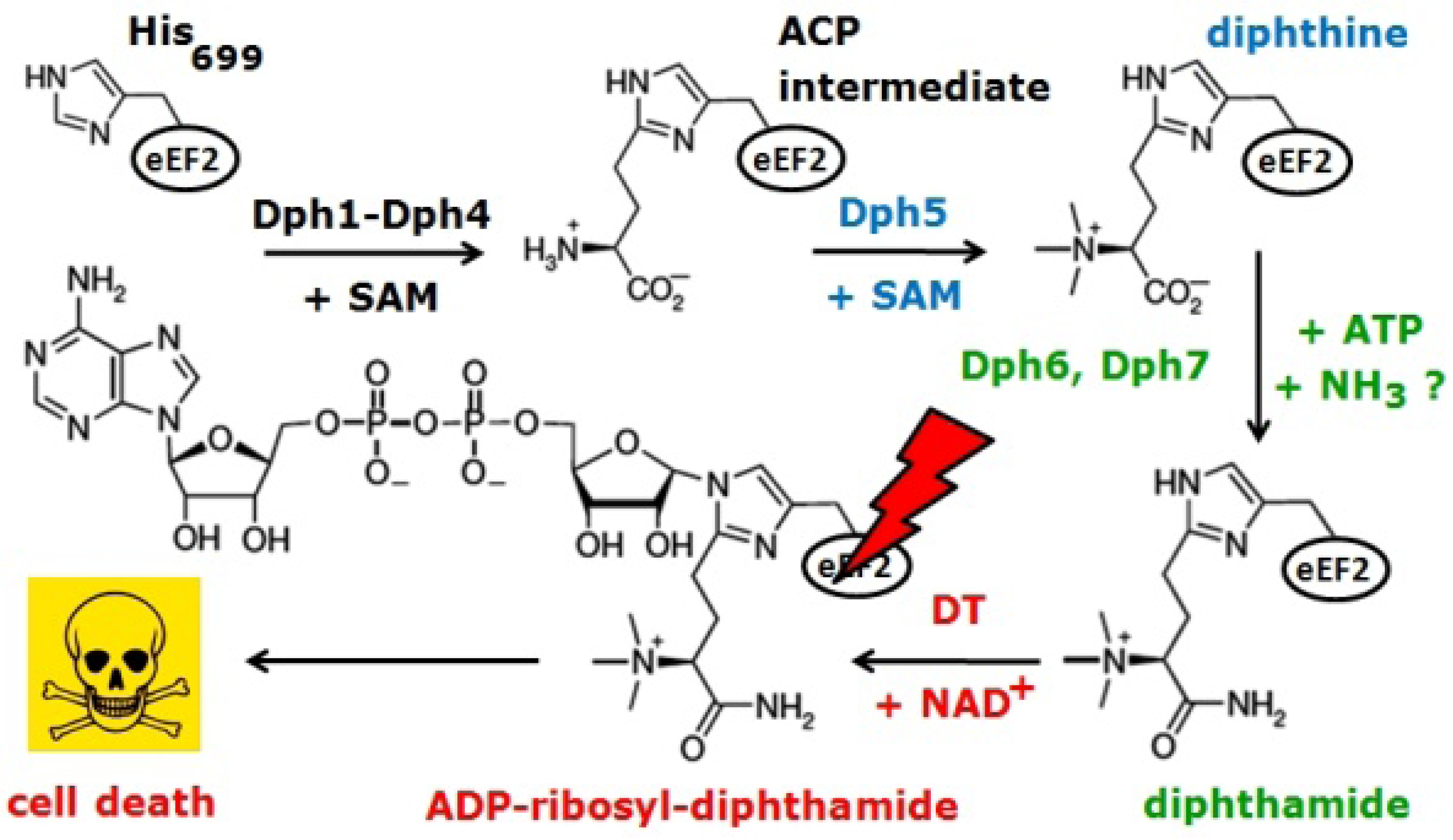 Figure 1
Share & Cite This Article
MDPI and ACS Style
Abdel-Fattah, W.; Scheidt, V.; Uthman, S.; Stark, M.J.R.; Schaffrath, R. Insights into Diphthamide, Key Diphtheria Toxin Effector. Toxins 2013, 5, 958-968.
Related Articles
Comments
[Return to top]