Cancer Stem Cells, EMT, and Developmental Pathway Activation in Pancreatic Tumors
Laboratory for Experimental Oncology and Radiobiology, Academic Medical Centre, Meibergdreef 9, 1105AZ Amsterdam, The Netherlands
†
Present Address: Department of Medical Oncology, University Medical Centre Utrecht, Universiteitsweg 100, 3584CG Utrecht, The Netherlands; E-Mail: s.hindriksen-2@umcutrecht.nl.
*
Author to whom correspondence should be addressed.
Received: 10 September 2012 / Revised: 2 October 2012 / Accepted: 9 October 2012 / Published: 12 October 2012
Abstract
Pancreatic cancer is a disease with remarkably poor patient survival rates. The frequent presence of metastases and profound chemoresistance pose a severe problem for the treatment of these tumors. Moreover, cross-talk between the tumor and the local micro-environment contributes to tumorigenicity, metastasis and chemoresistance. Compared to bulk tumor cells, cancer stem cells (CSC) have reduced sensitivity to chemotherapy. CSC are tumor cells with stem-like features that possess the ability to self-renew, but can also give rise to more differentiated progeny. CSC can be identified based on increased
in vitro
spheroid- or colony formation, enhanced
in vivo
tumor initiating potential, or expression of cell surface markers. Since CSC are thought to be required for the maintenance of a tumor cell population, these cells could possibly serve as a therapeutic target. There appears to be a causal relationship between CSC and epithelial-to-mesenchymal transition (EMT) in pancreatic tumors. The occurrence of EMT in pancreatic cancer cells is often accompanied by re-activation of developmental pathways, such as the Hedgehog, WNT, NOTCH, and Nodal/Activin pathways. Therapeutics based on CSC markers, EMT, developmental pathways, or tumor micro-environment could potentially be used to target pancreatic CSC. This may lead to a reduction of tumor growth, metastatic events, and chemoresistance in pancreatic cancer.
View Full-Text
►

▼

Figures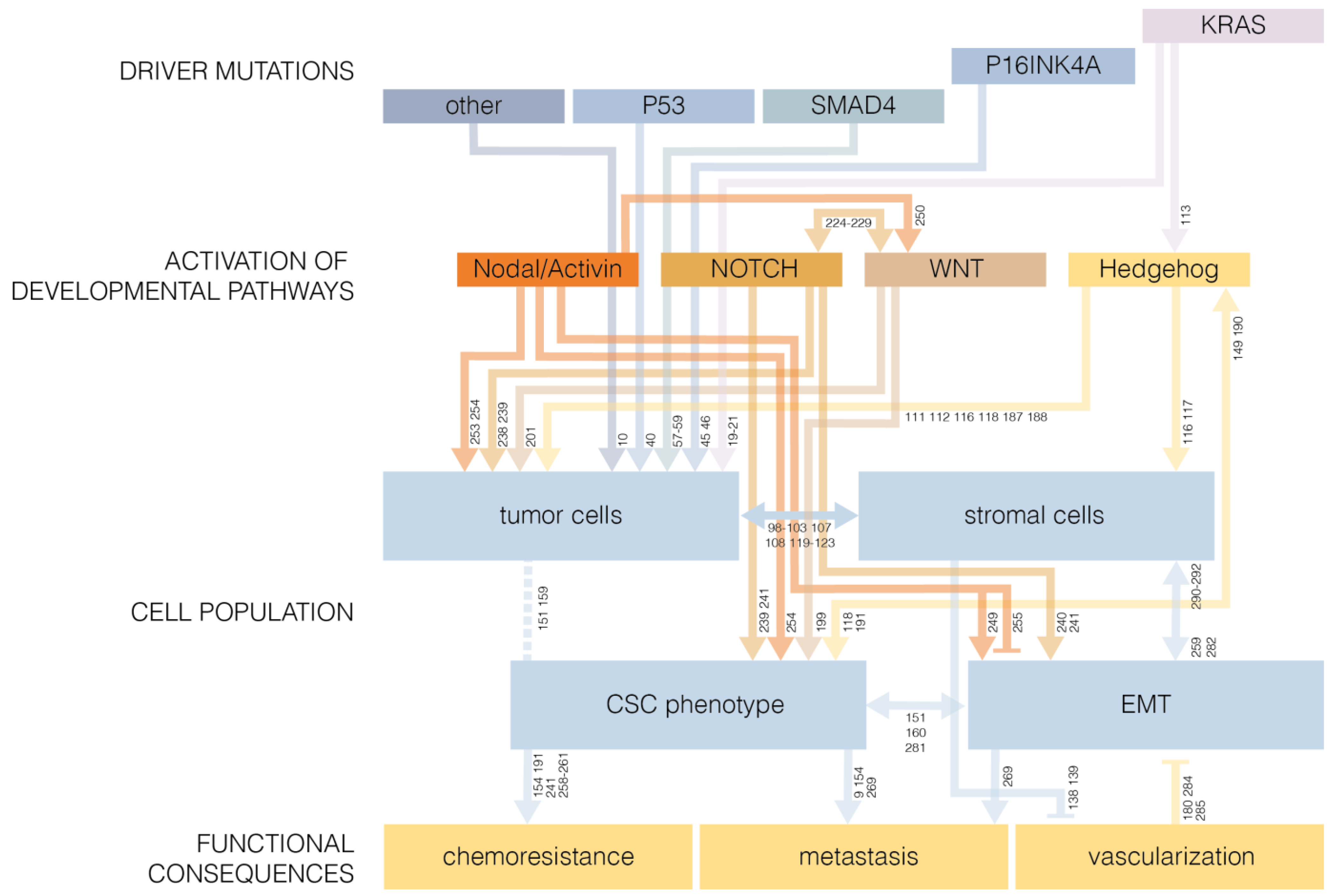 Figure 1
Share & Cite This Article
MDPI and ACS Style
Hindriksen, S.; Bijlsma, M.F. Cancer Stem Cells, EMT, and Developmental Pathway Activation in Pancreatic Tumors. Cancers 2012, 4, 989-1035.
Related Articles
Comments
[Return to top]