Influence of Levamisole and Other Angiogenesis Inhibitors on Angiogenesis and Endothelial Cell Morphology in Vitro
Department of Clinical Biochemistry, Immunology and Genetics, Statens Serum Institut, Artillerivej 5, DK-2300 Copenhagen, Denmark
*
Author to whom correspondence should be addressed.
Received: 23 April 2013 / Revised: 11 June 2013 / Accepted: 14 June 2013 / Published: 24 June 2013
Abstract
Angiogenesis, the formation of new blood vessels from existing vessels is required for many physiological processes and for growth of solid tumors. Initiated by hypoxia, angiogenesis involves binding of angiogenic factors to endothelial cell (EC) receptors and activation of cellular signaling, differentiation, migration, proliferation, interconnection and canalization of ECs, remodeling of the extracellular matrix and stabilization of newly formed vessels. Experimentally, these processes can be studied by several
in vitro
and
in vivo
assays focusing on different steps in the process.
In vitro
, ECs form networks of capillary-like tubes when propagated for three days in coculture with fibroblasts. The tube formation is dependent on vascular endothelial growth factor (VEGF) and omission of VEGF from the culture medium results in the formation of clusters of undifferentiated ECs. Addition of angiogenesis inhibitors to the coculture system disrupts endothelial network formation and influences EC morphology in two distinct ways. Treatment with antibodies to VEGF, soluble VEGF receptor, the VEGF receptor tyrosine kinase inhibitor SU5614, protein tyrosine phosphatase inhibitor (PTPI) IV or levamisole results in the formation of EC clusters of variable size. This cluster morphology is a result of inhibited EC differentiation and levamisole can be inferred to influence and block VEGF signaling. Treatment with platelet factor 4, thrombospondin, rapamycin, suramin, TNP-470, salubrinal, PTPI I, PTPI II, clodronate, NSC87877 or non-steriodal anti-inflammatory drugs (NSAIDs) results in the formation of short cords of ECs, which suggests that these inhibitors have an influence on later steps in the angiogenic process, such as EC proliferation and migration. A humanized antibody to VEGF is one of a few angiogenesis inhibitors used clinically for treatment of cancer. Levamisole is approved for clinical treatment of cancer and is interesting with respect to anti-angiogenic activity
in vivo
since it inhibits ECs
in vitro
with a morphology resembling that obtained with antibodies to VEGF.
View Full-Text
►

▼

Figures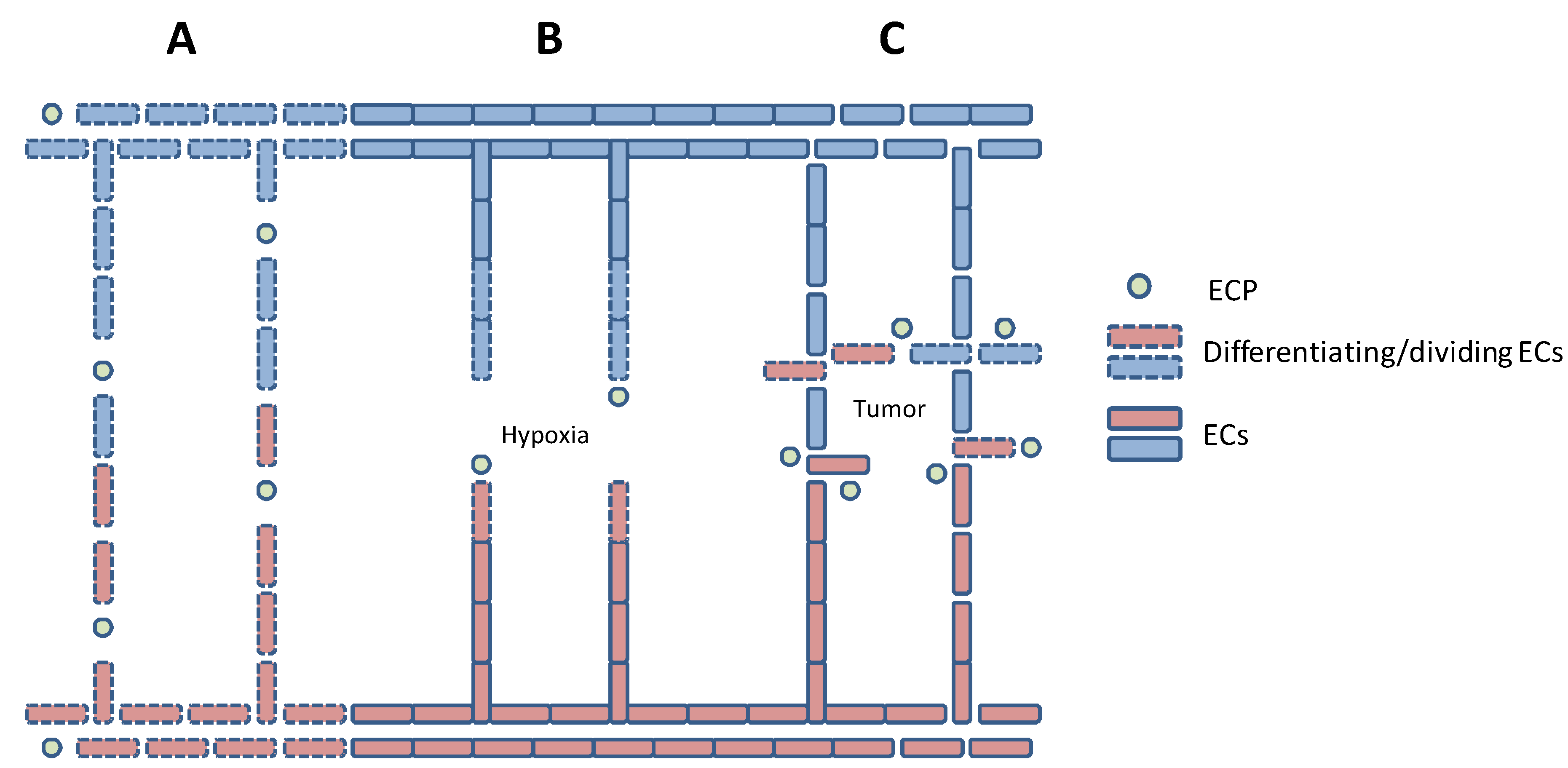 Figure 1
Share & Cite This Article
MDPI and ACS Style
Friis, T.; Engel, A.-M.; Bendiksen, C.D.; Larsen, L.S.; Houen, G. Influence of Levamisole and Other Angiogenesis Inhibitors on Angiogenesis and Endothelial Cell Morphology in Vitro. Cancers 2013, 5, 762-785.
Related Articles
Comments
[Return to top]