Open Access This article is
freely available
re-usable
Article
Cooperation in Public Goods Games: Stay, But Not for Too Long
1
Departamento de Física, Universidade Federal de Minas Gerais, Caixa Postal 702, Belo Horizonte CEP 30161-970, MG, Brazil
2
Instituto de Física, Universidade Federal do Rio Grande do Sul, Caixa Postal 15051, Porto Alegre CEP 91501-970, RS, Brazil
Received: 16 June 2017 / Accepted: 15 August 2017 / Published: 18 August 2017
Abstract
:
Cooperation in repeated public goods game is hardly achieved, unless contingent behavior is present. Surely, if mechanisms promoting positive assortment between cooperators are present, then cooperators may beat defectors, because cooperators would collect greater payoffs. In the context of evolutionary game theory, individuals that always cooperate cannot win the competition against defectors in well-mixed populations. Here, we study the evolution of a population where fitness is obtained in repeated public goods games and players have a fixed probability of playing the next round. As a result, the group size decreases during the game. The population is well-mixed and there are only two available strategies: always cooperate (ALLC) or always defect (ALLD). Through numerical calculation and analytical approximations we show that cooperation can emerge if the players stay playing the game, but not for too long. The essential mechanism is the interaction between the transition from strong to weak altruism, as the group size decreases, and the existence of an upper limit to the number of rounds representing limited time availability.
Keywords:
evolutionary game theory; public goods game; repeated games; fixation probability
Acknowledgments
The author thanks to CNPq and FAPEMIG, Brazilian agencies.
Author Contributions
All authors contributed equally to research and writing of the manuscript.
Conflicts of Interest
The authors declare no conflict of interest. The founding sponsors had no role in the design of the study; in the collection, analyses, or interpretation of data; in the writing of the manuscript, and in the decision to publish the results.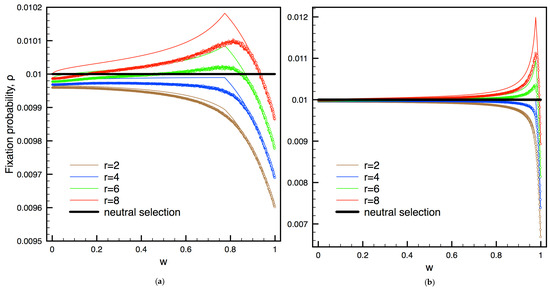 Figure 1.
Fixation probability, , of a single cooperator in the weak selection limit for (
a
) and (
b
). We show data from computer simulation (symbols) and from the analytical approximation, Equation (
10
) (continuous lines). The horizontal line at is the neutral fixation probability. The parameters are , , and .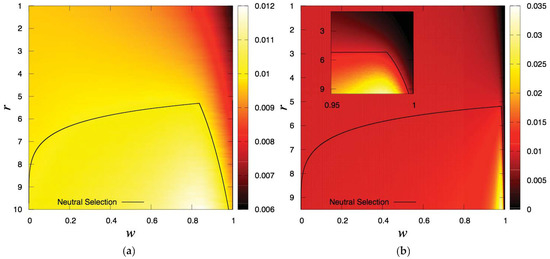 Figure 2.
Fixation probability, , as a function of
r
and
w
for (
a
) and (
b
) obtained from computer simulations. The solid line shows the analytical value where the fixation probability equals neutral selection, calculated using Equation (
10
). This analytical line divides the phase space in two regions: cooperation is favored where and cooperation is inhibited where . Note that, although cooperators benefit from large
w
, there is a maximum value after which it is better to leave the game. On the right figure the inset shows details of the region near .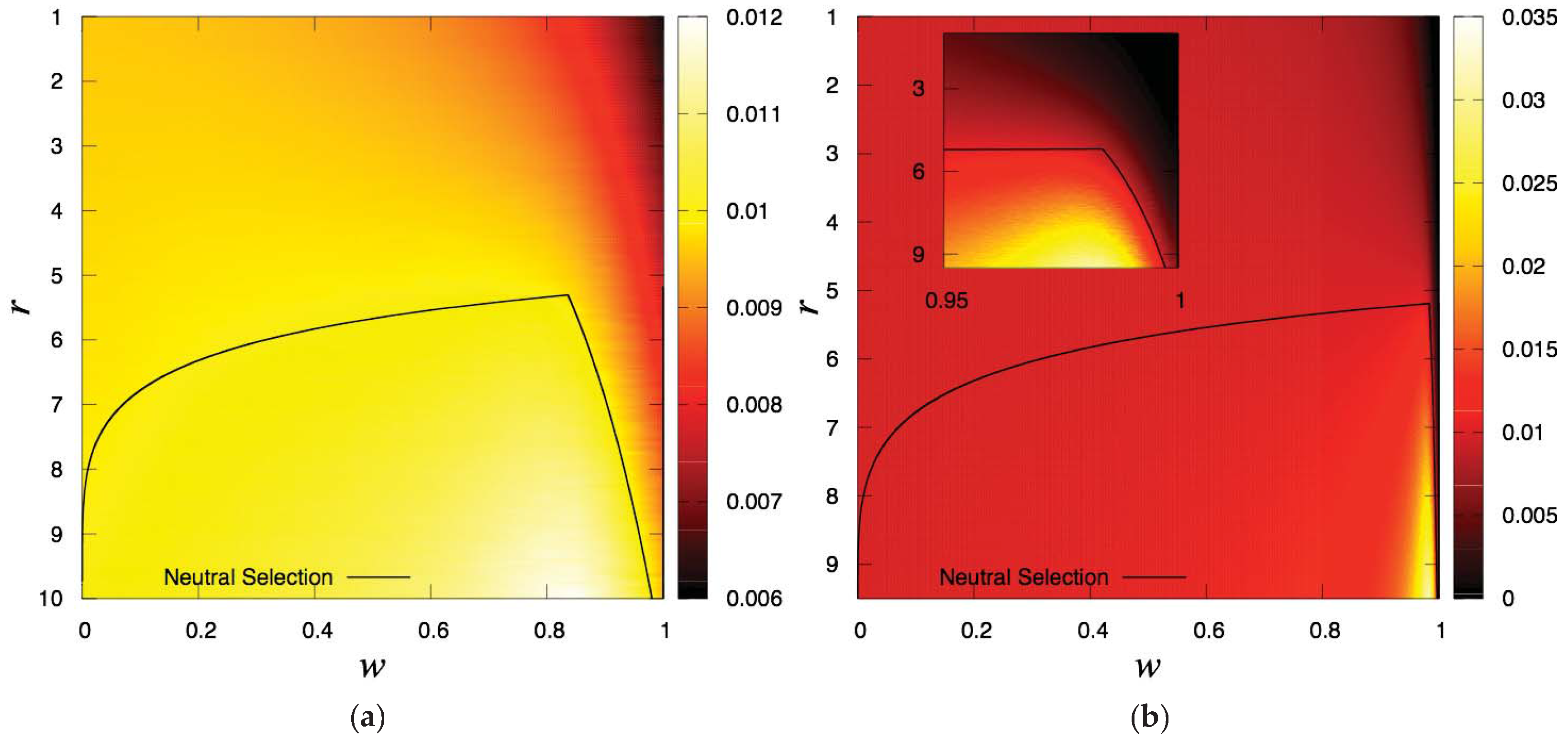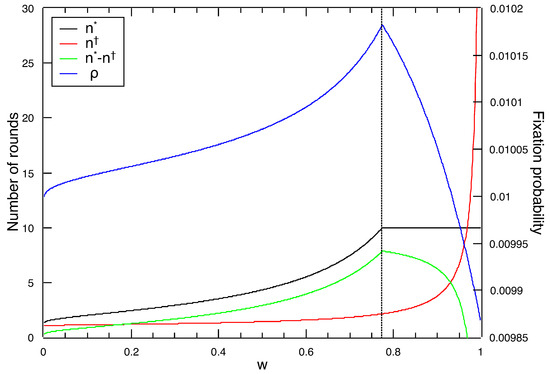 Figure 3.
Number of rounds analysis. The figure shows the average number of rounds, ; the round at which the average payoff of cooperators start to be greater than the average payoff of defectors, ; the difference ; and the fixation probability for and . As expected, grows with
w
, but reaches the constant value of , which was set to in this figure. Notice that the peak of is at (vertical dashed line).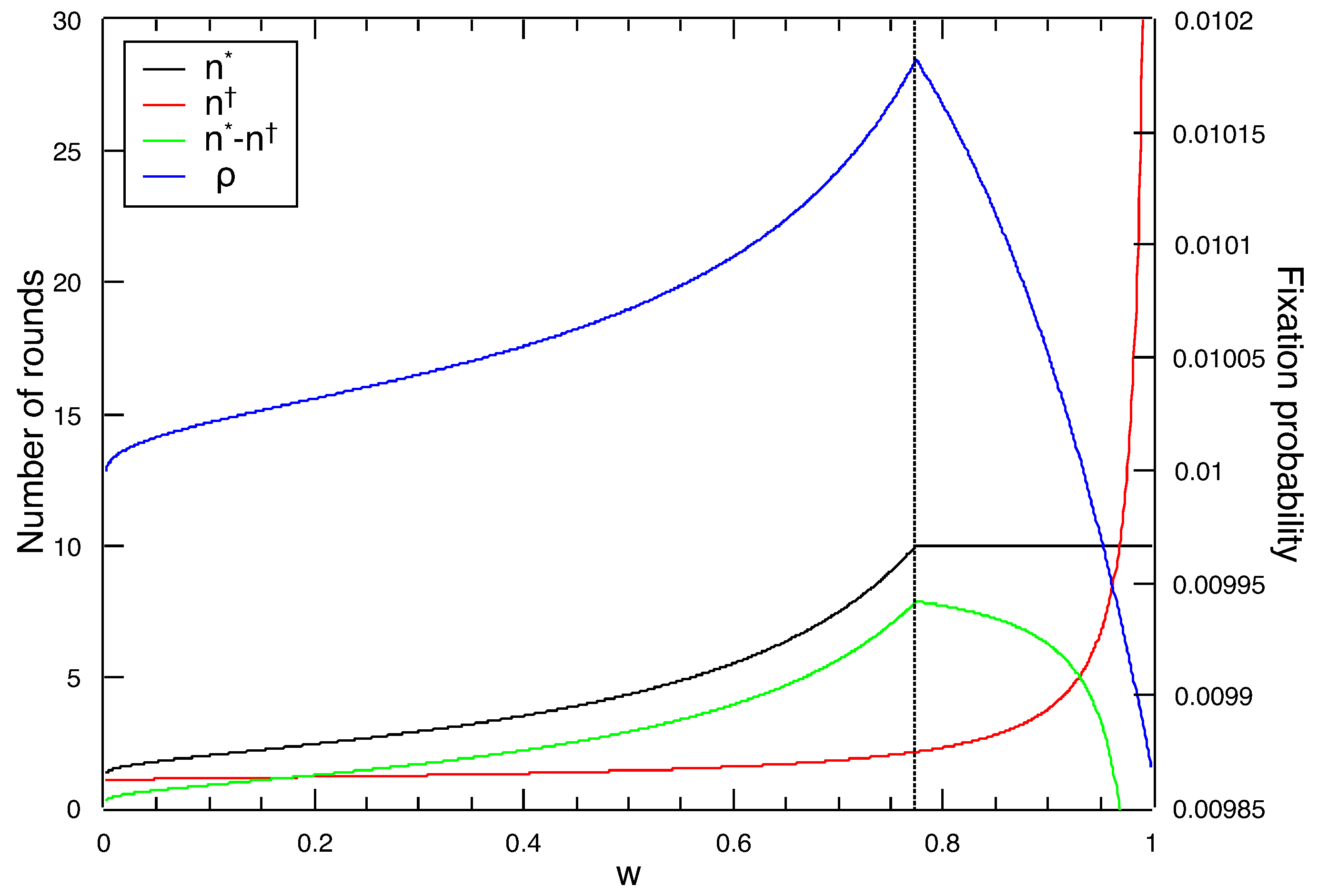 © 2017 by the authors. Licensee MDPI, Basel, Switzerland. This article is an open access article distributed under the terms and conditions of the Creative Commons Attribution (CC BY) license (http://creativecommons.org/licenses/by/4.0/).