Polymer Directed Protein Assemblies
Department of Biomedical Engineering-FB40, W.J. Kolff Institute for Biomedical Engineering and Materials Science, University of Groningen, University Medical Center Groningen, A. Deusinglaan 1, 9713 AV Groningen, The Netherlands
Received: 1 April 2013 / Revised: 7 May 2013 / Accepted: 8 May 2013 / Published: 22 May 2013
Abstract
Protein aggregation and protein self-assembly is an important occurrence in natural systems, and is in some form or other dictated by biopolymers. Very obvious influences of biopolymers on protein assemblies are, e.g., virus particles. Viruses are a multi-protein assembly of which the morphology is dictated by poly-nucleotides namely RNA or DNA. This "biopolymer" directs the proteins and imposes limitations on the structure like the length or diameter of the particle. Not only do these bionanoparticles use polymer-directed self-assembly, also processes like amyloid formation are in a way a result of directed protein assembly by partial unfolded/misfolded biopolymers namely, polypeptides. The combination of proteins and synthetic polymers, inspired by the natural processes, are therefore regarded as a highly promising area of research. Directed protein assembly is versatile with respect to the possible interactions which brings together the protein and polymer, e.g., electrostatic, v.d. Waals forces or covalent conjugation, and possible combinations are numerous due to the large amounts of different polymers and proteins available. The protein-polymer interacting behavior and overall morphology is envisioned to aid in clarifying protein-protein interactions and are thought to entail some interesting new functions and properties which will ultimately lead to novel bio-hybrid materials.
View Full-Text
►

▼

Figures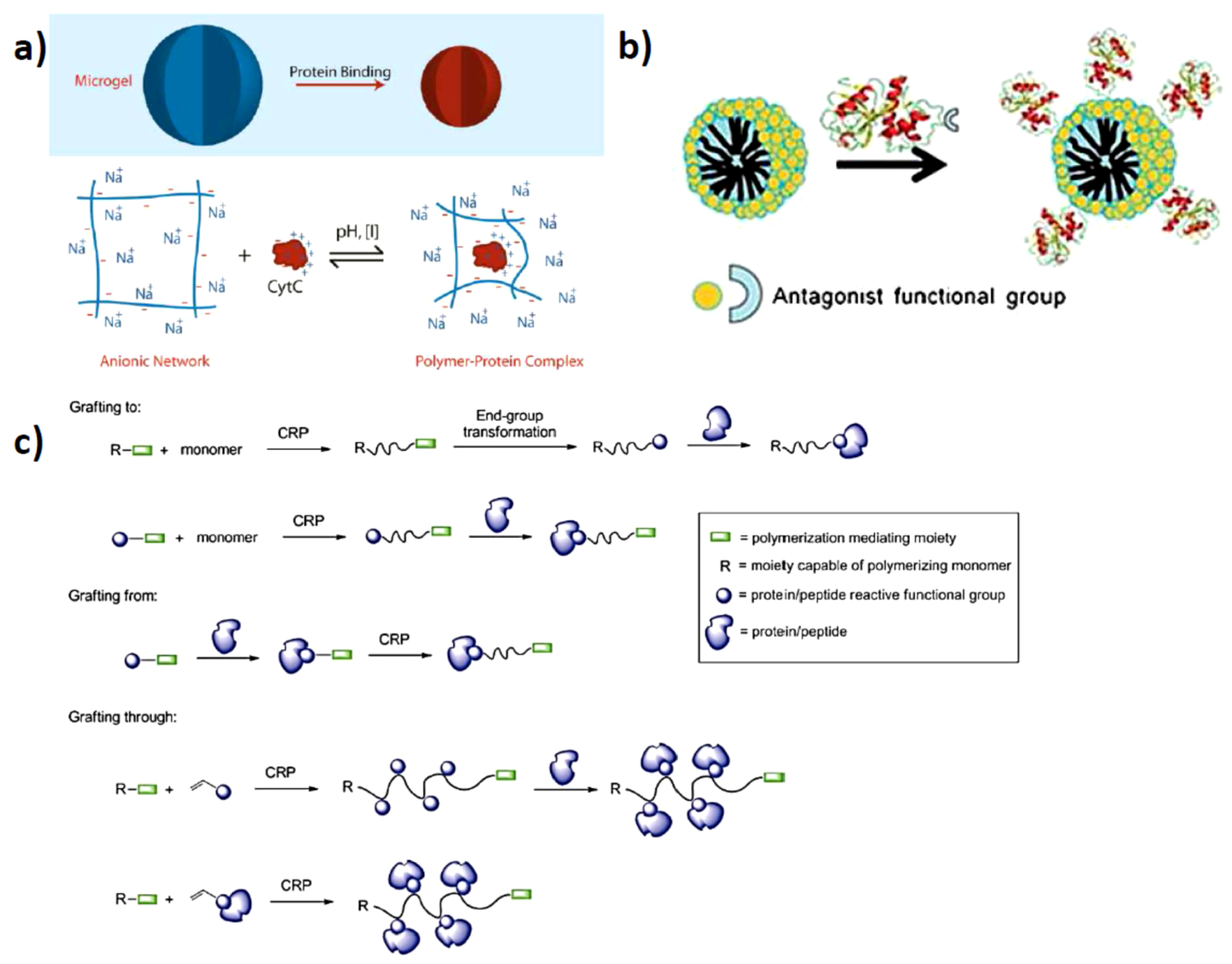 Figure 1
Share & Cite This Article
MDPI and ACS Style
van Rijn, P. Polymer Directed Protein Assemblies. Polymers 2013, 5, 576-599.
Related Articles
Comments
[Return to top]