Effect of the GO Reduction Method on the Dielectric Properties, Electrical Conductivity and Crystalline Behavior of PEO/rGO Nanocomposites
1
Soft Matter Rheology and Technology, Department of Chemical Engineering, KU Leuven, Celestijnenlaan 200F, Box 2424, B-3001 Leuven, Belgium
2
Chemistry and Materials, Department of Chemistry, KU Leuven, Celestijnenlaan 200F, Box 2404, B-3001 Leuven, Belgium
3
Polymer Technology, Department of Mechanical Engineering, Eindhoven University of Technology, Box 513, 5600MB Eindhoven, The Netherlands
*
Authors to whom correspondence should be addressed.
Received: 29 September 2017 / Revised: 29 October 2017 / Accepted: 11 November 2017 / Published: 14 November 2017
Abstract
The effect of the reduction method to prepare reduced graphene oxide (rGO) on the melt linear viscoelastic properties, electrical conductivity, polymer matrix crystalline behavior and dielectric properties of PEO-rGO nanocomposites was investigated. Reduction was performed chemically with either sodium borohydride (NaBH
4
) or hydrazine monohydrate (N
2
H
4
·H
2
O) or both reduction agents consecutively as well as thermally at 1000 °C. The different reduction methods resulted in exfoliated rGO sheets with different types and amounts of remaining functional groups, as indicated by FT-IR, Raman, TGA and XRD characterization. Moreover, their electrical conductivity ranged between 10
−4
and 10
−1
S/cm, with the consecutive use of both chemical reduction agents being far superior. PEO nanocomposites with filler loadings of 0.5 wt %, 1 wt % and 2 wt % were prepared by solvent mixing. The rGO fillers affected the melt linear viscoelastic and crystalline behavior of the PEO matrix and resulted in nanocomposites with a substantially increased electrical conductivity. Despite the wide variability in filler conductivity, the effects on the polymer nanocomposite properties were less distinctive. A correlation was obtained between the reduction of the mobility of the polymer chains (evaluated by the glass transition temperature) and the dielectric strength of the interfacial polarisation originating from the effective entrapment of GO/rGO filler charges at the interface with the less conductive PEO. Thus, favorable interactions of the polar PEO with the filler led to reduced mobility of the PEO chains and thereby a more effective entrapment of the filler charges at the PEO interface.
View Full-Text
►

▼

Figures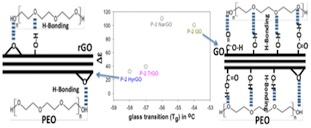 This is an open access article distributed under the
Creative Commons Attribution License
which permits unrestricted use, distribution, and reproduction in any medium, provided the original work is properly cited. (CC BY 4.0).
Share & Cite This Article
MDPI and ACS Style
Malas, A.; Bharati, A.; Verkinderen, O.; Goderis, B.; Moldenaers, P.; Cardinaels, R. Effect of the GO Reduction Method on the Dielectric Properties, Electrical Conductivity and Crystalline Behavior of PEO/rGO Nanocomposites. Polymers 2017, 9, 613.
Note that from the first issue of 2016, MDPI journals use article numbers instead of page numbers. See further details here.
Related Articles
Comments
[Return to top]