Antibacterial Property and Cytotoxicity of a Poly(lactic acid)/Nanosilver-Doped Multiwall Carbon Nanotube Nanocomposite
1
Material Corrosion and Protection Key Laboratory of Sichuan Province, College of Materials Science and Engineering, Sichuan University of Science and Engineering, Zigong 643000, China
2
Faculties of Biological and Chemical Engineering, Faculties of Materials Engineering, Science and Technology Innovation Center, Panzhihua University, Panzhihua 617000, China
3
Department of Materials Science, Chulalongkorn University, Bangkok 10330, Thailand
4
Department of Materials and Textiles, Oriental Institute of Technology, New Taipei City 22061, Taiwan
5
Department of Materials Science and Engineering, National Taiwan University of Science and Technology, Taipei 10607, Taiwan
6
Faculty of Electronic and Electrical Engineering, Huaiyin Institute of Technology, Huan'an 223003, China
7
Department of Applied Cosmetology, Kao Yuan University, Kaohsiung 82101, Taiwan
8
Department of Molecular Science & Engineering, National Taipei University of Technology, Taipei 10608, Taiwan
9
Center for Membrane Technology, Chung Yuan University, Taoyuan 32023, Taiwan
10
Department of Fashion Business Administration, Lee-Ming Institute of Technology, Taishan, New Taipei City 24305, Taiwan
*
Authors to whom correspondence should be addressed.
Academic Editor: Naozumi Teramoto
Received: 17 November 2016 / Accepted: 8 March 2017 / Published: 10 March 2017
Abstract
A novel method was used to synthesize a nanosilver-doped multiwall carbon nanotube (MWCNT-Ag), and subsequently, the novel poly(lactic acid) (PLA)- and MWCNT-Ag-based biocompatible and antimicrobial nanocomposites were prepared by melt blending. Based on energy dispersive X-ray spectrometry images, an MWCNT-Ag was successfully synthesized. The effect of the MWCNT-Ag on the PLA bionanocomposites was investigated by evaluating their thermal and mechanical properties, antifungal activity, and cytotoxicity. The nanocomposites exhibited a high degree of biocompatibility with the MWCNT-Ag content, which was less than 0.3 phr. Furthermore, tensile strength testing, thermogravimetric analysis, differential scanning calorimetry, and antibacterial evaluation revealed that the tensile strength, thermostability, glass transition temperature, and antibacterial properties were enhanced by increasing the MWCNT-Ag content. Finally, hydrolysis analysis indicated that the low MWCNT-Ag content could increase the packing density of PLA.
View Full-Text
►

▼

Figures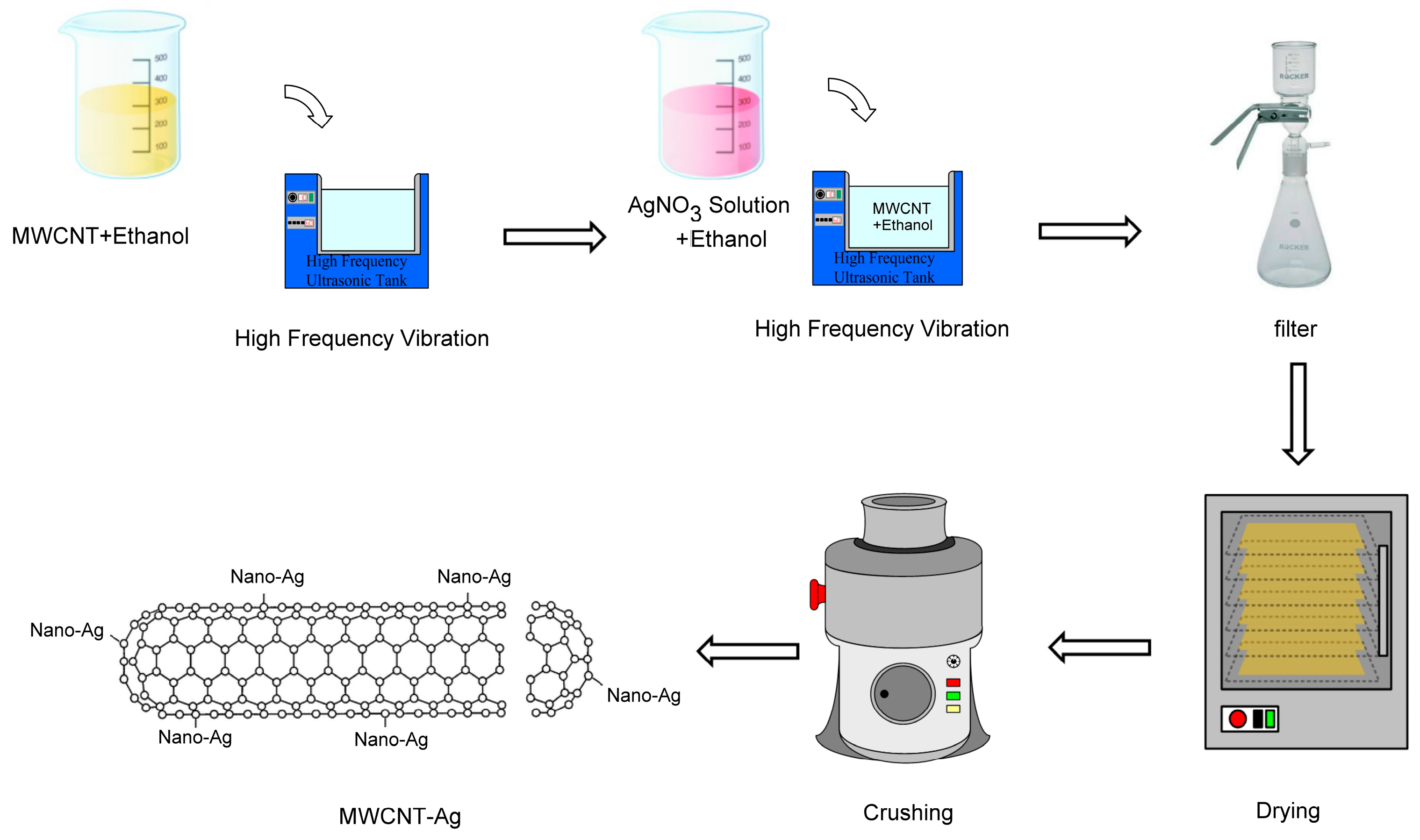 Figure 1
This is an open access article distributed under the
Creative Commons Attribution License
which permits unrestricted use, distribution, and reproduction in any medium, provided the original work is properly cited. (CC BY 4.0).
Share & Cite This Article
MDPI and ACS Style
Tsou, C.-H.; Yao, W.-H.; Lu, Y.-C.; Tsou, C.-Y.; Wu, C.-S.; Chen, J.; Wang, R.Y.; Su, C.; Hung, W.-S.; De Guzman, M.; Suen, M.-C. Antibacterial Property and Cytotoxicity of a Poly(lactic acid)/Nanosilver-Doped Multiwall Carbon Nanotube Nanocomposite. Polymers 2017, 9, 100.
Note that from the first issue of 2016, MDPI journals use article numbers instead of page numbers. See further details here.
Related Articles
Comments
[Return to top]