Competitive Stereocomplexation and Homocrystallization Behaviors in the Poly(lactide) Blends of PLLA and PDLA-PEG-PDLA with Controlled Block Length
Ministry of Education Key Lab of Applied Physics and Chemistry in Space, College of Science, Northwestern Polytechnical University, Xi'an 710072, China
*
Authors to whom correspondence should be addressed.
Academic Editor: Patrick Ilg
Received: 18 January 2017 / Revised: 9 March 2017 / Accepted: 12 March 2017 / Published: 15 March 2017
Abstract
Stereocomplex poly(lactide) (PLA) was obtained by solution blending of linear PLLA and PDLA-PEG-PDLA. Effects of the L/D ratios, PEG block, and PDLA block on stereocomplexation of the blends are systemically discussed. The full stereocomplex PLA can be acquired by solution blending when L/D ratios are in the range of 7/3–5/5. The experiment results demonstrated that the stereocomplex degree of PLLA/PDLA-PEG-PDLA prepared by melt blending was closely related to the PEG block and PDLA block. POM results indicated that the blends with high L/D ratio showed large disordered spherulites, and the typical Maltese cross pattern was observed as the L/D ratios decreased. The results of PEG block on the stereocomplexation of PLLA/PDLA-PEG-PDLA revealed that the PEG blocks possessed two sides: accelerating agent for the mobility of polymer chains and decreasing nucleation capacity due to their diluting effect. The effect of PDLA block on the stereocomplexation of the blends was also well investigated. The results showed that the crystallization of sc-crystallites and hc-crystallites in the PLLA/PDLA-PEG
4k
-PDLA blends with different PDLA blocks presents an obvious competition relationship, and this is not beneficial to the formation of sc-crystallites with increasing PDLA block. The melting behavior of PLLA/PDLA-PEG
4k
-PDLA with different PDLA blocks after isothermal crystallization showed that the blends could achieve full stereocomplex when the crystallization temperature exceeded 160 °C, and a crystallite with high perfection could be formed as the crystallization temperature increased. This study systemically investigated the effects of the L/D ratios, PEG block, PDLA block, and crystallization conditions on stereocomplex crystallization of PLLA/PDLA-PEG-PDLA blends, which can provide potential approaches to control the microstructure and physical performances of PLLA/PDLA-PEG-PDLA blends.
View Full-Text
►

▼

Figures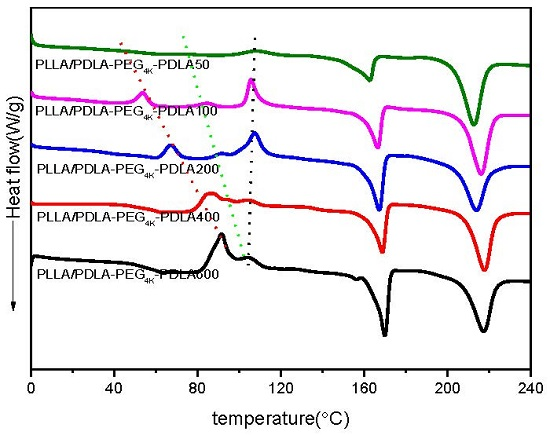 This is an open access article distributed under the
Creative Commons Attribution License
which permits unrestricted use, distribution, and reproduction in any medium, provided the original work is properly cited. (CC BY 4.0).
Share & Cite This Article
MDPI and ACS Style
Jing, Z.; Shi, X.; Zhang, G. Competitive Stereocomplexation and Homocrystallization Behaviors in the Poly(lactide) Blends of PLLA and PDLA-PEG-PDLA with Controlled Block Length. Polymers 2017, 9, 107.
Note that from the first issue of 2016, MDPI journals use article numbers instead of page numbers. See further details here.
Related Articles
Comments
[Return to top]