Neuroantigen-Specific CD4 Cells Expressing Interferon-γ (IFN-γ), Interleukin (IL)-2 and IL-3 in a Mutually Exclusive Manner Prevail in Experimental Allergic Encephalomyelitis (EAE)
1
Vice President R&D, Cellular Technology Ltd., 20521 Chagrin Blvd., Cleveland, OH 44122, USA
2
Cognitive Neurology Section, Institute of Neuroscience and Medicine (INM-3), Research Center Juelich, Juelich, Germany
3
President and CEO, Cellular Technology Ltd., Cleveland, OH 44122, USA
*
Author to whom correspondence should be addressed.
Received: 16 July 2012 / Revised: 28 July 2012 / Accepted: 31 July 2012 / Published: 24 August 2012
Abstract
Experimental allergic encephalomyelitis (EAE) is mediated by neuroantigen-specific pro-inflammatory T cells of the Th1 and Th17 effector class. Th-17 cells can be clearly defined by expression of IL-17, but not IFN-γ, IL-2 or IL-3. Th1 cells do not express IL-17, but it is unclear presently to what extent they co-express the cytokines canonically assigned to Th1 immunity (
i.e.
, IFN-γ, IL-2 and IL-3) and whether CD4 cells producing these cytokines indeed belong to a single Th1 lineage. It is also unclear to what extent the Th1 response in EAE entails polyfunctional T cells that co-express IFN-γ and IL-2. Therefore, we dissected the Th1 cytokine signature of neuroantigen-specific CD4 cells studying at single cell resolution co-expression of IFN-γ, IL-2 and IL-3 using dual color cytokine ELISPOT analysis. Shortly after immunization, in the draining lymph nodes (dLN), the overall cytokine signature of the neuroantigen-specific CD4 cells was highly type 1-polarized, but IFN-γ, IL-2, and IL-3 were each secreted by different CD4 cells in a mutually exclusive manner. This single cell – single cytokine profile was stable through the course of chronic EAE–polyfunctional CD4 cells co-expressing IL-2 and IFN-γ presented less than 5% of the neuroantigen-specific T cells, even in the inflamed CNS itself. The neuroantigen-specific CD4 cells that expressed IFN-γ, IL-2 and IL-3 in a mutually exclusive manner exhibited similar functional avidities and kinetics of cytokine production, but showed different tissue distributions. These data suggest that Th1 cells do not belong to a single lineage, but different Th1 subpopulations jointly mediate Th1 immunity.
View Full-Text
►

▼

Figures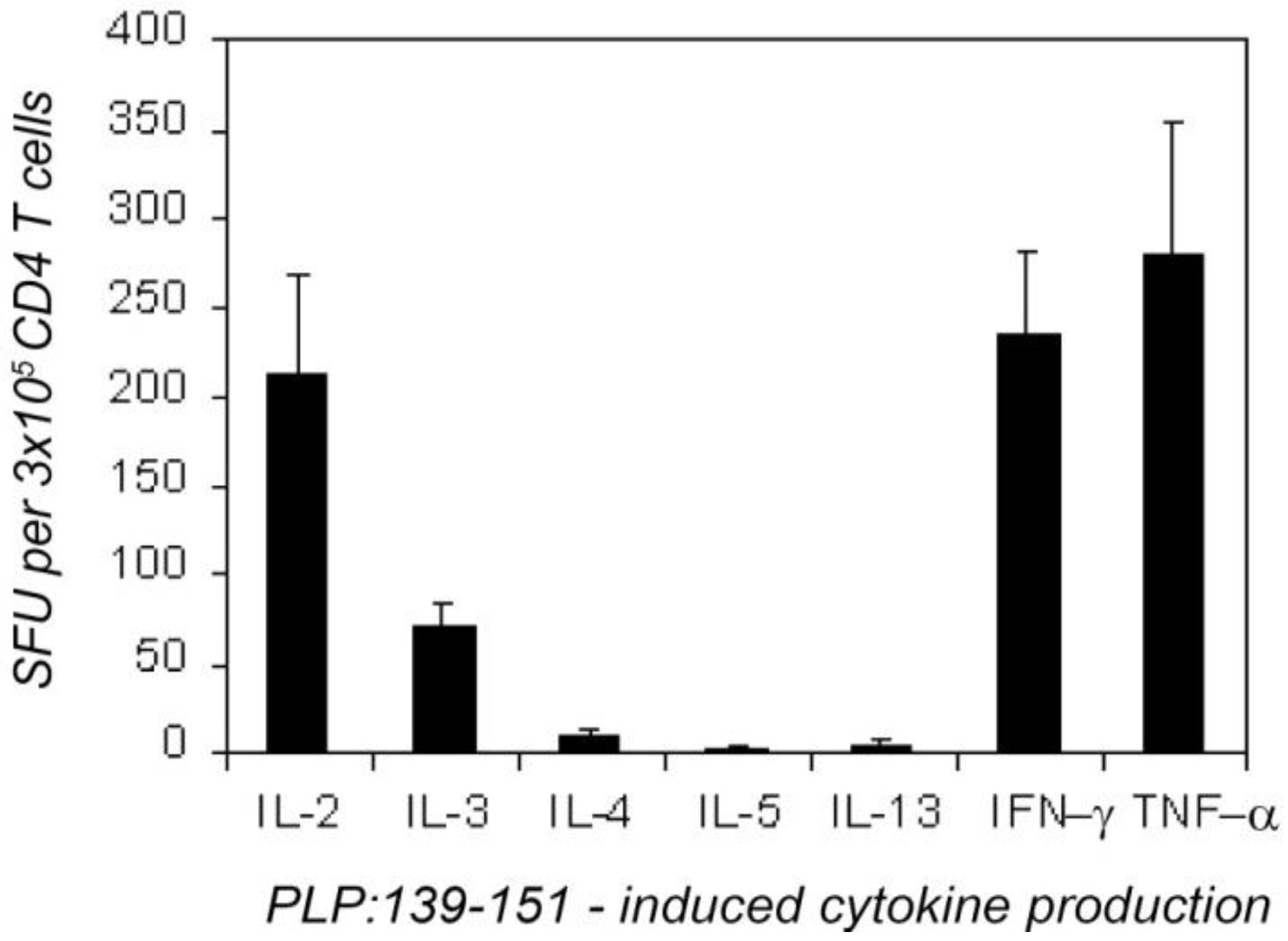 Figure 1
Share & Cite This Article
MDPI and ACS Style
Karulin, A.Y.; Quast, S.; Hesse, M.D.; Lehmann, P.V. Neuroantigen-Specific CD4 Cells Expressing Interferon-γ (IFN-γ), Interleukin (IL)-2 and IL-3 in a Mutually Exclusive Manner Prevail in Experimental Allergic Encephalomyelitis (EAE). Cells 2012, 1, 576-596.
Related Articles
Comments
[Return to top]