A Drosophila Model to Image Phagosome Maturation
1
Mechanisms in Cell Biology and Diseases Research Group, School of Pharmacy and Medical Science, Sansom Institute for Health Research, University of South Australia, Adelaide, SA 5001, Australia
2
University of Adelaide, Adelaide, SA 5000, Australia
*
Author to whom correspondence should be addressed.
Received: 19 October 2012 / Revised: 21 February 2013 / Accepted: 14 March 2013 / Published: 26 March 2013
Abstract
Phagocytosis involves the internalization of extracellular material by invagination of the plasma membrane to form intracellular vesicles called phagosomes, which have functions that include pathogen degradation. The degradative properties of phagosomes are thought to be conferred by sequential fusion with endosomes and lysosomes; however, this maturation process has not been studied
in vivo
. We employed
Drosophila
hemocytes, which are similar to mammalian professional macrophages, to establish a model of phagosome maturation. Adult
Drosophila
females, carrying transgenic Rab7-GFP endosome and Lamp1-GFP lysosome markers, were injected with
E. coli
DH5α and the hemocytes were collected at 15, 30, 45 and 60 minutes after infection. In wild-type females,
E. coli
were detected within enlarged Rab7-GFP positive phagosomes at 15 to 45 minutes after infection; and were also observed in enlarged Lamp1-GFP positive phagolysosomes at 45 minutes. Two-photon imaging of hemocytes
in vivo
confirmed this vesicle morphology, including enlargement of Rab7-GFP and Lamp1-GFP structures that often appeared to protrude from hemocytes. The interaction of endosomes and lysosomes with
E. coli
phagosomes observed in
Drosophila
hemocytes was consistent with that previously described for phagosome maturation in human
ex vivo
macrophages. We also tested our model as a tool for genetic analysis using
14-3-3e
mutants, and demonstrated altered phagosome maturation with delayed
E. coli
internalization, trafficking and/or degradation. These findings demonstrate that
Drosophila
hemocytes provide an appropriate, genetically amenable, model for analyzing phagosome maturation
ex vivo
and
in vivo
.
View Full-Text
►

▼

Figures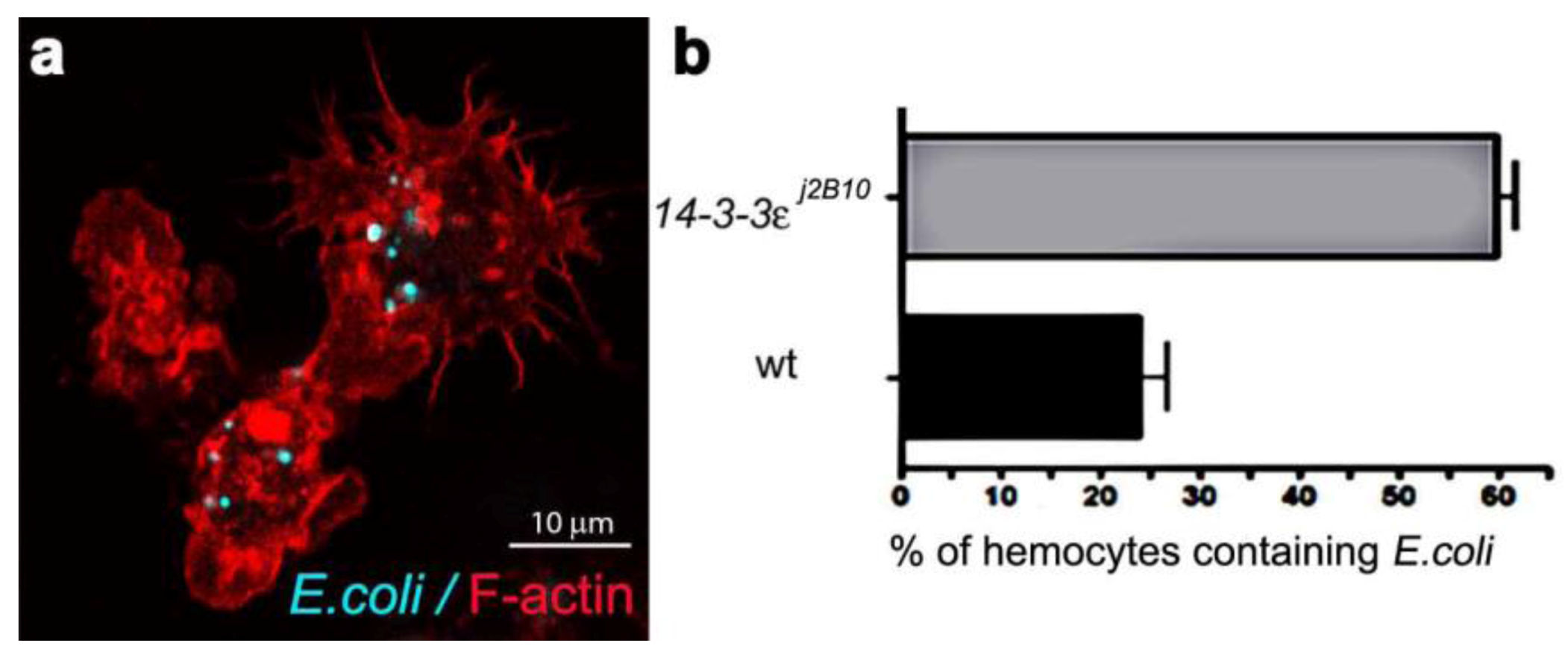 Figure 1
Share & Cite This Article
MDPI and ACS Style
Shandala, T.; Lim, C.; Sorvina, A.; Brooks, D.A. A Drosophila Model to Image Phagosome Maturation. Cells 2013, 2, 188-201.
Related Articles
Comments
[Return to top]