Monte Carlo Study Elucidates the Type 1/Type 2 Choice in Apoptotic Death Signaling in Healthy and Cancer Cells
1
Department of Chemistry, University of California Davis, Davis, CA 95776, USA
2
Genome Center, University of California Davis, Davis, CA 95776, USA
3
Department of Biomedical Engineering, University of California Davis, Davis, CA 95776, USA
†
Other address: Indraprastha Institute of Information Technology, Delhi, Delhi 110020, India.
*
Author to whom correspondence should be addressed.
Received: 13 March 2013 / Revised: 10 May 2013 / Accepted: 14 May 2013 / Published: 30 May 2013
(This article belongs to the Special Issue
Apoptosis
)
Abstract
Apoptotic cell death is coordinated through two distinct (type 1 and type 2) intracellular signaling pathways. How the type 1/type 2 choice is made remains a central problem in the biology of apoptosis and has implications for apoptosis related diseases and therapy. We study the problem of type 1/type 2 choice
in silico
utilizing a kinetic Monte Carlo model of cell death signaling. Our results show that the type 1/type 2 choice is linked to deterministic
versus
stochastic cell death activation, elucidating a unique regulatory control of the apoptotic pathways. Consistent with previous findings, our results indicate that caspase 8 activation level is a key regulator of the choice between deterministic type 1 and stochastic type 2 pathways, irrespective of cell types. Expression levels of signaling molecules downstream also regulate the type 1/type 2 choice. A simplified model of DISC clustering elucidates the mechanism of increased active caspase 8 generation and type 1 activation in cancer cells having increased sensitivity to death receptor activation. We demonstrate that rapid deterministic activation of the type 1 pathway can selectively target such cancer cells, especially if XIAP is also inhibited; while inherent cell-to-cell variability would allow normal cells stay protected.
View Full-Text
►

▼

Figures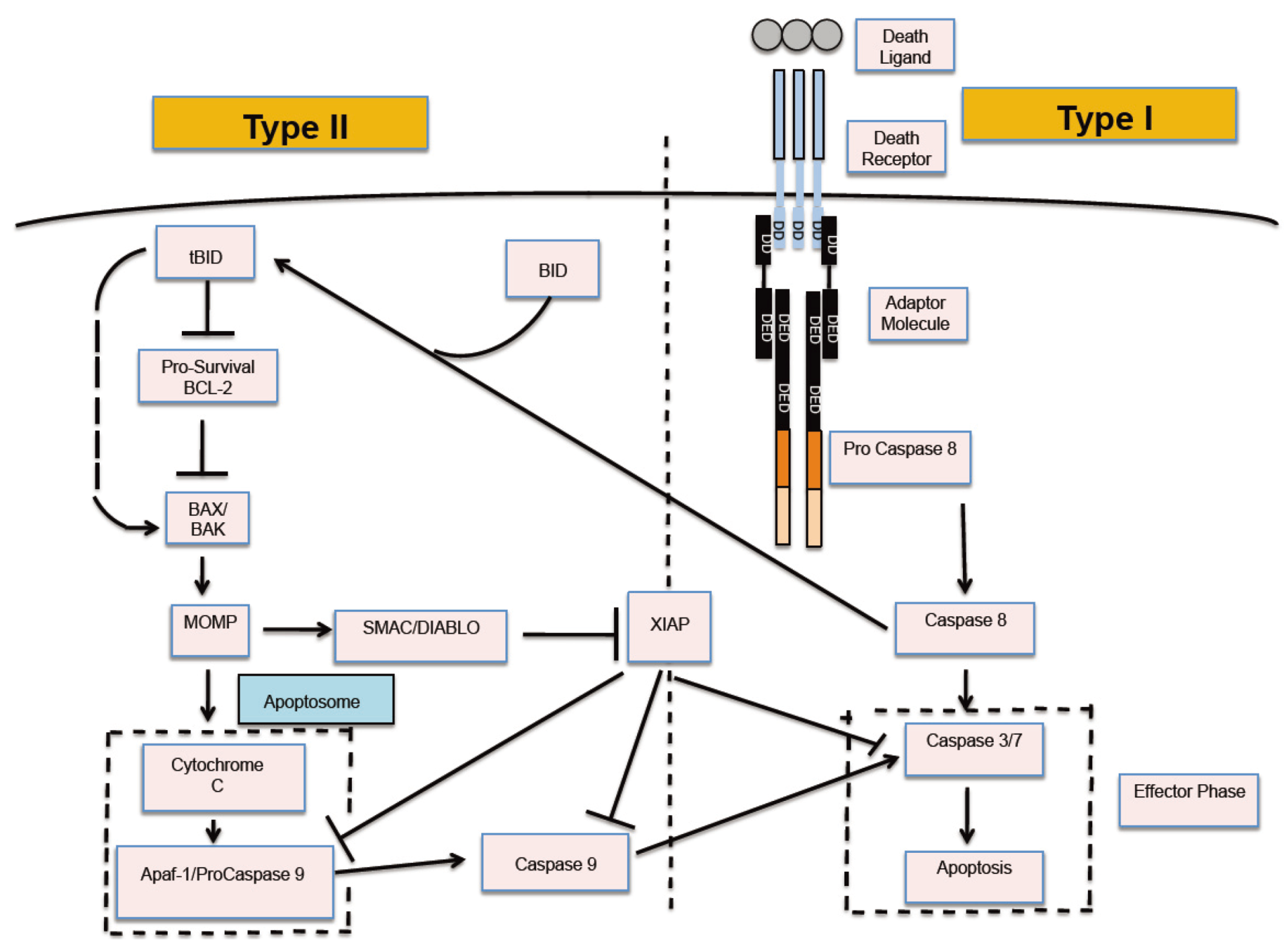 Figure 1
Share & Cite This Article
MDPI and ACS Style
Raychaudhuri, S.; Raychaudhuri, S.C. Monte Carlo Study Elucidates the Type 1/Type 2 Choice in Apoptotic Death Signaling in Healthy and Cancer Cells. Cells 2013, 2, 361-392.
Related Articles
Comments
[Return to top]