KDM2 Family Members are Regulated by HIF-1 in Hypoxia
Centre for Gene Regulation and Expression, School of Life Sciences, University of Dundee, Dow street, Dundee DD1 5EH, UK
*
Author to whom correspondence should be addressed.
Received: 31 October 2016 / Revised: 1 March 2017 / Accepted: 14 March 2017 / Published: 17 March 2017
Abstract
Hypoxia is not only a developmental cue but also a stress and pathological stimulus in many human diseases. The response to hypoxia at the cellular level relies on the activity of the transcription factor family, hypoxia inducible factor (HIF). HIF-1 is responsible for the acute response and transactivates a variety of genes involved in cellular metabolism, cell death, and cell growth. Here, we show that hypoxia results in increased mRNA levels for human lysine (K)-specific demethylase 2 (KDM2) family members, KDM2A and KDM2B, and also for Drosophila melanogaster KDM2, a histone and protein demethylase. In human cells, KDM2 family member's mRNA levels are regulated by HIF-1 but not HIF-2 in hypoxia. Interestingly, only KDM2A protein levels are significantly induced in a HIF-1-dependent manner, while KDM2B protein changes in a cell type-dependent manner. Importantly, we demonstrate that in human cells, KDM2A regulation by hypoxia and HIF-1 occurs at the level of promoter, with HIF-1 binding to the KDM2A promoter being required for RNA polymerase II recruitment. Taken together, these results demonstrate that KDM2 is a novel HIF target that can help coordinate the cellular response to hypoxia. In addition, these results might explain why KDM2 levels are often deregulated in human cancers.
View Full-Text
►

▼

Figures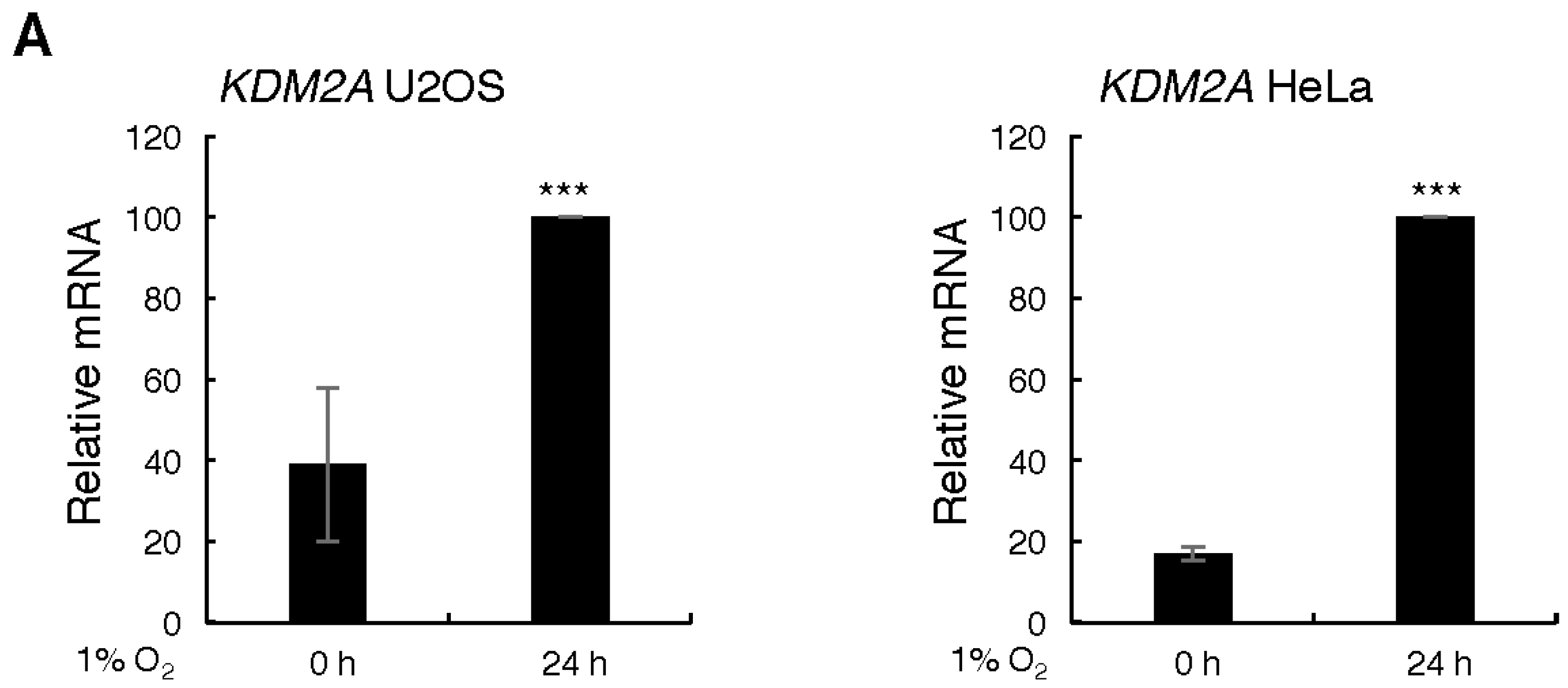 Figure 1a
This is an open access article distributed under the
Creative Commons Attribution License
which permits unrestricted use, distribution, and reproduction in any medium, provided the original work is properly cited. (CC BY 4.0).
Share & Cite This Article
MDPI and ACS Style
Batie, M.; Druker, J.; D'Ignazio, L.; Rocha, S. KDM2 Family Members are Regulated by HIF-1 in Hypoxia. Cells 2017, 6, 8.
Note that from the first issue of 2016, MDPI journals use article numbers instead of page numbers. See further details here.
Related Articles
Comments
[Return to top]