Roles of CDK and DDK in Genome Duplication and Maintenance: Meiotic Singularities

Genome Duplication and Maintenance Team, Institute of Genetics and Development of Rennes, CNRS UMR 6290, 2 av. du Pr. Léon Bernard, 35043 Rennes
*
Author to whom correspondence should be addressed.
Received: 21 February 2017 / Revised: 13 March 2017 / Accepted: 14 March 2017 / Published: 20 March 2017
Abstract
Cells reproduce using two types of divisions: mitosis, which generates two daughter cells each with the same genomic content as the mother cell, and meiosis, which reduces the number of chromosomes of the parent cell by half and gives rise to four gametes. The mechanisms that promote the proper progression of the mitotic and meiotic cycles are highly conserved and controlled. They require the activities of two types of serine-threonine kinases, the cyclin-dependent kinases (CDKs) and the Dbf4-dependent kinase (DDK). CDK and DDK are essential for genome duplication and maintenance in both mitotic and meiotic divisions. In this review, we aim to highlight how these kinases cooperate to orchestrate diverse processes during cellular reproduction, focusing on meiosis-specific adaptions of their regulation and functions in DNA metabolism.
View Full-Text
►

▼

Figures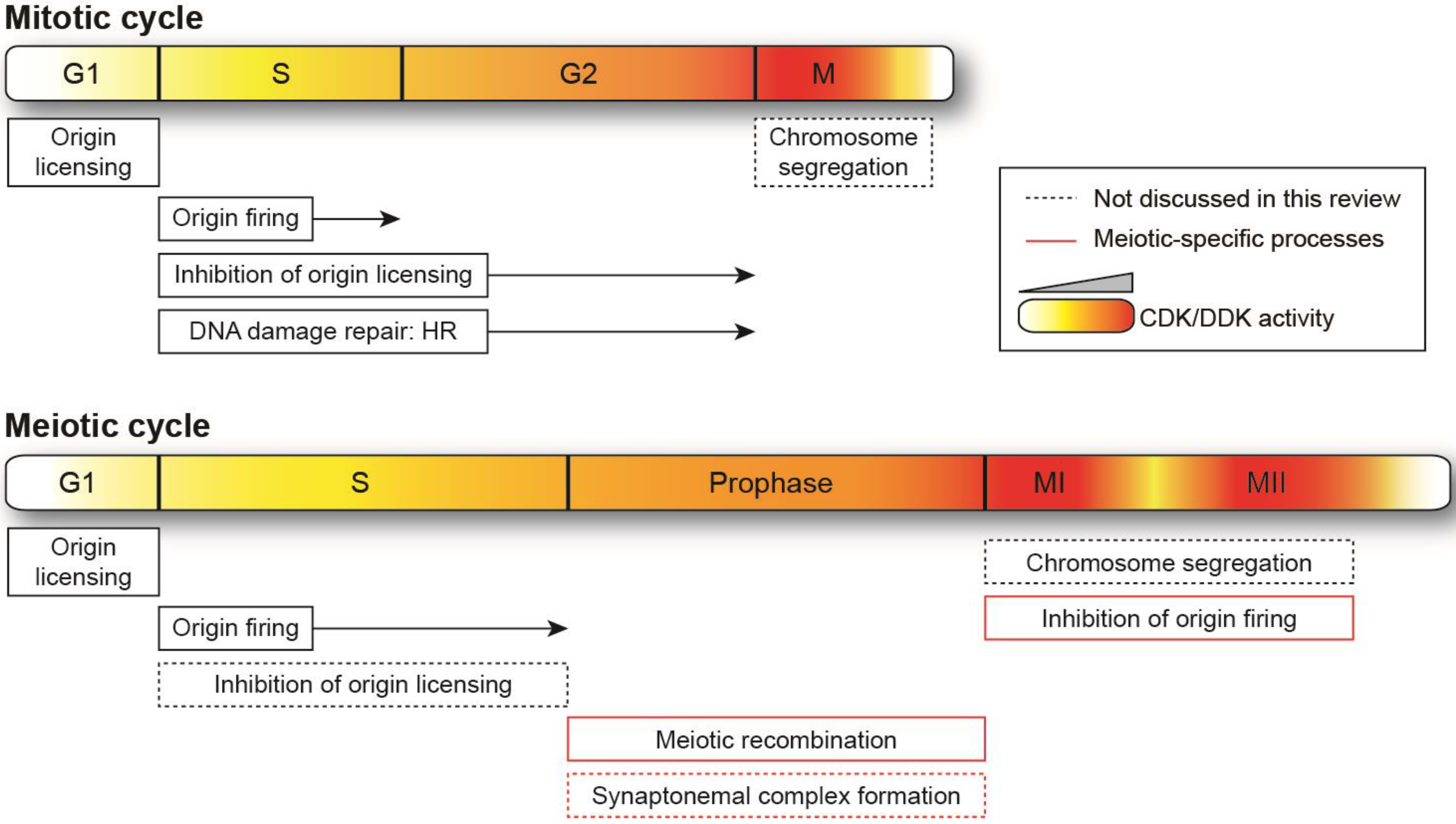 Figure 1
This is an open access article distributed under the
Creative Commons Attribution License
which permits unrestricted use, distribution, and reproduction in any medium, provided the original work is properly cited. (CC BY 4.0).
Share & Cite This Article
MDPI and ACS Style
Gómez-Escoda, B.; Wu, P.-Y.J. Roles of CDK and DDK in Genome Duplication and Maintenance: Meiotic Singularities
. Genes 2017, 8, 105.
Note that from the first issue of 2016, MDPI journals use article numbers instead of page numbers. See further details here.
Related Articles
Comments
[Return to top]