Characterization of a Phospho-Specific Antibody to the Fcε Receptor γ Chain, Reveals Differences in the Regulation of Syk and Akt Phosphorylation
Laboratory of Molecular Immunogenetics, National Institute of Arthritis and Musculoskeletal and Skin Diseases, National Institutes of Health, Building 10, Room 13C103, Bethesda, MD 20892, USA
*
Author to whom correspondence should be addressed.
Received: 10 April 2013 / Revised: 20 April 2013 / Accepted: 3 May 2013 / Published: 13 May 2013
Abstract
We previously demonstrated that the Fc receptor γ-chain Y
58
(C-terminal tyrosine) is highly susceptible to dephosphorylation; a mechanism that controls the extent of Syk activation and the downstream signaling in mast cells. Here, we explored the importance of the γ-chain Y
47
(N-terminal tyrosine) in mast cell signaling. We generated a highly sensitive and versatile phospho-specific antibody that recognized the phosphorylated Y
47
in various species. Using this antibody, we found that mutation of the FcεRIβ Y
219
to phenylalanine caused a loss in the phosphorylation of the γ-chain Y
47
, consistent with the previously described role of Y
219
in Lyn association with FcεRIβ and subsequent FcεRIγ phosphorylation. These conditions also diminished the tyrosine phosphorylation of Syk and LAT1 but, surprisingly, not the phosphorylation of Akt at T
308
. Mutation of Y
47
or Y
58
of the γ-chain also caused a marked inhibition of Syk and LAT1 phosphorylation, but only the latter mutant showed a reduction in Akt phosphorylation. These findings show that the full phosphorylation of Syk and LAT1 requires the FcεRIβ Y
219
and both Y
47
and Y
58
of the γ-chain. However, T
308
phosphorylation of Akt is largely independent of FcεRIγ Y
47
phosphorylation and of the Lyn-binding site (Y
219
) on the FcεRIβ.
View Full-Text
►

▼

Figures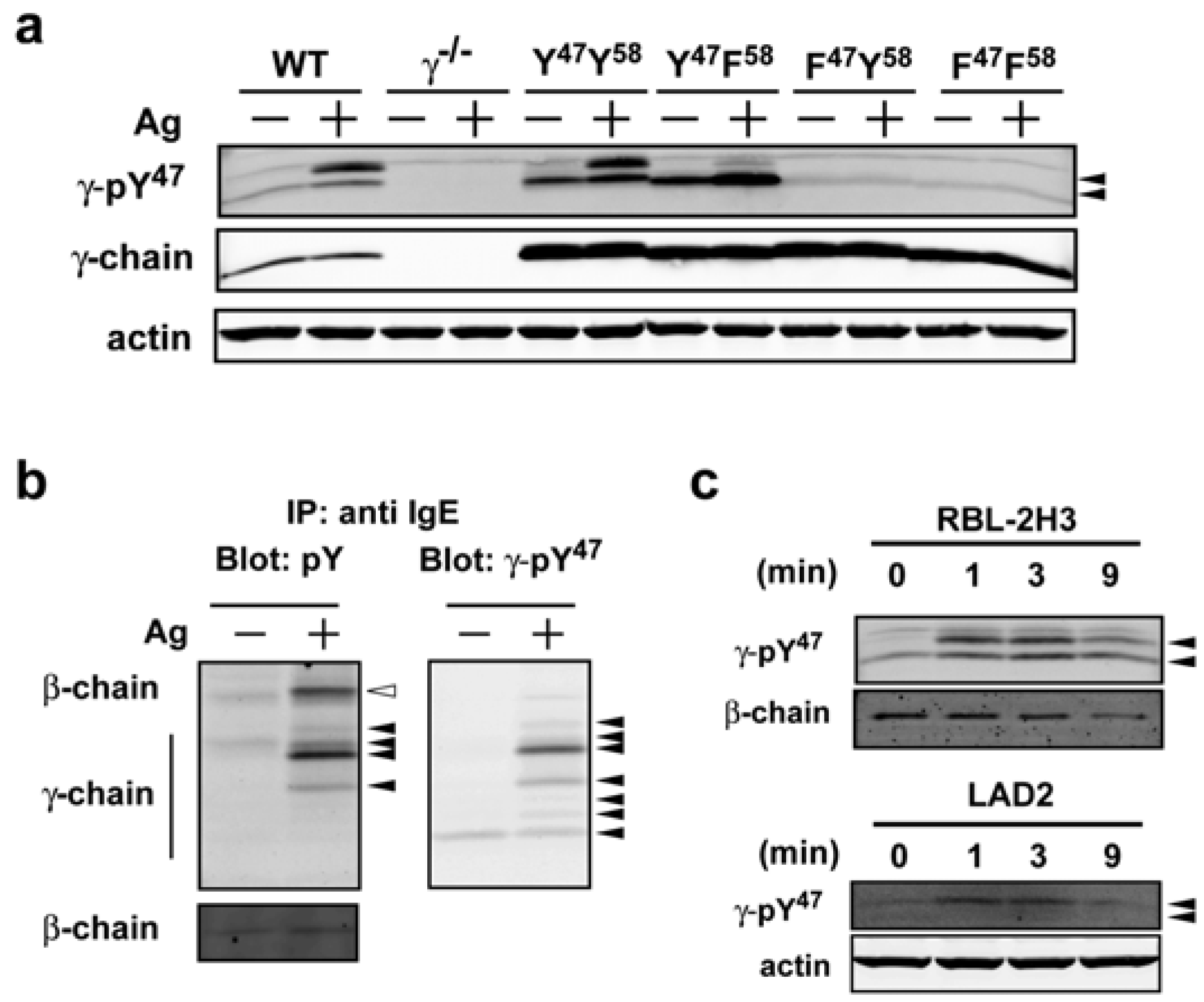 Figure 1
Share & Cite This Article
MDPI and ACS Style
Suzuki, R.; Leach, S.; Dema, B.; Rivera, J. Characterization of a Phospho-Specific Antibody to the Fcε Receptor γ Chain, Reveals Differences in the Regulation of Syk and Akt Phosphorylation. Antibodies 2013, 2, 321-337.
Related Articles
Comments
[Return to top]