Eukaryotic Organisms in Extreme Acidic Environments, the Río Tinto Case
Astrobiology Center, Spanish Institute for Aerospace Technologies, Carretera de Ajalvir Km 4, Torrejón de Ardoz, 28850 Madrid, Spain
Received: 12 March 2013 / Revised: 7 June 2013 / Accepted: 17 June 2013 / Published: 4 July 2013
Abstract
A major issue in microbial ecology is to identify the limits of life for growth and survival, and to understand the molecular mechanisms that define these limits. Thus, interest in the biodiversity and ecology of extreme environments has grown in recent years for several reasons. Some are basic and revolve around the idea that extreme environments are believed to reflect early Earth conditions. Others are related to the biotechnological potential of extremophiles. In this regard, the study of extremely acidic environments has become increasingly important since environmental acidity is often caused by microbial activity. Highly acidic environments are relatively scarce worldwide and are generally associated with volcanic activity or mining operations. For most acidic environments, low pH facilitates metal solubility, and therefore acidic waters tend to have high concentrations of heavy metals. However, highly acidic environments are usually inhabited by acidophilic and acidotolerant eukaryotic microorganisms such as algae, amoebas, ciliates, heliozoan and rotifers, not to mention filamentous fungi and yeasts. Here, we review the general trends concerning the diversity and ecophysiology of eukaryotic acidophilic microorganims, as well as summarize our latest results on this topic in one of the largest extreme acidic rivers, Río Tinto (SW, Spain).
View Full-Text
►

▼

Figures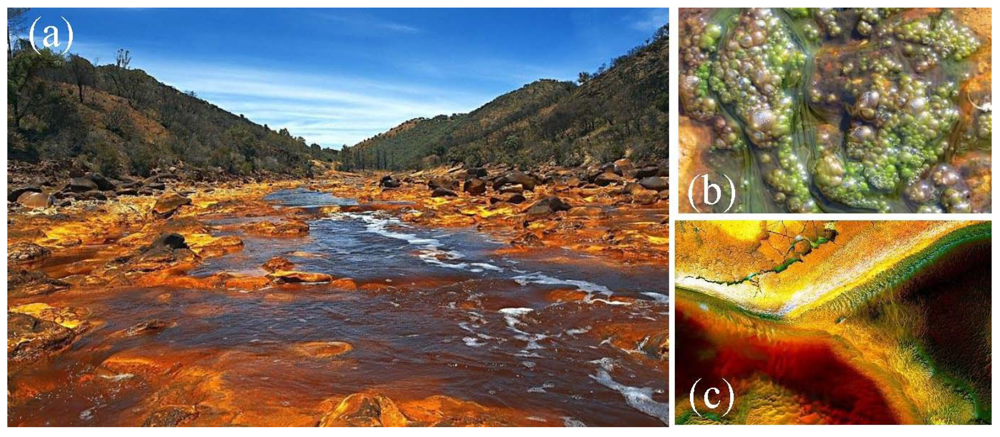 Figure 1
Share & Cite This Article
MDPI and ACS Style
Aguilera, A. Eukaryotic Organisms in Extreme Acidic Environments, the Río Tinto Case. Life 2013, 3, 363-374.
Related Articles
Comments
[Return to top]