Incidence of Non-Immunological Defenses of Soil White Grubs on Parasitism Success of Mallophora ruficauda Larva (Diptera: Asilidae)
Group of Investigation in Ecophysiology of Parasitoids (GIEP), CONICET-IEGEBA, Department of Ecology, Genetics and Evolution, Faculty of Exact and Natural Sciences, University of Buenos Aires, University City, Building II, 4th floor, lab. 99, Buenos Aires C1428EHA, Argentina
*
Author to whom correspondence should be addressed.
Received: 24 May 2012 / Revised: 7 July 2012 / Accepted: 10 July 2012 / Published: 26 July 2012
Abstract
White grubs are larvae of Coleoptera of the family Scarabaeidae. They are known because of their intensive feeding habits on crop roots.
Mallophora ruficauda
(Diptera: Asilidae) is a dipteran parasitoid whose larva is a natural enemy for white grubs. This species is a solitary ectoparasitoid, where both female and larva realize different steps in the host location process. Female place its eggs in high grasslands and then, the larva finds and parasitizes the host in the ground. There are nine potential hosts in the area of action of this parasitoid; however a high preference for
Cyclocephala signaticollis
has been observed (87% of field parasitism). It is known that many insects have developed defensive and immunological mechanisms when attacked by a parasitoid, which can be behavioral, physiological, chemical or genetic. The objectives of this work were to investigate what kind of defense and non-immunological associated mechanisms the white grubs have against this parasitoid and to understand why
M. ruficauda
have such a high preference for masked chafer grubs or
Cyclocephala
species
.
In particular, for each white grub species, we asked: (1) If there is a differential behavioral reaction when a parasitoid attack is simulated; (2) If body attributes of white grubs species have influence on defense behavior, and particularly for the masked chafer
C. signaticollis
; and (3) Why this species is the most selected by
M. ruficauda
. It was found that behavioral defenses of white grubs would explain the parasitism pattern of
M. ruficauda
larvae and its preference for
C. signaticollis
.
View Full-Text
►

▼

Figures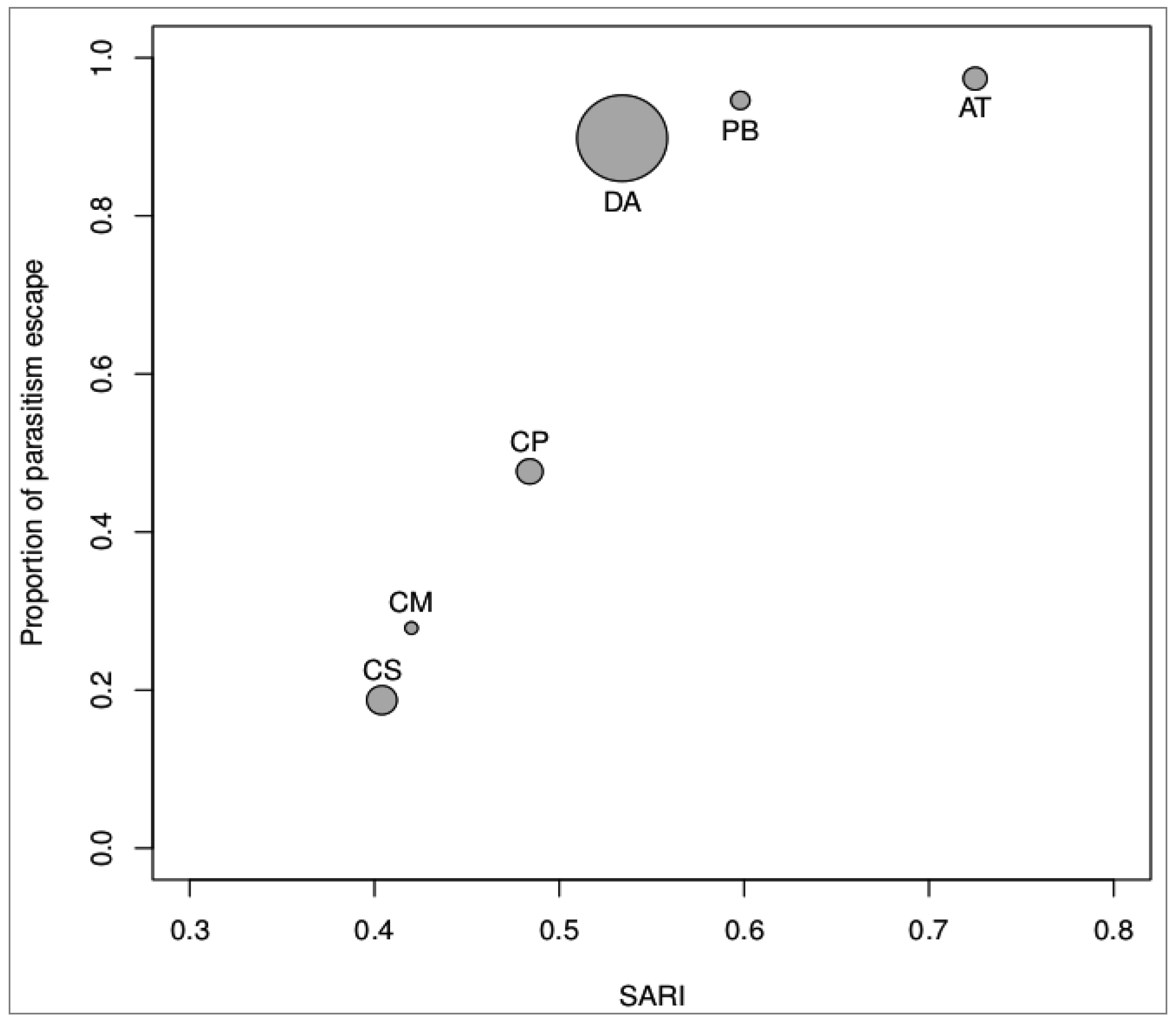 Figure 1
Share & Cite This Article
MDPI and ACS Style
Castelo, M.K.; Crespo, J.E. Incidence of Non-Immunological Defenses of Soil White Grubs on Parasitism Success of Mallophora ruficauda Larva (Diptera: Asilidae). Insects 2012, 3, 692-708.
Related Articles
Comments
[Return to top]