Nuclear Immunolocalization of Hexamerins in the Fat Body of Metamorphosing Honey Bees
1
Departamento de Genética, Faculdade de Medicina de Ribeirão Preto, Universidade de São Paulo, Ribeirão Preto, SP 14049-900, Brasil
2
Departamento de Biologia, Faculdade de Filosofia, Ciências e Letras de Ribeirão Preto, Universidade de São Paulo, Ribeirão Preto, SP 14040-901, Brasil
*
Author to whom correspondence should be addressed.
Received: 4 July 2012 / Revised: 9 October 2012 / Accepted: 15 October 2012 / Published: 22 October 2012
(This article belongs to the Special Issue
Honey Bee
)
Abstract
Hexamerins are storage proteins with primordial functions in insect metamorphosis. They are actively secreted by the larval fat body and stored in the hemolymph. During metamorphosis, they return to the fat body to be processed. For decades, these proteins were thought to exclusively function as an amino acid source for tissue reconstruction during the non-feeding pupal and pharate adult stages and, in some species, for egg production. Recently, new findings have linked the hexamerins to caste polyphenism and gonad development in social insects. To explore the roles of hexamerins during the honey bee metamorphosis, we used specific antibodies in expression analysis by western blot,
in situ
immunolocalization by confocal laser-scanning microscopy and
in vivo
injections to lower their endogenous levels. Our expression analysis highlighted the changing expression patterns in the fat body and hemolymph during development, which is consistent with the temporal dynamics of hexamerin secretion, storage and depletion. Confocal microscopy showed hexamerin expression in the cytoplasm of both types of fat body cells, trophocytes and oenocytes. Notably, hexamerin foci were also found in the nuclei of these cells, thus confirming our western blot analysis of fat body nuclear-enriched fractions. We also observed that the decrease in soluble hexamerins in antibody-treated pharate adults led to a precocious adult ecdysis, perhaps in response to the lack (or decrease) in hexamerin-derived amino acids. Taken together, these findings indicate that hexamerins have other functions in addition to their well-established role as amino acid sources for development.
View Full-Text
►

▼

Figures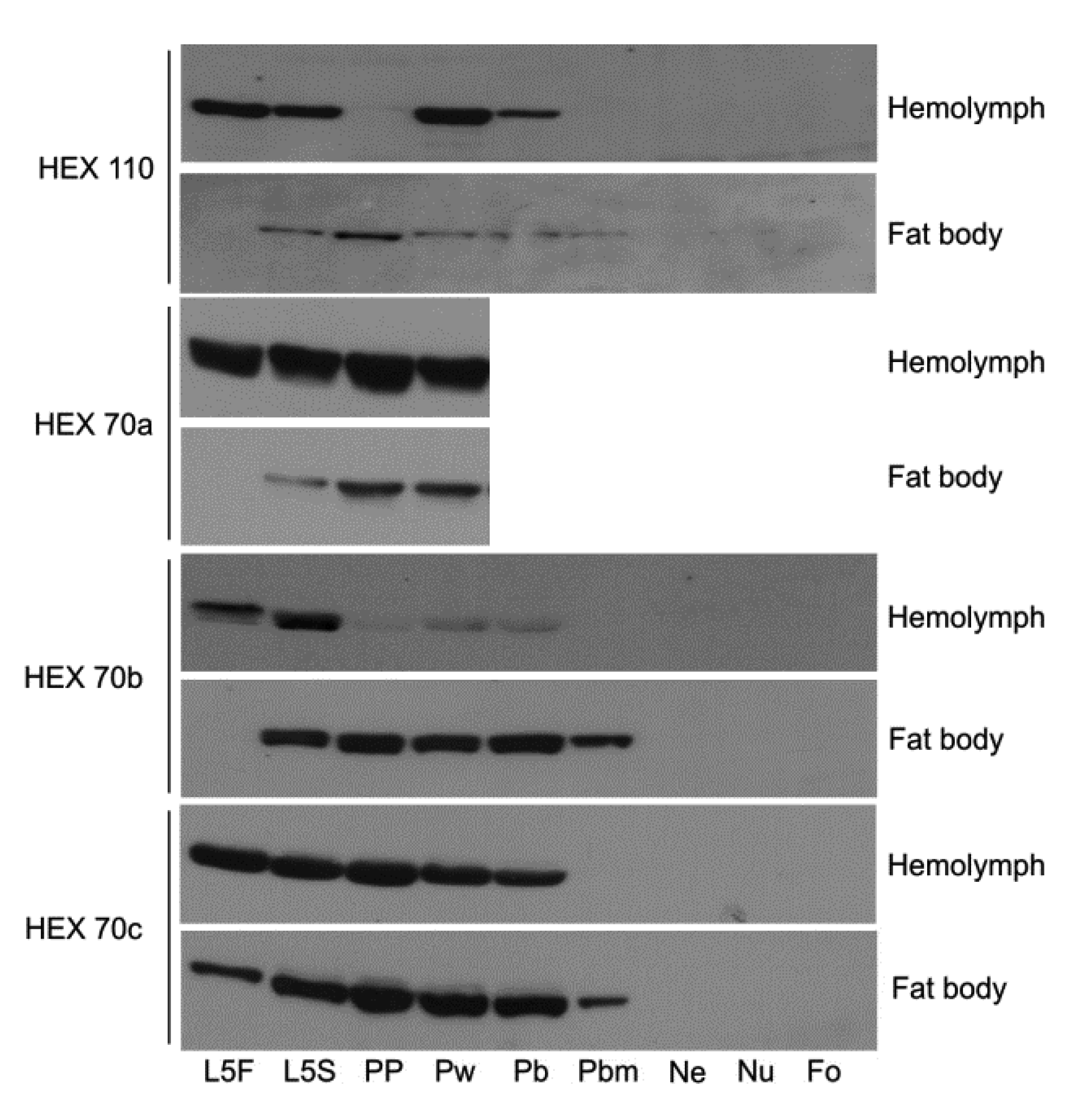 Figure 1
Share & Cite This Article
MDPI and ACS Style
Martins, J.R.; Bitondi, M.M.G. Nuclear Immunolocalization of Hexamerins in the Fat Body of Metamorphosing Honey Bees. Insects 2012, 3, 1039-1055.
Related Articles
Comments
[Return to top]